Bismarck, Fairbanks move to 2-0 at Robertson Cup
May 6, 2010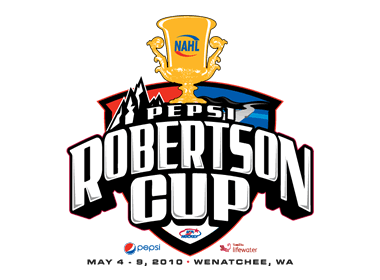 WENATCHEE, WASH. – The Bismarck Bobcats (2-0) and Fairbanks Ice Dogs (2-0) skated to wins on the third day of the five-day, four-game round-robin portion of the North American Hockey League's (NAHL) Robertson Cup Championship Tournament at the Town Toyota Center in Wenatchee, Wash.

In the early game, the Ice Dogs downed the St. Louis Bandits (1-2), 4-3.

Forward Tyler Voigt connected for a pair of goals in the victory, including the game-winner, with forward Jared Larson and defenseman Brock Carlston notching the other Ice Dogs goals. Between the pipes, Joe Phillippi turned back 23 shots.

View the box score here.

View highlights of the game here.

The Bobcats defeated the Traverse City North Stars (1-2), 6-1.

Six different players lit the lamp for Bismarck, with forward Casey Kleisinger ringing up a goal and two assists. Goaltender Ryan Faragher made 20 saves.

View the box score here.

View highlights of the game here.

On Friday, the Ice Dogs will take on the North Stars (2:35 p.m. local time) and the Bobcats will face off against the Wenatchee Wild (0-2) at 7:05 p.m.

For more information on the Robertson Cup Championship Tournament, visit RobertsonCup.com.