October 30, 2015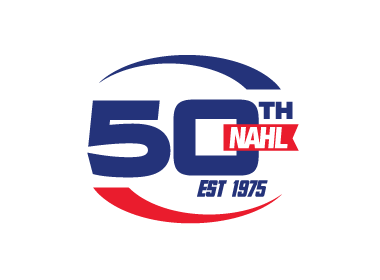 This weekend marks the quarter pole of the NAHL regular season as we now are starting to see a clearer picture of the standings. The race for the final playoff spots in the Central and South Divisions is already shaping up to be an exciting one and promises to be for the remainder of the season.
Also keep in mind that the NAHL tender signing period begins on November 1st, so teams and coaches will be busy in starting to construct their rosters for the 2016-17 seasons.
As for this weekend, all four division leaders are in action and all are at home at least once during the weekend. It is also the last chance for players to put up some great performances before the month of October is over and statistics are calibrated for player of the month consideration.
In the Central Division, 1st place Minot, who has a five-point lead atop the division, will host 2nd place Austin. Aberdeen will travel to Brookings for a game on Friday with both teams tied for the 4th and final playoff spot in the division. Bismarck faces a tough out-of-division test against the Minnesota Wilderness, while the Minnesota Magicians look to regroup after a tough week with a road game in Coulee Region on Friday.
In the East Division, 1st place New Jersey and 4th place Wilkes-Barre/Scranton face one another in a home-and-home series, while Aston and Johnstown continue their two week road trip in Alaska.
In the Midwest Division, 1st place Fairbanks hosts Johnstown from the East Division. The Wilderness, who are in 2nd place, will host Bismarck from the Central. 3rd place Springfield hosts Topeka from the South. Janesville will host one game on Saturday against Coulee Region. The Chill have two games against the Magicians and the Jets. Kenai River will host Aston twice.
In the South Division, Lone Star is at Amarillo for a weekend series and 1st place Wichita Falls will host Corpus Christi. Topeka is at Springfield in an out-of-division clash and Odessa has the weekend off.
Central Division
Aberdeen @ Brookings (Fri) – Aberdeen will travel to Brookings for a single game on Friday. It is the first meeting of the year between the two clubs, who are tied in the standings, each with 10 points. The Wings have lost their last four games and defenseman Ryan Cook has four points in the month of October. Brookings forward Kane Durment leads his club with 13 points to date.
Austin @ Minot – All eyes in the division will be on Minot as the 1st place Minotauros host the 2nd place Austin Bruins. Just two weeks ago, the Minotauros swept the Bruins in a series in Austin by scores of 3-2 (OT) and 4-2. Bruins forward Gilbert Gabor has seven points in his last five games. Minot defenseman James LaDouce has eight points in his last five games, as does forward Johnny Walker.
East Division
Wilkes-Barre/Scranton Knights vs. New Jersey Titans – For the second straight weekend, New Jersey and the WBS Knights will tangle in a home-and-home series. The 1st place Titans lost 6-3 at home last weekend against the Knights, but rebounded with a 4-0 shutout win on the road the next night. The Titans are 3-1 against the Knights so far this season. New Jersey forward Raymond Brice has six points in his last five games, while WBS Knights forward Paul Maust has seven points in the same time span.
Midwest Division
Coulee Region @ Janesville (Sat) – On Saturday, Janesville will host Coulee Region. After a fast start, the Jets have lost three of their last five games. The two teams faced one another back on October 16-17 with the Jets coming away with wins of 3-1 and 7-0. Jets goalie Jack LaFontaine leads the league in goals against average and is tied for the league lead in save percentage. The Chill have dropped six of their last seven games and have scored five goals in their last five games.
South Division
Lone Star @ Amarillo - The Brahmas and Bulls are quite familiar with one another, having played three times already this season. The Brahmas have won all three games, outscoring the Bulls 15-4 in the process. The Brahmas, who are in 2nd place in the South, only have one regulation loss to date. Forwards Martin Mellberg and Cody Wickline have each scored six points in their last five games. Bulls goalie Anton Martinsson is 3-1 in his last five appearances with a 93.6% save percentage.
Corpus Christi @ Wichita Falls – The IceRays look for some revenge this weekend as they travel to 1st place Wichita Falls. The Wildcats owned the only series to date, which came back on October 8-9 in Corpus Christi when the Wildcats took two straight games by a combined 11-2 score. The Wildcats .846 winning percentage is tops in the NAHL. Wildcats forward Nikita Litviak has four goals in his last five games. IceRays forward Drake Lindsay leads his club with 10 points to date.
Out-of-Division
Topeka @ Springfield – The Jr. Blues are one of the hottest teams in the league, having gone 7-1-1 in their last nine games. Their lone regulation loss in that time frame came against Topeka back on October 16th. During that weekend, the two teams split a series in Topeka. Springfield forward Trevor Stone has six points in his last five games. Topeka, who sits at 8-8 on the season, has won back-to-back games just once so far this season.
Bismarck @ MN Wilderness – Bismarck enters tough territory as the Wilderness have things rolling and are picking up right where they left off last season. Minnesota has won eight of their last nine games. Forward Tyler Cline is making his bid for player of the month honors with 10 points in his last five games. Bismarck has won three of their last four games and goalie Hunter Shepard has allowed just seven goals in his last four appearances.
Johnstown @ Fairbanks – The Tomahawks are in 2nd place in the East and are 3-1-1 in their last five games, which included a weekend sweep of Kenai River last weekend. Goalie Nick DeSimone has allowed just four goals in his last three starts. Meanwhile, the Ice Dogs split at home last weekend with Aston and have won three out of their last six games. Defenseman Josef Ingman has five points in his last five games.
Aston @ Kenai River – The Brown Bears will try and snap their 11-game losing skid as they host Aston this weekend. The Rebels are coming off a weekend split in Fairbanks and have won seven of their last nine games. Goalie Darion Hanson has a 94% save percentage in his last three appearances. Brown Bears forward Cameron Cook leads his team with four points in the last five games.
MN Magicians @ Coulee Region (Fri) – The Magicians let head coach Tom Upton go earlier this week, so Friday will be the season coaching debut for Scott Meyer. Meyer guided the Magicians behind the bench during the 2013-14 season. The Magicians enter the weekend having dropped four of their last five games. The Chill are currently 10 points out of the 4th and final playoff spot in the Midwest and rank last in the NAHL in goals scored per game at 1.73.