NAHL welcomes Michigan Warriors for 2010-11
May 4, 2010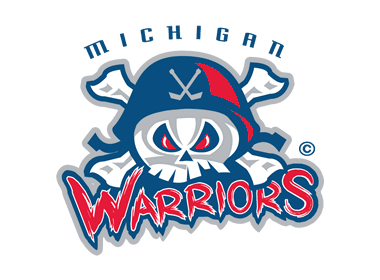 The North American Hockey League (NAHL) has announced that its Board of Governors has approved the transfer of membership and relocation of the Marquette Rangers to Flint, Mich. for the 2010-11 season.

The team will change its name to the Michigan Warriors and will play its home games out of the 4,000-seat Perani Arena and Event Center in Flint.

"Flint has been a potential NAHL market for many years, and we're very fortunate to match a hockey-hungry community and a first-class facility with an ownership group committed to the success of our league," said NAHL commissioner Mark Frankenfeld.

Listen to a statement from Frankenfeld here.

The Michigan Warriors organization is owned by Asist Entertainment, LLC. The group is led by Flint native Bob Bryant, Pat McEachern of Rochester Hills, Mich., and former NHL defenseman and veteran coach Moe Mantha of Ann Arbor, Mich.

"We're bringing together successful track records in business, community and professional and junior hockey ventures to create a successful team that will be a source of great pride for fans in Flint and across Mid-Michigan," Bryant said. "With the infusion of youth and limitless potential of NAHL players, hockey fans in and around Flint can see the stars of tomorrow develop right in front of them as they work to realize their dreams of playing in college and the pros."

Bryant has been an active member and proponent of the Flint community and a staunch advocate of Flint hockey for decades. He owns Flint-based farming operation Bryant Sod Farms Inc. and B&B Sod & Lawn Sprinklers Inc., a landscape contracting company also based in Flint. McEachern owns and operates an automotive services and products company that operates across Canada and the United States.

A new style of hockey for Mid-Michigan

"We're bringing a new style of hockey to Flint," McEachern said. "The NAHL features young stars-in-the-making working to showcase and develop their skills for college coaches and NHL scouts. We joined the league in selecting Flint as the team's new home because of the Mid-Michigan region's passion for hockey and the hard-working, family values that the people of this area share with the NAHL and its players."

Mantha will serve as general manager and head coach of the Warriors.

"Moe is here to create an exciting brand of hockey while helping a talented group of Michigan Warriors players continue developing their abilities as they work to advance to the next level," McEachern said. "He has been part of the game at all levels for a long time and will use that experience to help our players realize their potential right before the eyes of our fans."

Mantha patrolled the blue line as a defenseman for five teams over 12 NHL seasons and was the assistant captain of the 1992 U.S. Olympic Hockey Team. He has coached and managed at the junior and professional levels for 15 years, including coaching the USA Hockey National Team Development Program, and is active in the Michigan Amateur Hockey Association.

Hometown connection, stars of tomorrow

Fourteen of the 17 players from the organization's 2009-10 roster have hometowns within an hour's drive of the team's new home in Flint. Seven players in the NHL Detroit Red Wings system developed their skills in the NAHL, including Jimmy Howard, Brian Rafalski, Drew Miller and Patrick Eaves, as well as Brett Lebda, Doug Janik and Jordan Pearce.

Under the team's previous owner, David Saint-Onge, the Marquette Rangers won their first North Division regular-season title in the team's four-year history this past season.

The organization graduated more than 20 of its players on to NCAA and professional hockey, including forward Jake Hauswirth, who signed with the NHL's Washington Capitals last year.

"David's enthusiasm for the NAHL and the Marquette community, along with his commitment to the success of every one of his players, will be sorely missed," Frankenfeld said of Saint-Onge. "He's brought a lot to our league over the years and we can't thank him enough for helping make the NAHL the best junior league in North America."

Returning and prospective Warriors players will participate in the first Michigan Warriors tryout date Saturday, May 14 at Flint Iceland Arena. Another previously scheduled open tryout will be held May 21-23 at Suburban Ice in Farmington Hills, Mich. The two tryouts previously scheduled for Marquette, Mich. in July have been cancelled.

Passionate product in a newly improved facility

Perani Arena, which opened in 1969, has a long and storied history of hosting professional hockey. It also has housed a professional basketball team and an arena football team.

"As the facility is restored to a first-class venue, Michigan Warriors hockey at Perani will offer something the entire family can enjoy together and that the community can take pride in," Bryant said. "A passionate, exciting product on the ice in a newly improved facility means we're creating an excellent entertainment value for families and hockey purists alike."

Under Firland Management, which assumed operations at Perani Arena earlier this year, the facility already has seen initial improvements, including enhanced lighting, as investments in the fan experience. Additional upgrades are planned.

"Over the past 40 years, Perani Arena has been home to some of Mid-Michigan's most exciting hockey moments," said Firland Management CEO Jim Cain, who oversees operations at the facility. "The addition of the Warriors to this venue is another important step toward our goal of providing this community the arena experience it expects and deserves."

A commitment to community

Corporate citizenship in and around Flint and across Mid-Michigan is a priority for the Warriors organization. Players and owners will be frequent participants and supporters in community events and initiatives. Fans will be given many opportunities to join the team in supporting area causes through attendance at Warriors games and other events.

The team values feedback from the hockey fans of the region and will make it possible for fans to interact with the Warriors through Facebook and Twitter. Fans will be able to connect with the Michigan Warriors in the coming days by searching "Michigan Warriors Hockey" on Facebook or by visiting http://www.twitter.com/michwarriors.

For more information on the Michigan Warriors, visit http://www.mywarriors.net.

The NAHL, the only USA Hockey-sanctioned Tier II Junior A league boasting 25 teams from across the country, prides itself on the social maturity and skill development of student-athletes ages 16-20 with aspirations of advancing to collegiate and/or professional hockey.