NAHL announces Easton Divisional Stars of the Week
October 26, 2015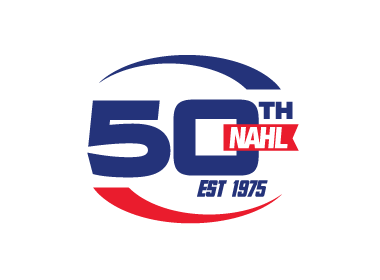 The North American Hockey League (NAHL) today announced the Divisional Stars of the Week presented by Easton Hockey for the week ending October 25, 2015. The Easton Hockey Divisional Stars of the Week is a weekly feature during the 2015-16 regular season that honors the top performing players in each of the four NAHL divisions. Only players that are nominated by their respective teams are considered for the Divisional Players of the Week award.
Central Division Star of the Week: Kris Carlson, goaltender, Austin Bruins
Austin Bruins goalie Kris Carlson, 18, led his team to a road sweep in Aberdeen against the Wings this past weekend. The native of Centerville, VA, allowed just three goals in the two games and stopped 49 of a possible 52 shots against. On Friday, Carlson (6'2/180) made 16 saves in a 3-1 win. On Saturday, he made 33 saves in a 6-2 win. It snapped a three-game losing streak for Carlson, who is 5-3-1 on the season thus far. "Kris has given our group a consistent presence in net and has given us an opportunity to win every single game. His technical abilities are continuing to develop along with his confidence and we look forward to him having a great season," said Austin head coach Kyle Grabowski.
2nd Star: Alex Strand, F, Bismarck Bobcats
Honorable Mention (alphabetical): Tucker DeYoung, F, Aberdeen Wings – Kevin Fitzgerald, F, Aberdeen Wings - Gilbert Gabor, F, Austin Bruins – Austin Martinsen, F, Minot Minotauros – Hunter Shepard, G, Bismarck Bobcats - Johnny Walker, F, Minot Minatauros
East Division Star of the Week: Nick DeSimone, goaltender, Johnstown Tomahawks
Even though the Johnstown Tomahawks scored 10 goals in their two-game road sweep in Kenai River, it was the goaltending of Nick DeSimone that stood out the most. The 19-year-old native of Horsham, PA, allowed just one goal in each game as the Tomahawks picked up two big road wins. In the process, DeSimone (6'1/175) stopped 70 of 72 shots in the two wins. On Friday, he made 35 saves in a 6-1 win. On Saturday, he made another 35 saves in a 4-1 win. The wins snapped a three-game losing streak for DeSimone, who is 4-2-1 on the season. "Nick has been strong for us this season giving us opportunities to win when he is in the net. Over the weekend he was solid as a rock both nights. He made the routine saves as well as any big ones that were needed. Both goals each night were from multiple deflections or he may have been perfect for the entire weekend. I am proud of the way he stepped up for our club and he definitely deserves this recognition," said Tomahawks head coach Mike Letizia.
2nd Star: Andrew Romano, F, Johnstown Tomahawks
Honorable Mention (alphabetical): Raymond Brice, F, New Jersey Titans
Midwest Division Star of the Week: Niko Della Maggorie, goaltender, Springfield Jr. Blues
With their weekend home sweep of the Janesville Jets, the Springfield Jr. Blues moved into 3rd place in the Midwest Division. Getting the start and winning both games was 20-year-old netminder Niko Della Maggorie. The native of Gilro, CA, faced a total of 67 shots in the series and stopped 64 of them. On Friday, Della Maggorie (5'11/190) made 38 saves in a 5-2 win over the Jets. On Saturday, he made 26 saves and stopped all three Jets shooters in the shootout for a 2-1 win. Della Maggorie has won his last four games, giving up just four goals in the process. "Niko had a great offseason and came in ready to play this season. He got off to a slow start, but has been on fire this month. This weekend he was very steady for us keeping things simple with making some huge saves on Saturday night including stopping all three opponents in the shootout," said Jr. Blues head coach Tony Zasowski.
2nd Star: Josef Ingman, D, Fairbanks Ice Dogs
Honorable Mention (alphabetical): Brett Heikkila, F, Minnesota Wilderness – Luke Kania, G, Minnesota Wilderness – Joey Lupo, F, Springfield Jr. Blues – Dylan McArthur, D, Kenai River Brown Bears – Gavin Nieto, G, Fairbanks Ice Dogs – Charlie Spotz, D, Kenai River Brown Bears – Hunter Vorva, G, Coulee Region Chill
South Division Star of the Week: Rourke Russell, defenseman, Wichita Falls Wildcats
In two tight contests on the road against the Lone Star Brahmas this past weekend, the Wildcats came away with three valuable points thanks in large part to the likes of 17-year-old defenseman Rourke Russell. The native of Long Beach, CA was a factor in both games over the weekend, scoring twice and posting a +1 rating in 2-1 games. On Friday night, the Miami University recruit had the overtime-winning goal in a 2-1 win. On Saturday, he scored the lone goal for the Wildcats in a 2-1 overtime loss. For the season, Russell (6'1/170) has six points in 11 games played. "Rourke was able to come up with some very clutch plays for us this weekend. He's an extremely gifted defenseman who's been making strides over the first chunk of the season. We'll continue to strive for consistency from him and try to get the elevated play we know he's capable of bringing," stated Wildcats Assistant Coach Josh Nelson.
2nd Star: Eric Carreras, F, Odessa Jackalopes
Honorable Mention (alphabetical): Austin Beaulieu, F, Wichita Falls Wildcats – Corbin Kaczperski, G, Lone Star Brahmas – Mason Krueger, F, Corpus Christi IceRays – Joey Molinaro, F, Amarillo Bulls – John O'Connor, D, Topeka RoadRunners - Brad Power, F, Corpus Christi IceRays – Marcus Russell, F, Topeka RoadRunners – Charlie Singerhouse, F, Amarillo Bulls – Hampus Sjodahl, F, Odessa Jackalopes