Ice Dogs, NAHL alumni successful at Goal Rush Tournament
October 19, 2015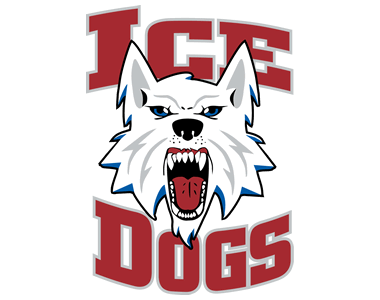 This weekend's Brice Alaska Goal Rush tournament was a homecoming for hockey players who started or continued their careers in Fairbanks. All of the teams that were in this year's field had at least one skater who played in the NAHL for the Fairbanks Ice Dogs.
The University of Alaska-Fairbanks Nanooks had four: Justin Woods, Nick Hinz, Alec Hajdukovich and Tayler Munson. The University of Alaska-Anchorage had defenseman Wyatt Ege. RPI brought in Lonnie Clary, Jesper Ohrvall and Viktor Liljegren. Johnny Mueller is on the American International College team. Nine former teammates and Ice Dogs were on the ice this weekend at the Carlson Center.
The University of Alaska-Fairbanks, the hosts, ended up winning the event with a 4-2 win over RPI. Former Ice Dogs players Tayler Munson, who was named the tournament's MVP, added a shorthanded, empty net goal at 18:22 of the third. Munson had his second straight three-point game on Saturday with two goals and an assist. He also had two goals and an assist in Friday night's 7-2 win over American International.
RPI had the biggest buzz coming in because they upset then number one Boston College on Sunday. AIC was coming off a 3-7 loss to New Hampshire while UAA split 2 games in last week's Kendall Hockey Classic. Alaska was 0-2 heading into the weekend, but they went on the run.
"Yeah it's going to be a fun weekend. Seeing those guys again is going to be nice and hopefully we'll be able to catch up after the two games that we have but we're focused on the task on hand this weekend and that's getting two W's," former Ice Dog and sophomore Nanook center Tayler Munson said prior to the event. "We definitely need the wins this weekend. Like I said it's definitely going to be fun playing against them again but once we get out there its competition so we got to be ready to go."
Wyatt Ege made sure to make his return to Fairbanks a memorable one. Ege scored the game-tying and game-winning goals as Alaska Anchorage topped Rensselaer Polytechnic Institute 4-3 in the first game of the Brice Alaska Goal Rush on Friday at the Carlson Center.
Ege is a freshman defenseman for the Seawolves and spent one season with the Fairbanks Ice Dogs, of the North American Hockey League. "I was just so happy when I got back into Fairbanks," Ege said. "The only problem is I see fans booing the Seawolves. I'm hoping they'll cheer for me at the end of the day."
Ege spent the 2013-14 season with the Ice Dogs, recording three goals and 17 assists for 20 points in 59 games. Ege helped the Ice Dogs win the NAHL's Robertson Cup championship that season.