Stage set for Robertson Cup Championship
April 26, 2010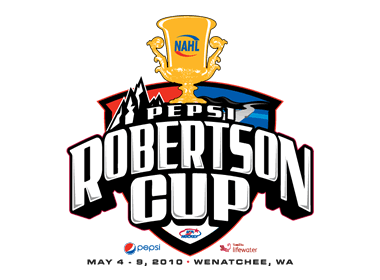 The St. Louis Bandits advanced to the Robertson Cup Championship Tournament after their 5-0 win over the Topeka RoadRunners in the decisive Game 5 of the South Division finals of the North American Hockey League's (NAHL) Robertson Cup Playoffs on Monday night.

The three-time defending Robertson Cup champions will join the Central Division champion Bismarck Bobcats, North Division champion Traverse City North Stars, West Division champion Wenatchee Wild and West Division runner-up Fairbanks Ice Dogs at the Robertson Cup Championship Tournament, which will be held from May 4-9 at the Town Toyota Center in Wenatchee, Wash.
"Winning this series was a complete team effort," said Bandits assistant coach Rocky Russo. "Our players came together and battled adversity since Day 1 of the playoffs."

In Game 5, goaltender Tyler Bruggeman turned aside all 24 shots and five different players scored for the Bandits. Forward Craig Kitto picked up a goal and an assist.
"(RoadRunners head coach) Scott (Langer) and his staff should be very proud of their team," Russo added. "They played hard and battled to the end."
View the Robertson Cup Playoffs bracket here.

The Robertson Cup champion represents the NAHL's playoff champion, as well as USA Hockey's Tier II Junior A national champion.
"We've worked all year to get to the national tournament and we're proud of this accomplishment," said Russo. "Our young men are eager to get back to work to prepare for a run at a fourth Robertson Cup."

For more information on the Robertson Cup Championship Tournament, visit RobertsonCup.com.