October 9, 2015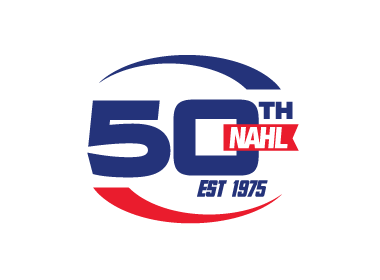 The North American Hockey League (NAHL) gets back into another full weekend of games as the meat of the October schedule is coming up. All four division leaders are in action this weekend, so valuable points will be on the line.
In the Central Division, Bismarck has the weekend off. In a rematch of the Robertson Cup Finals last season, Austin will cross over their division and play a home-and-home series against the Minnesota Wilderness. In divisional action, the Minnesota Magicians are at Aberdeen, while Brookings will be in Minot.
In the East Division, the red-hot New Jersey Titans take to the to road for a pair of games against Wilkes-Barre/Scranton and Johnstown is also on the road for three games with one in Aston and two in Wilkes-Barre/Scranton.
In the Midwest Division, the defending Robertson Cup Champion, Minnesota Wilderness will play a home-and-home series against Central Division foe Austin Bruins. Springfield will face a tough three-game road weekend with one game in Janesville and two in Coulee Region. Kenai River is on the road with a series in Fairbanks.
In the South Division, Wichita Falls and Corpus Christi finish their two-game series on Friday, while Topeka is at Odessa and Amarillo is at Lone Star.
Central Division
MN Magicians @ Aberdeen – The Magicians and Wings will face one another in a series for the second weekend in a row. The two teams split a series in Richfield, MN last weekend with the Wings winning 2-1 on Friday and the Magicians winning 2-1 on Saturday. Wings goalie Peter Thome currently leads the NAHL with a 95.0% save percentage. Four players are tied for the Magicians scoring lead, which include defensemen Travis Brown and Taylor Brierley.
Brookings @ Minot – The Minotauros have their home opener and head into it riding a red-hot four game winning streak, which included a 4-2 win last weekend in Bismarck. The Blizzard have slowed down since a hot start, losing their last three games which included being swept last weekend against the Austin Bruins. Blizzard defenseman Christian Canavati scored his first career NAHL goal last weekend. Minot forward Johnny Walker leads his club with eight points.
East Division
Aston – Much like last weekend, the red-hot Rebels will host a pair of games against different opponents. The Rebels have won three in a row and have scored 13 goals in their last three wins. NAHL Defenseman of the Month Gvido Jansons leads the team with nine points.
Johnstown – The Tomahawks split a pair of road games last weekend in Aston and New Jersey. They return to Aston on Friday, having lost to the Rebels last Friday in overtime, 3-2. On Friday and Saturday, the Tomahawks are in Wilkes-Barre/Scranton. Alex Alger leads the team with eight points.
New Jersey – No team may be hotter in the NAHL than the New Jersey Titans, who are in the 1st place in the East. Despite having their six-game winning streak snapped last weekend, the Titans are 6-2 and in Wilkes-Barre/Scranton on Friday and Aston on Saturday. Forward Anthony Cusanelli has been named the East Division Star of the Week two weeks in a row.
Midwest Division
Kenai River @ Fairbanks – The first place Ice Dogs played their first 10 games on the road and came out of it in 1st place in the division with an 8-1-1 record. They host their intra-state rival Brown Bears, who are looking to end a seven-game losing streak. The Ice Dogs swept the Brown Bears a month ago in Kenai River during the opening series of the season.
Springfield @ Janesville (Fri) – The Jets and Jr. Blues are both riding hot streaks heading into their game on Friday, thanks in large part to their young goalies. The match-up features two young emerging stars, who have been playing great this season in Jack LaFontaine (Janesville) and Tommy Nappier (Springfield). Expect many NHL scouts in the building for this one.
Springfield @ Coulee Region (Sat/Sun) – The tough road trip continues for the Jr. Blues as the Chill have their home opener. Coulee Region faced the Jr. Blues last weekend in Springfield and suffered back-to-back 3-2 losses in both games. Coulee Region forward Michael Wilson scored in both games. Jr. Blues forward Michael Houle had four points in the series.
South Division
Wichita Falls @ Corpus Christi (Fri) – The Wildcats and IceRays finish their series on Friday, as Wichita Falls scored three, 3rd period goals on Thursday night to break open a tie hockey game and win 4-1. Justin Kapelmaster made 21 saves and Erich Jaeger had two goals in the win. The IceRays have struggled to find consistent offense so far this season with 16 goals in just nine games.
Amarillo @ Lone Star – Lone Star got through their first seven games on the road with a 4-1-2 record and now play six of their next eight at home, including this weekend's opener against the Bulls. The Brahmas beat the Bulls 2-1 back on September 19th in Amarillo. Lone Star goalie Conor O'Brien leads the NAHL with a 1.30 GAA. Bulls forward Joey Molinaro leads his team with nine points
Topeka @ Odessa – The Jacks have their home opener this weekend and are in a solid spot with a 3-3 record after six road games. Topeka has already played 10 games, which is tied for the NAHL lead. Thanks to a sweep of the Lone Star Brahmas last weekend, Topeka is now riding a three-game winning streak. Defenseman Tyler Hayes has six points, which is tied for the team lead.
Out of Division
MN Wilderness vs. Austin (home and home) – In a rematch of the Robertson Cup Finals back in May, both teams enter this home and home series streaking in the right direction. Austin has won four in a row and have been bolstered by the play forward Jade Miller and goalie Kris Carlson. The Wilderness swept Kenai River last weekend and have been helped by the play of defenseman Tyler Vold, who has six points in his last five games.