Alaska-Anchorage lands Blizzard's Kamal
April 17, 2010
by Brian McDonough | NAHL.com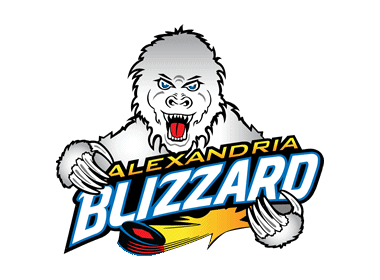 For a player who had to sit out all of last hockey season because of an injury suffered during a freak accident, Chris Kamal has certainly come a long ways.

Not only did the Alexandria Blizzard goaltender solidify himself as one of the North American Hockey League's (NAHL) top keepers this year, he also recently accepted an offer to attend and stop pucks at the University of Alaska-Anchorage (WCHA).

Quite a refreshing turn of events for the 21-year-old from Alpharetta, Ga., who broke his leg in the summer of 2008 when he was pinned against a dumpster while working a construction job.

"I'm thrilled to be going to UAA and playing in the WCHA," he said. "I think I have a unique opportunity to come in and make a difference right off the bat, which is very exciting."

"UAA being in the WCHA is also an obvious plus. To be playing against some of the best teams in the country in some of the best venues in the country will be an unbelievable experience."

In 38 regular-season games win Alexandria, Kamal, the 12th player who competed in January's Sherwood/NAHL Top Prospects Tournament to commit to a Division I school after the event, fashioned a 21-11-3 mark to compliment a 2.50 goals-against average and a .917 save percentage.

"I think this year has really helped me develop a lot," said Kamal. "This is a great league with tough competition, so you're forced to be at the top of your game in order to be successful. I've had a great experience with the Blizzard."

The Anchorage coaching staff first contacted Kamal around Christmastime and was in touch with him ever since leading up to its offer. After taking a few days to consult with his family, Kamal decided to become a Seawolf.

"They sent members of their coaching staff out to our games on a couple of occasions, and got another chance to see me play during our (March) road trip to Alaska," said Kamal.

"Chris has done a tremendous job for us," said Blizzard assistant coach Jeff Crouse. "He was one of the big reasons why we got things turned around this season. He gave us a chance to win every night and kept us in a lot of hockey games. We look forward to watching him continue to develop and helping us make a playoff push."

Kamal also credits the Top Prospects Tournament for bringing him and his fellow NAHL brethren added exposure to college and professional teams.

"It was a great experience," he said of the event, which was held in Ann Arbor, Mich. "It was cool to be able to meet and hang out with the guys you play against every weekend.

"That and it's great to be able to play at a very competitive level where there are so many college coaches and scouts in the stands; UAA was there and I was able to talk to one of their coaches after our team's last game."

The third player from this year's Blizzard to commit to a Division I program, Kamal has high hopes for his teammates, too, on the college front.

"There are a lot of guys on the team that could - and hopefully will - do very well at the Division I level, so to be practicing with them everyday has really helped me improve over the course of the year," he said.

"We're very proud of Chris with his accomplishments this year and we look forward to watching him next year at UAA," Crouse added. "The entire Blizzard organization wishes him the best of luck next year and for the rest of his hockey career."

The other Top Prospects players who have committed to Division I schools since the event are: Alaska Avalanche defenseman Jake Parenteau; Bismarck Bobcats forwards Ben Danford (Canisius College) and Casey Kleisinger (Air Force Academy) and goaltender Ryan Faragher (Dartmouth College); Fairbanks Ice Dogs forward Justin Kirchhevel and defenseman Josh Nelson (Minnesota State-Mankato); Janesville Jets forward Rui Encarnacao (University of Connecticut); Owatonna Express forward Cory Thorson (St. Cloud Sate University) and defenseman Jake Sloat (Bowling Green State University); Topeka RoadRunners forward Erik Higby (Northern Michigan University); and Wenatchee Wild forward Shawn Pauly (Air Force).

View the complete NAHL College List here.