Bismarck rolls to Game 1 win in Central Division finals
April 17, 2010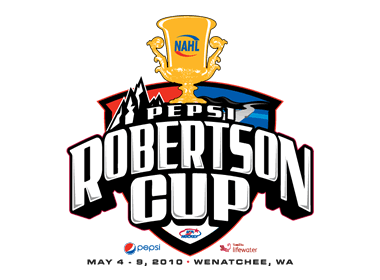 The Bismarck Bobcats, Topeka RoadRunners, Traverse City North Stars and Wenatchee Wild skated to wins on Friday night in their respective best-of-five divisional finals series of the North American Hockey League's (NAHL) Robertson Cup Playoffs.

Forward Dominic Panetta put home a pair of goals, including the game-winner, and an assist in Bismarck's 9-1 Game 1 triumph over the Alexandria Blizzard in the Central Division finals. Six Bobcats recorded two-point evenings, and goaltender Jake Williams stopped 22 shots.

"Nine goals in a playoff game is great, but that game is over now," said Bobcats forward Jason Fabian, an Air Force Academy (Atlantic Hockey) recruit who scored a goal and an assist in the win. "(Saturday's) game will start 0-0. The score on Friday has no bearing on Saturday's game so we need to come out and match Alexandria's intensity again in Game 2."

In the South Division finals, Topeka evened its series with the St. Louis Bandits at one game apiece after a 6-2 victory. Forward Cole Schneider, a University of Connecticut (Atlantic Hockey) recruit, struck for a goal and two assists, including one on forward Bryce Johnson's game-winner, and goaltender Eric Rohrkemper made 18 saves.
Forward Andy Huff, a Ferris State University (CCHA) recruit, notched a goal and an assist as the North Stars took Game 1 of the North Division finals over the Motor City Metal Jackets, 4-1. Forward Kellin Ainsworth notched the game-winning marker, and goaltender Drew Strandberg turned aside 26 shots.

"I wouldn't say we played our best game tonight, but we played well enough," said Traverse City head coach Anthony Palumbo. "We got timely goals and good goaltending, and probably got a few more bounces than they did.

"Give (Motor City) credit; they played a good, hard game. And usually, the team that plays well but loses in the first game of a series usually comes back and performs even better the next night. We'll have to be ready for that."

In the West, Wenatchee downed the Fairbanks Ice Dogs in Game 1 of their series, 6-2. Forwards Ryan Timar (two goals) and Shawn Pauly (two assists), both Air Force recruits, each rang up two points in the win, and goaltender Brandon Jaeger made 17 saves.
View the box score here.

The winners of the Central, North and South Division playoff finals, along with Wenatchee and Fairbanks, will advance to the Robertson Cup Championship Tournament, which will be held from May 4-9 at the Town Toyota Center in Wenatchee, Wash.

View the Robertson Cup Playoffs bracket here.