NAHL announces monthly player awards for September
October 6, 2015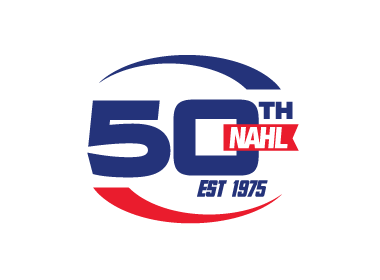 The North American Hockey League (NAHL) has announced its monthly player awards for the month of September. The Easton Hockey NAHL Forward of the Month is Todd Burgess from the Fairbanks Ice Dogs. The Easton Hockey NAHL Defenseman of the Month is Gvido Jansons from the Aston Rebels. The Vaughn NAHL Goaltender of the Month is Jack LaFontaine from the Janesville Jets. Only players who are nominated by their respective teams are considered for the NAHL monthly awards.
Easton Hockey NAHL Forward of the Month: Todd Burgess, Fairbanks Ice Dogs
The month of September was very good to the Fairbanks Ice Dogs, who not only went through the month with a perfect 8-0-0 record, but also were one of two teams who went undefeated at the annual NAHL Showcase. Veteran forward Todd Burgess, 19, had a great month as the native of Phoenix, AZ put up 13 points in eight gamed played and was a +11. Burgess (6'2/185) had five multi-point games and one game-winning goal. He also had two games where he scored two goals. The RPI commit current is tied for the NAHL scoring lead with 14 points and is tied for the lead in goals with seven. "Todd has worked hard over the summer and throughout the early part of the season to have success. He will be looked at, from his team, to be a well-rounded hockey player that improves steadily during the remainder of the year," said Fairbanks head coach Trevor Stewart.
Burgess said his success in September was a product of his teammates. "I can't single myself out as an individual because my entire team played good, especially my linemates Ryner Gorowsky and Logan Coomes. We have been clicking from the start and that played a big factor. I am just trying to be a better hockey player every day. It is my third year, so I want to set a good example and be a leader. You never know who is watching, so I want to be at my best every time I step on the ice," said Burgess.
Runner-Up: Willie Brown, Bismarck Bobcats
Honorable Mention (alphabetical): Alex Alger, Johnstown Tomahawks - Koby Bender, Minnesota Wilderness – Drew Blackman, Aston Rebels – Kane Durment, Brookings Blizzard – Jack Gessert, Kenai River Brown Bears – Martin Mellberg, Lone Star Brahmas – Gavin Payne, Aberdeen Wings – Martin Sundberg, Janesville Jets – Brady Tomlak, Springfield Jr. Blues – Johnny Walker, Minot Minotauros
Easton Hockey NAHL Defenseman of the Month: Gvido Jansons, Aston Rebels
The transition of Aston Rebels defenseman Gvido Jansons to the NAHL has been seemless. The 18-year-old native of Grobina, Latvia, has taken the league by storm, which included a very solid month of September. Jansons (6'3/210) managed to record at least a point in all five games played during the month and finished with six points. In his first career NAHL games, Jansons scored a goal in a 3-2 win over New Jersey. He also played very well at the NAHL Showcase and had two assists in a 3-2 win over Amarillo. Jansons currently leads all NAHL defenseman in scoring with nine points in seven games played. "Gvido has an amazing work ethic, both on and off the ice. He is a big strong guy and his style of play is one that really works well in the NAHL. We feel very fortunate to have him with our team this year and he makes us a better hockey club," said Aston head coach Joe Coombs.
Jansons said he is happy to be playing in the NAHL and for the Rebels in Aston. "The first month was really good and the competition in the league is great. The Showcase was a very enjoyable experience and something I will remember for a long time. To see all the scouts in the building and in the stands was really a cool sight and made you want to play even better. I am very excited to be playing in Aston for Coach Coombs and hopefully our success will continue," said Jansons.
Runner-Up: Dante Suffredini, Johnstown Tomahawks
Honorable Mention (alphabetical): Cameron Clarke, Lone Star Brahmas – Ryan Cook, Aberdeen Wings – James LaDouce, Minot Minotauros - Kyle Meeh, Springfield Jr. Blues – Alex Mehnert, Fairbanks Ice Dogs – Garrett Nelson, Bismarck Bobcats – Joey Rutkowski, Janesville Jets – TJ Samec, Brookings Blizzard – Charlie Spetz, Kenai River Brown Bears – Tyler Vold, Minnesota Wilderness
Vaughn NAHL Goaltender of the Month: Jack LaFontaine, Janesville Jets
The Janesville Jets have had a long history of producing top-notch goaltenders and it appears they have found their latest in Missassauga, ON, native Jack LaFontaine. The 17-year-old had a great month of September, posting a 2-1-1 record with a 1.25 goals against average and a 94.0% save percentage in four games played. LaFontaine (6'3/190) posted two shutouts in his first three career starts and also played very well at the NAHL Showcase. He was one of 10 NAHL players listed on the initial NHL Central Scouting Players to Watch list. "Since day one Jack's work ethic has been his most impressive attribute. He has stepped in and gained the confidence of our staff and his teammates. He is a big kid that understands how to use his frame but also has the ability to scramble and make athletic saves when needed," said Jets head coach Joe Dibble. "In his first four games in the league he had back-to-back shutouts and followed that up allowing only one goal in the following game. He has been a big part to the success we have had thus far and we are excited to watch him continue to develop over the course of the season."
"Coming down from Wisconsin from Canada was a big change, but the transition has been smooth. We have a great coaching staff in Janesville that I am very comfortable with and I do think we have one of the strong teams in the league. We have a high-potent offense and play great team defense, so it makes it easier on me to know that. I am grateful to be playing in this league for the Jets," said LaFontaine. "I would like to win a Robertson Cup. We have a very special team because we are on the same page and share the same goal. I have a goal to play NCAA hockey and beyond, but want to stay focused and just try and become a better goalie every day."
Runner-Up: Gavin Nieto, Fairbanks Ice Dogs
Honorable Mention (alphabetical): Brian Baker, Kenai River Brown Bears – Jacob Gwillim, Johnstown Tomahawks – Josh Kuehmichel, Brookings Blizzard – Trevor Micucci, Aston Rebels – Chase Munroe, Minnesota Wilderness – Lucas Murray, Minot Minotauros - Tommy Nappier, Springfield Jr. Blues – Conor O'Brien, Lone Star Brahmas – Hunter Shepard, Bismarck Bobcats - Peter Thome, Aberdeen Wings
About Easton
Easton Hockey continues to rank atop the industry in sticks and gloves and is growing faster in skates than any other company. It also offers a comprehensive collection of protective gear including helmets and pants. To learn more, go to www.eastonhockey.com
About Vaughn
Vaughn is the official Goaltending Equipment Partner to the NAHL and serves as the Preferred Goaltending Equipment Supplier of the NA3HL and NAPHL. Founded in 1982, Vaughn became one of the first major hockey production companies to use multiple foam layers in equipment. As strictly a goalie equipment company, the main focus for Vaughn is the innovation and quality of their product. Visit Vaughn online at: www.vaughnhockey.com