Wichita Falls defenseman Dalton makes NCAA DI commitment
October 6, 2015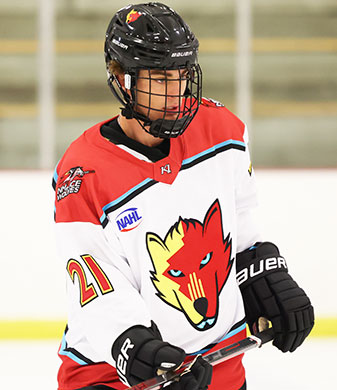 By Alex von Keudell, Wichifa Falls Wildcats
The Wichita Falls Wildcats of the NAHL have announced that defenseman Jacob Dalton has committed to play NCAA Division I hockey at Bowling Green State University. He will play another season of junior hockey after this year, and begin his college career at the start of the 2017-2018 campaign.
"It's close to home," said Dalton, a native of Saginaw, Michigan. "They've got some great coaches up there, and I'll have the opportunity to come on board and earn some ice time."
Bowling Green, who are members of the WCHA, is the alma mater of a number of current and former NHL players, the most notable of whom are defensemen. Some alumni include Hall of Famer Rob Blake, NHL stalwart blue-liner Kevin Bieksa, and former NHL defenseman Ken Morrow, who was on the ice when the 1980 US Olympic Hockey Team defeated the Soviet Union in the "Miracle on Ice" game.
Seven games into the 2015-16 season, Dalton has already established himself as a force on the blue line. He has played in every game so far and leads all Wildcats defensemen with 5 points.
"We are very excited for Jake's college commitment, and the opportunity that lies ahead of him. He is a high-character kid both on and off the ice, and is a pleasure to work with. Jake is blessed with a variety of tools that will help him succeed at the college level including dynamic skating, great vision, and high-end skill. Bowling Green has been a program on the rise and will be very pleased with Jake Dalton as a student-athlete on campus," stated Josh Nelson, Assistant Coach for the Wildcats.
Dalton is the fifth player on this year's Wildcats team to commit to an NCAA Division I school. Austin Beaulieu has committed to Alabama Huntsville, Erich Jaeger to the Air Force Academy, and Rourke Russell and Ben Lown to Miami of Ohio.