Robertson Cup Championship schedule, format announced
April 12, 2010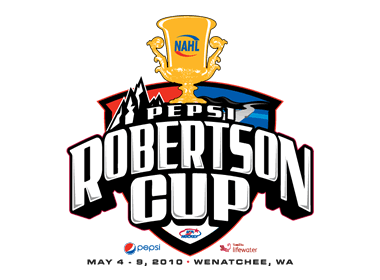 The North American Hockey League (NAHL) has announced the schedule and game format for the five-team Robertson Cup Championship Tournament, which will be held from May 4-9 at the Town Toyota Center in Wenatchee, Wash.

The winners of the Central, North and South Division playoff finals, along with the Wenatchee Wild, hosts of the Robertson Cup Championship Tournament, and Fairbanks Ice Dogs, who earned a berth to the tournament after their West Division semifinals series win over the Alaska Avalanche, will play a four-game round robin from Tuesday, May 4-Saturday, May 8.

The two teams with the most points at the conclusion of the round robin will play in the Robertson Cup championship game on Sunday, May 9 (5:05 p.m. local time).

Each team will have an off-day during the round robin, with the teams choosing their off-day based on their finish in the regular-season standings (point total). The team with the highest point total will select its off-day first, followed by the team with the second-highest point total on down to the team with the lowest regular-season point total of the five.

As regular-season champions and with its automatic bid to the tournament, the Wild has selected Thursday, May 6 as its off-day.

The Robertson Cup also represents USA Hockey's Tier II Junior A national champion.

The oldest junior hockey trophy in the United States, the Robertson Cup is named in honor of Chuck Robertson, a pioneer of junior hockey in the NAHL and youth hockey in the state of Michigan. Robertson was the owner of the Paddock Pools Saints when they won a record seven straight NAHL championships from 1976-83.

For more information on the Robertson Cup Championship, including the schedule, visit RobertsonCup.com.

The North American Hockey League, the only USA Hockey-sanctioned Tier II Junior A league boasting 24 teams from across the country, prides itself on the social maturity and skill development of student-athletes ages 16-20 with aspirations of advancing to collegiate and/or professional hockey.