NHL.com: Hockeyville game benefits Tomahawks players
September 28, 2015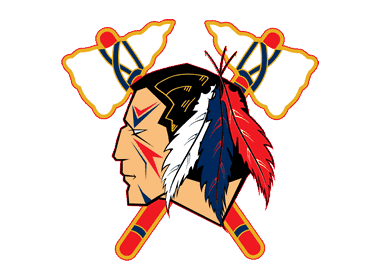 By Kristen Nelson, nhl.com
When Alex Alger was traded to the Johnstown Tomahawks of the North American Hockey League (NAHL) in early February, he had no idea what was in store for him. He knew the Pennsylvania town was where the iconic movie "Slap Shot" was filmed, but that was about it.
The small town of Johnstown, Pa., may not be thriving as it was when the steel industry boomed throughout much of western Pennsylvania. But when 3,000-plus fans piled into the Cambria County War Memorial for his first game for the NAHL team, Alger realized how unique his new home was.
"When I first came in they told me I could go to the soup kitchen and see people there that are at your games," Alger said. "It shows what hockey really means to the community. People are willing to spend what little money they have to come out to support the team. It's really an incredible place to play. It's truly a hockey community."
Soon after he arrived, Alger learned of Johnstown's bid to win Kraft Hockeyville USA. He enthusiastically joined the campaign, and enlisted his friends and family from his home in Livonia, Mich., to encourage people to vote for Johnstown.
Although the Pittsburgh Penguins and the Tampa Bay Lightning will be the ones to christen the updated arena with a preseason game Tuesday (7 p.m. ET; NBCSN), the Tomahawks will be the ones benefitting most from the $150,000 the city won that will go toward rink renovations.
Alger will play this season with the Tomahawks and is committed to Miami University for next season. He and Johnstown captain Logan Hudson are eager to experience the improvements made to the 65-year-old arena.
"This will be my third season playing here and I'm more excited about getting a scoreboard that works than anything else," Hudson said. "That's going to be nice. All the arena upgrades we're going to get are going to be awesome. It's already the best place to play junior hockey, but it's just going to make it even better, especially being able to read your own scoreboard."
In addition to a working scoreboard, the arena received used boards, glass and netting from the Dallas Stars; a new ice compressor; new flooring in the locker rooms; and the benches and penalty boxes were expanded.
Tomahawks coach Mike Letizia said Hockeyville will have a lasting impression on hockey in Johnstown. From recruiting to a revival in youth participation, Letizia said the state of hockey will be improved thanks to the arena upgrades and NHL-recognized Kraft Hockeyville USA title.
"Every place always needs a little bit of a facelift," Letizia said. "All the new stuff is only going to help it; it's only going to make it better. It won't lose its character or history by any means. It helps the new generation of players too. Hockey is a kid's game, they love to say. So the youth hockey players deserve to have a little bit of an upgrade as well."
Read the rest of the NHL story
here
.