September 18, 2015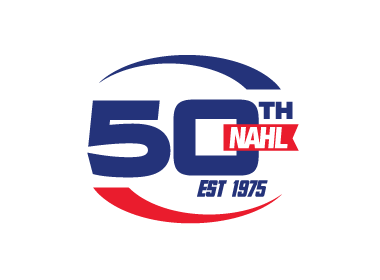 The North American Hockey League (NAHL) schedule sees an increase in games this weekend as many teams open their 2015-16 regular season. That includes the four teams in the new East Division as the Aston Rebels, New Jersey Titans and Wilkes-Barre Scranton/Knights all play in their inaugural NAHL games.
The action also heats up in the Midwest Division with a rematch of last year's Midwest Division Finals when Fairbanks travels to the Wilderness, while the regular season champions from last year, the Janesville Jets, open their season by hosting Kenai River.
The Central Division features two classic match-ups as Austin visits Bismarck, while Minot invades Brookings as all four teams open their respective regular seasons.
The South has just two games this weekend as Corpus Christi plays in Topeka for one game, while Lone Star visits Amarillo for one game.
Central Division
Austin Bruins @ Bismarck Bobcats – The Kyle Grabowski era gets started in Austin with a Bruins team that has gone to two straight Robertson Cup Finals. Meanwhile, the Bobcats look to continue their remarkable run of 30+-win seasons as they have won at least 30 games for seven straight years. Friday marks the first time the Bobcats will open the NAHL season at home since 2005. Between the unknowns of Austin and the Bobcats' youthful roster—featuring seven players born in 1997 or 1998—the blueprint for opening weekend is expected to be basic.
Minot Minotauros @ Brookings Blizzard – Judging by recent history, the Minotauros have taken small steps each season and are coming off their best season to date. Minot will not only have a lot of returning players, but ones that put up some good numbers last season. Meanwhile, the Blizzard are almost an entirely new team with only six players returning from last season. The Blizzard showed well in the pre-season with wins over Sioux Falls from the USHL and Aberdeen in the NAHL.
East Division
Aston Rebels @ New Jersey Titans (Fri) – It is a night of debuts as Aston travels to play New Jersey on Friday. Both teams went through relocations over the summer, so both rosters feature some veterans who remained as a part of those relocations. New Jersey head coach Rich McKenna will be making in NAHL head coaching debut, while Aston head coach Joe Coombs is entering his 3rd season coaching in the league. The Titans roster features 11 players from the Eastern United States.
Johnstown Tomahawks @ Wilkes-Barre/Scranton Knights (Fri) – The Knights make their NAHL debut on Friday as the only expansion team in the league this season. Knights head coach Tom Kowal will be making his NAHL head coaching debut, while Johnstown head coach Mike Letizia is in his second season. Both teams lost in the pre-season to Youngstown from the USHL. Johnstown will have the benefit of having 10 players returning from last season.
Johnstown Tomahawks @ New Jersey Titans (Sat) – One of the benefits of the East Division will be the travel. The longest trip among East opponents will be Johnstown's 4 ½ hour trip to New Jersey, which is very short in terms of history. Compare that to some of the trips Johnstown has had in recent years, which included a 10-hour trip to Springfield, Illinois and an 11-hour trip to Sault Ste. Marie, Michigan.
Midwest Division
Fairbanks Ice Dogs @ Minnesota Wilderness – Fairbanks is off to 2-0 start as they invade Cloquet this weekend to take on the Wilderness, who open defense of their Robertson Cup Championship. Minnesota beat Fairbanks in the Midwest Division Finals last year on their way to the title. Fairbanks forward Logan Coomes has the early NAHL scoring lead with seven points. The Wilderness return seven players from last year's Championship team.
Kenai River Brown Bears @ Janesville Jets – The Jets will have the task of following up a season in which they broke NAHL single-season records for wins (49) and points (100). The Brown Bears had a rough opening weekend at home last weekend against Fairbanks, as they were outscored 13-5 in the two losses. Kenai River defenseman Jeff Solow has three assists in his first two games. The Jets return several key players from last year's team, including Adam Winborg, who had 52 points a season ago.
South Division
Corpus Christi IceRays @ Topeka RoadRunners – Topeka opened their season last weekend with a split at home with Wichita Falls. The IceRays are coming off a 2-1 pre-season win in Lone Star earlier this week in their lone exhibition game. While the IceRays have just seven returners from last year's team, head coach John Becanic brought in several players with experience from other junior teams throughout North America. Veteran Topeka forward Luka Maver had three points last weekend in the split with the Wildcats.
Lone Star Brahmas @ Amarillo Bulls (Sat) – The Bulls opened up with an impressive 6-3 win at home last Saturday over the Odessa Jackalopes. Forward Joey Molinaro was named as the South Division player of the week for his four-point effort. The Brahmas went 2-1 in the pre-season and are the defending South Division regular season and playoff champions. The team is almost entirely new with only four players returning from last year's Robertson Cup Semi-Finalists.