22 in 22: Wichita Falls Wildcats
September 9, 2015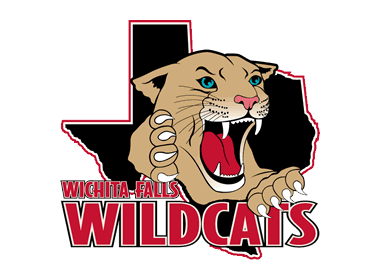 The 22 Teams in 22 Days series features a look at all 22 teams in the NAHL for the 2015-16 season, with a new team being highlighted daily, leading all the way up until the start of the regular season on Friday, September 11th. 22 in 22 will go in-depth into each NAHL team and will include interviews with all 22 head coaches in the NAHL, as they provide fans with their expectations and outlook for the 2015-16 season, including taking a look at their roster and their strengths as a team. It will also take a look back on last season and how each team fared and what they accomplished. Best of all, 22 in 22 is done to provide the fans of the NAHL with an inside look at their favorite team and what to expect.
Wichita Falls Wildcats
Head Coach: John LaFontaine (2nd year)
2014-15 record: 39-16-5, 83 pts. (3rd in the South Division)
2014-15 leading scorer: Colin Staub (60 points)
2015 Playoffs: Lost in the South Division Semi-Finals to the Topeka RoadRunners, 3 games to 1
2015-16 Division: South
First regular season game: Friday, September 11th @ Topeka RoadRunners
Home opener: Saturday, October 3rd vs. Odessa Jackalopes
In their 12-year history in the North American Hockey League, the Wichita Falls Wildcats have not experienced a better season than they did last year. Their 39 wins and 83 points in 2014-15 were the best for the team in their extended NAHL history. Not since the inaugural season of junior hockey in Wichita Falls, which featured 43 wins by the AWHL's Wichita Falls Rustlers during the 2002-03 season, had a Wichita Falls team been that successful on the ice. Not only that, but the team also had a record-breaking season when it came to NCAA commitments. A total of 15 players from last year's team committed to NCAA school, with 14 of those being NCAA Division I commitments. That total led all NAHL teams last season.
The Wildcats were also the #1 offensive team in the league last season and were the only team in the NAHL to average more than four goals per contest. It was also no surprise that one of the men behind the success was John LaFontaine, who has a long track record of coaching success at the junior level. "I think it was a reflection of the player's skill level more than anything else," said Wildcats head coach John LaFontaine. "When you have that many guys who understand what the league is about and can develop at a rate to earn an NCAA commitment, they are going to set you up to be successful on the ice," stated LaFontaine.
However, when it came to the playoffs and getting to the point where the team could be in the mix for a Robertson Cup, things proved to be elusive. After sweeping the Rio Grande Valley Killer Bees, 2-0 in the South Quarterfinals, the Wildcats faced the Topeka RoadRunners in the South Semi-Finals. The Wildcats seized home ice by winning one of the first two games in Topeka, but then lost both Games 3 and 4 on home ice in Wichita Falls to see their season prematurely come to an end.
Despite the loss, LaFontaine, said that he came away impressed with what was accomplished. "I think our staff led by our General Manager Paul Baxter did a great job of building a team of very talented players, but more importantly, quality individuals. We had some high-end leaders and players and I didn't have to do much, but put those guys on the ice and turn them loose," said LaFontaine. "For me, the NAHL had changed a lot since I was in the in the league last, so there was as much learning and trying to adapt as some of the players, so I was grateful to have those type of guys."
Heading into the 2015-16 season, LaFontaine made it clear that the two big focus and needs were on defense and goaltending. Both goalies (Austin Shaw and David Zevnik) earned NCAA Division I commitments and only one defenseman from last year is returning because of the number of advancements. In total, eight players (7 forwards, 1 defensemen) will be returning from last year's 39-win team.
The returning forwards include Austin Beaulieu, who was 2nd on the team in scoring last season with 55 points. They also include Nikita Litviak (34 points), Max Reisinger (32 points), Jonathan Lazarus (28 points), Erich Jaeger (25 points), Austin Albrecht (23 points) and Alex Falconer (17 points), along with defenseman Jeff Baum (4 points). While the Wildcats haven't selected their captains yet, LaFontaine said that all of the returning players will be looked to carry the load and display leadership early on in this season.
The Wildcats will have two new faces in goal in Justin Kapelmaster and Julian Sime. Kapelmaster, who was a tender of the Wildcats, just arrived to the team this week from the USHL and will be in his final season of junior hockey. Last season, he was named the OJHL Goaltender of the Year. Sime is a 17-year-old from Toronto, who was a 2014 Draft Pick in the OHL and who put up good numbers in Canadian Midget AAA hockey last season.
Some other new faces to the Wildcats line-up include forward Andre Pison, who enters his final year of junior hockey with the Wildcats after playing in the NAHL with Wenatchee last season and recording 20 points. "Since we didn't have a ton of experience on the roster, Andre has been a nice addition already. He understands how to play and succeed at this level," said LaFontaine. Another veteran player that should also help is defenseman Holden Cronin, who has spent the past two seasons playing Canadian Junior A hockey.
LaFontaine said that realistically, last year would be a tough act to follow. "With the amount of new players on this year's team, we know there will be an adjustment period this season. We hope to get everyone on the same page early and we are hoping we can hit our stride in the middle of October. I like our mobility back on defense and that should enable us to create offense. You have to be patient with a group like this, so we will take things in small steps."
Next up in the 22 in 22 series: Wilkes-Barre/Scranton Knights