22 in 22: Topeka RoadRunners
September 8, 2015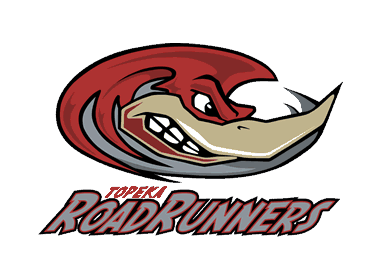 The 22 Teams in 22 Days series features a look at all 22 teams in the NAHL for the 2015-16 season, with a new team being highlighted daily, leading all the way up until the start of the regular season on Friday, September 11th. 22 in 22 will go in-depth into each NAHL team and will include interviews with all 22 head coaches in the NAHL, as they provide fans with their expectations and outlook for the 2015-16 season, including taking a look at their roster and their strengths as a team. It will also take a look back on last season and how each team fared and what they accomplished. Best of all, 22 in 22 is done to provide the fans of the NAHL with an inside look at their favorite team and what to expect.
Topeka RoadRunners
Head Coach: Scott Langer (12th year)
2014-15 record: 39-15-6, 84 pts. (2nd in the South Division)
2014-15 leading scorer: Jasen Fernsler (54 points)
2015 Playoffs: Lost in the South Division Finals to Lone Star, 3 games to 1
2015-16 Division: South
First regular season game: Friday, September 11th vs. Wichita Falls Wildcats
Home opener: Friday, September 11th vs. Wichita Falls Wildcats
One of the more interesting stats of last season was that the Topeka RoadRunners ended up in the very same place they were the season prior to that. Just like they did in 2013-14, the RoadRunners of last season posted a 39-15-6 record with 84 points and a 2nd place finish in the South Division during the regular season. After dispatching Wichita Falls in the Semi-Finals, the RoadRunners went head-to-head with the Lone Star Brahmas in the South Finals, ultimately falling in the series, 3 games to 1. It continued what has been nothing short of a remarkable run of regular season success for the RoadRunners franchise, who have won at least 38 regular season games for nine straight seasons. The last time a RoadRunners team didn't win at least 38 games in a season came during the 2005-06 season when the club was still in Santa Fe, and it has all been under the watch of head coach Scott Langer, who enters his 12th season as head coach.
Beyond the success on the ice, the RoadRunners also had a tremendous season in the NCAA commitment department with 11 total players, including 10 from the 2014-15 team, earning a NCAA Division I commitment. It was the most active players committed for the team since the 2010-11 season. It was also highlighted by goaltender Matej Tomek, who committed to the University of North Dakota during the season, being selected in the 2015 NHL Draft in the 3rd round by the Philadelphia Flyers.
The summer of 2015 was a roller coaster for the RoadRunners as they were in deep negotiations to renew their lease at the Landon Arena in Topeka. After months of talks, the team and the Shawnee Country Commissioners came to an agreement in July to keep the team playing in Topeka at Landon Arena for the next three seasons. "I would like to personally thank Commissioner Kevin Cook and County Counselor Eckert for their hard work in keeping the RoadRunners in Topeka," team owner Don Stone II said at the time. "They were a driving force in negotiations. We also are thankful for our dedicated sponsors for supporting us, and of course, we wouldn't be here without our passionate fans that are apart of Runners Nation. Your support was crucial in keeping us in Topeka, and for that we are thankful."
Assistant Coach Josh Kamrass said that it was an emotional year for everyone involved, but a successful one nonetheless. "I think we met expectations in some areas and fell short in others. Our goal here is to move guys onto the NCAA and we did a great job with that last year, so from that aspect it was very rewarding. It was a relief for everyone to come together and keep the team in Topeka. We love it and have great support here, so that is something that we are glad came to a mutual resolution," said Kamrass. "However, losing in the South Finals and coming close again like that is always hard. We have to keep moving forward and learn from it, but there are quite a few returning guys coming back that hopefully learned from that experience and will make us a better team for it in 2015-16."
The RoadRunners will have a nice collection of returning players, but the biggest needs were in goal, along with finding some high-end and point-producing defensemen. With the loss of both Tomek and Drew Vogler to NCAA Division I schools, the focus will be on new goalies Tyler Johnson and Vladimir Cibuka. "We are expecting both goalies to be competing for the #1 spot, but both have a competitive nature to them, which is something we really like," said Kamrass. Cibuka is from Slovakia like Tomek and played last season for the Slovakian National 18U team along with HK Ruzinov Batislava. Johnson is a 17-year-old who played for the Compuware 18U team last season and also appeared in a game with the Plymouth Whalers in the OHL last season.
The RoadRunners will have 11 players returning to the line-up, which does give them a solid veteran presence to start the season. They include forwards Carlos Fornaris (28 points), Cam Strong (27 points), Dominic Lutz (18 points), Yu Hikosaka (17 points), JB Baker (16 points), Beau Dommer (12 points) and Luka Maver (8 points), along with defensemen Tyler Hayes (10 points), Ryan O'Connor (5 points), Jack Kelly and (3 points) and Seth Kamrass (1 point in 4 games). "I think all of the forwards are capable of production and leadership, so it is tough to single anyone out. We are expecting all of them to help the new players and understand what it takes to be a RoadRunner. We like to play fast and up-tempo so that is something we will be working on and emphasizing right away," said Kamrass.
"Everyone's goal each year is to win a Robertson Cup and we certainly subscribe to that, but we are going to set our goals in smaller chunks," said Kamrass. "We really try and focus game by game and week by week. The big picture is there, but we are big on understanding our overall mission and we don't want our guys to lose sight of that. The South Division is very tough to play in… it's fast, it's physical and we have to be ready every night to compete or else we come away with a loss. That's what we have to focus on and get our new group of players to subscribe in, but we have some good pieces in place and now we just focus on becoming a better hockey team," said Kamrass.
Next up in the 22 in 22 series: Wichita Falls Wildcats