22 in 22: New Jersey Titans
September 5, 2015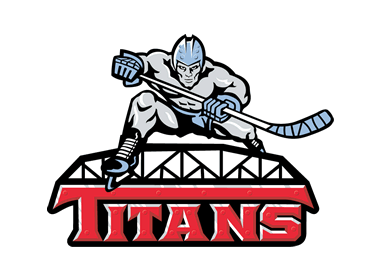 The 22 Teams in 22 Days series features a look at all 22 teams in the NAHL for the 2015-16 season, with a new team being highlighted daily, leading all the way up until the start of the regular season on Friday, September 11th. 22 in 22 will go in-depth into each NAHL team and will include interviews with all 22 head coaches in the NAHL, as they provide fans with their expectations and outlook for the 2015-16 season, including taking a look at their roster and their strengths as a team. It will also take a look back on last season and how each team fared and what they accomplished. Best of all, 22 in 22 is done to provide the fans of the NAHL with an inside look at their favorite team and what to expect.
New Jersey Titans
Head Coach: Rich McKenna (1st year)
2014-15 record: 31-25-4, 66 pts. (3rd in the North Division) *as the Soo Eagles
2014-15 leading scorer: Trevor Cope (54 points)
2015 Playoffs: Lost in the North Division Finals to Janesville, 3 games to 1
2015-16 Division: East
First regular season game: Friday, September 18th vs. Aston Rebels
Home opener: Friday, September 18th vs. Aston Rebels
One of the key pieces behind the NAHL's move to the East was the relocation of the Soo Eagles to Middletown, New Jersey where the New Jersey Titans were born. The Titans have had a very successful team for many years, which includes fielding Tier I youth teams at the 18U and 16U level in the NAPHL. However, this is the first time an NAHL teams will call the state of New Jersey home. "We saw our footprint in the North Division slowly migrate to other areas that became increasingly further from Sault Ste. Marie, Michigan and were left with no opponents within a reasonable traveling distance to the upper peninsula of Michigan. As a result, capitalized on a new opportunity that existed in New Jersey that is a part of new growth of the league in the east," said Ron Lavin, principal owner and governor of the Titans.
The Titans will be playing out of the state-of-the-art Middletown Ice World Arena. The arena is a single-sheet facility that currently seats approximately 1,550, which is inclusive of four private boxes, a party room overlooking the rink, a bar rail, table tops in the end zone and mezzanine seating at one end of the building. The venue is also home to the New Jersey Jr. Titans of the NAPHL. The NAHL team will also enjoy a dedicated locker room, office and training space.
The next step in the process was to hire a head coach. On June 17th, the Titans announced Rich McKenna as the team's first ever head coach. McKenna, who is from the East coast via Greenwood Lake, New York, joins the Titans after spending two seasons as Assistant General Manager and Assistant Head Coach for the USHL's Muskegon Lumberjacks. Prior to the Lumberjacks, McKenna spent two seasons as the assistant coach for the NCAA Division I University of Connecticut Huskies. He specialized in recruiting as well as coaching responsibilities that included working with the defensemen and special teams. McKenna also put time in as the video coordinator and worked in skill development.
"Everything happened really quickly, but because it was a relocation and not a totally new team, I felt like it was a good situation and one that could be successful for everyone," said McKenna. "There were tools left in the shed, so to speak. We have some veteran players coming back and a tremendous support system of staff in New Jersey, so I believe all the key ingredients for success are there. I worked hard as a I could to get some good new players into camp to mix with those guys coming back with NAHL experience. Now it is a just a matter of putting together a puzzle and managing it."
McKenna said that coaching in the North American Hockey League brings a great opportunity because of the league's place in the hockey landscape. "I scouted the NAHL for many years and now that I am a head coach, I can see even more clearly that it is one of the best. The players are big, strong, determined and play with a chip on their shoulder and an edge. You look at a lot of the teams that have success in the NCAA tournament… they are usually loaded with NAHL alumni. There is a reason why the reason why the league is good as it is and is experiencing record NCAA commitments every season. The NAHL also does a great job at developing coaches. I see why players and coaches are so successful after having been in the NAHL. It is an opportunity to grow and develop for everyone," said McKenna.
McKenna said when he was building the team he first and foremost wanted to instill some core habits with hard work being the number one thing. "We control our identity. I want to play hard and play fast. We also have set small goals. We want to win each game, we want to play well in Blaine and so on. I will coach every game to win, but it is up to the players to go out and execute. I think winning the division and getting home ice in the playoffs is a long term goal."
Speaking of the players, the Titans will have the benefit of bringing a handful of players to New Jersey with them that were in the Soo last year. Some of those key pieces include forwards Keegan Miller (37 points), Bruno Birzitis (23 points), Raymond Brice (20 points) and defensemen Pat Gazillo (17 points), Jake Hamilton (10 points), and Dan Weaver (8 points). McKenna also is excited about NAHL veterans Garrett Hallford and Joe Nathe joining the team. Hallford played in Keystone last season and also spent some time in the USHL with McKenna is Muskegon. Nathe had 19 points with the Brookings Blizzard last season. Another NAHL veteran that joins the Titans in goalie Josh Creelman, who is a New Jersey native, but appeared in 13 games last season with the Kenai River Brown Bears.
The Titans will have a significant local presence as well. A total of nine players on the roster make their home somewhere close to New Jersey in the East. That will include Anthony Cusanelli, Greg Malafronte, Brad Becker and Michael Gelatt, who are all from the area and all products of the New Jersey NAPHL teams. "We have a good mix of local guys, along with guys with junior experience and NAHL veterans. On paper, I am happy because there are some impressive backgrounds there. You don't know what you really have until they are all thrown in the fire and get some game day experience, but our goals are realistic and attainable and we should be successful," said McKenna.
Next up in the 22 in 22 series: Odessa Jackalopes