22 in 22: Minot Minotauros
September 4, 2015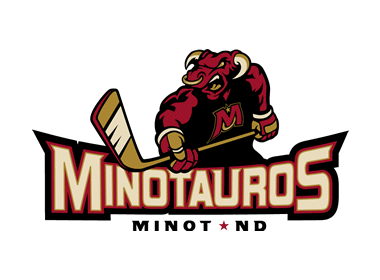 The 22 Teams in 22 Days series features a look at all 22 teams in the NAHL for the 2015-16 season, with a new team being highlighted daily, leading all the way up until the start of the regular season on Friday, September 11th. 22 in 22 will go in-depth into each NAHL team and will include interviews with all 22 head coaches in the NAHL, as they provide fans with their expectations and outlook for the 2015-16 season, including taking a look at their roster and their strengths as a team. It will also take a look back on last season and how each team fared and what they accomplished. Best of all, 22 in 22 is done to provide the fans of the NAHL with an inside look at their favorite team and what to expect.
Minot Minotauros
Head Coach: Marty Murray (5th year)
2014-15 record: 37-16-6, 80 pts. (2nd in the Central Division)
2014-15 leading scorer: Blake Lizotte (52 points)
2015 Playoffs: Lost to the Austin Bruins in the Central Division Finals, 3 games to 2
2015-16 Division: Central
First regular season game: Friday, September 18th @ Brookings Blizzard
Home opener: Friday, October 9th vs. Brookings Blizzard
Each season under head coach Marty Murray's watch, the Minot Minotauros have taken steps forward to become among the NAHL's elite and no step was bigger than the one taken last year by the team. The team was the model of consistency last season, never dropping more than two straight regulation losses. Minot ended up winning a franchise record 37 games, which was followed by a playoff series win against their intra-state rivals, the Bismarck Bobcats. That vaulted Minot into the Central Division Finals, where they would meet the Austin Bruins for a third straight year in the post-season. The Minotauros would fall at hands of the Bruins in the fifth and final game of a tremendous series by a goal, but a new benchmark had been established.
Like so many other NAHL teams, it was also a year that saw many Minot players make notable NCAA commitments. A rising superstar was born in forward Blake Lizotte, who not only managed to lead the Minotauros in scoring, but did it at 16-17 years of age. For his efforts Lizotte was not only honored as the NAHL Rookie of the Year, but also secured an NCAA Division I commitment to St. Could State University. Joining Lizotte in the yearly accolades was goaltender Atte Tolvanen, who was named the Central Division Goalie of the Year and committed to play NCAA Division I hockey for Northern Michigan University and defenseman Jon Lizotte, who was named to the All-Central Division Team and committed to play NCAA Division I hockey at St. Cloud State University.
Head coach Marty Murray has been with the team since Day 1 and believes that last season was a big stepping-stone for the organization. "I think overall, we were very pleased with last year. We took a big step as an organization on and off the ice. It is always disappointing when you don't win the last game of the playoffs, but only one team can say they have but we a good number of guys who will be back with us this season that went through that experience and will be better for it and hopefully we can use it to build for this season," said Murray. "We are in the business of developing players, but people are drawn to winners so the better we do on the ice, the more eyes that are on the players. I think we saw that last year because we had some success and got some really notable commitments."
The Minotauors not only had a lot of turnover on the roster, but the players they did lose were some high-profile ones and key producers on the team like the aforementioned Blake Lizotte, Atte Tolvanen and Jon Lizotte and also included the likes of Jake Howie and Nick Monfils. However, Minot will be in the enviable position of returning some major components of the line-up from a year ago, which should give them a leg up in the Central Division. "I was really happy with who we had coming back, because there is a lot of experienced guys and guys who proven they could play at this level last season. That type of experience is something you can't recruit. I think we are looking pretty good at all positions. I think the goaltending position will be the one to watch initially because we have three new guys between the pipes, so it will be interesting to see how they respond," said Murray.
Minot will not only have a lot of returning players, but ones that put up some good numbers last season. On the backend, the team returns Jared Brandt (17 points), Jacob Dittel (13 points), Max Mettler (12 points) and Luke Davison (12 points). Minot will also have NAHL and USHL veteran James LaDouce on the blueline for his final season of junior hockey. Up front, the Minotauros will return some key point-producers in Christian Mohs (51 points), Johnny Walker (42 points and a team-leading 20 goals), Chase Springman (31 points), Troy Degler (21 points) and Quinn Fuchs (13 points). The Minotauros also picked up NAHL veteran Derek Frentz, who posted 23 points with the Michigan Warriors last season, along with Ben Falk, who posted 45 points with the Nashville Jr. Predators in the NA3HL last season. Murray said he is also excited about forward Tyler Jeanson, who put up 54 points in Canadian junior hockey last season.
The three new goalies are Jon Flakne, Brandon Holtby and Lucas Murray. Flakne, who played for Orono High School in Minnesota last year, actually played in one game last season with Minot, which ended up being a shutout over Brookings. Holtby comes to Minot via the Canadian junior hockey system and Murray is another product of Minnesota High School hockey and Virginia High School. "All three had solid camps, so we are going to see in the month of September who can earn the starting role," stated Murray.
"We had a lot of success last season and we want to keep that momentum going. I think we have the pieces in place to do that, particularly with our veterans. When you don't win that last game, there should be a bitter taste in your mouth, so hopefully that is something that motivates our players," said Murray. "I am hoping the new guys push our veterans and our expectations are to win a championship. We want to start the season off right, continue to build and put ourselves in a good position to succeed in the playoffs."
Next up in the 22 in 22 series: New Jersey Titans