22 in 22: Johnstown Tomahawks
August 30, 2015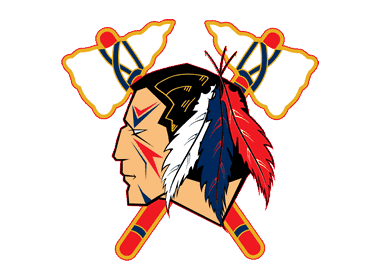 The 22 Teams in 22 Days series features a look at all 22 teams in the NAHL for the 2015-16 season, with a new team being highlighted daily, leading all the way up until the start of the regular season on Friday, September 11th. 22 in 22 will go in-depth into each NAHL team and will include interviews with all 22 head coaches in the NAHL, as they provide fans with their expectations and outlook for the 2015-16 season, including taking a look at their roster and their strengths as a team. It will also take a look back on last season and how each team fared and what they accomplished. Best of all, 22 in 22 is done to provide the fans of the NAHL with an inside look at their favorite team and what to expect.
Johnstown Tomahawks
Head Coach: Mike Letizia (2nd year)
2014-15 record: 25-27-8, 58 pts. (5th in the North Division)
2014-15 leading scorer: Alex Alger (44 points)
2015 Playoffs: Did not qualify
2015-16 Division: East
First regular season game: Friday, September 18th vs. Wilkes-Barre/Scranton Knights
Home opener: Friday, October 16th vs. New Jersey Titans
One point was all that separated the Johnstown Tomahawks from the playoffs last season. It was a bitter pill to swallow for head coach Mike Letizia and the Tomahawks faithful, who had an otherwise memorable season. The Tomahawks had a fantastic year otherwise, which saw 12 players from the 2014-15 team make NCAA commitments, their first ever player drafted by the NHL, another strong season at the turnstiles, fan and community support and an incredible honor bestowed upon the town.
After being over .500 for much of the first half of the season, the Tomahawks struggled down the stretch, winning just six games in the final two months of the regular season. What was once a playoff certainly turned into being edged out on the final day of the regular season that left the Tomahawks one point short of a playoff spot. "It's an interesting dynamic because there was a lot to feel good about last season, but the way it ended was very tough to take. Our priority is to develop players and move them on, so from that standpoint we were very pleased with how the season went," said Tomahawks head coach Mike Letizia. "However, I learned a lot last year in my first season as a head coach and will try and take those experiences, good and bad, and turn it into a better season this year on the ice. We realized how hard it is to win and be successful in this league. There are no easy nights and that you have to be consistent."
Beyond the 12 commitments, the Tomahawks made some history as they saw their first player drafted into the NHL as goalie Ryan Bednard was drafted by the Florida Panthers. On top of that, the city of Johnstown, Pennsylvania was honored as the first ever Kraft Hockeyville USA winner in early May. It was a goal the community worked together to achieve since the competition got underway in January. "With the rich tradition of hockey, I really didn't have a doubt that Johnstown and Cambria County - and really all the past players from across the country - would come together and we'd pull this off," Johnstown Tomahawks President Rick Bouchard said. "I was very confident from the start that we would win." Along with the title, Johnstown received $150,000 for improvements to the War Memorial. The arena's scoreboard, lighting and sound system all need upgraded for Tomahawks games.
With the significant number of commitments and players advancing to the higher levels, the off-season was a busy one for Letizia and the Tomahawks, who have plenty of new roles to fill for this year's team. "There is a little bit of unknown for us because so many players have moved on to higher levels, but there are some things we have instituted to start the season. One of those things is to adopt more of a winning culture here in Johnstown. We have the Hockeyville title, we have the community support, so now it is time for us to start winning on a more consistent basis and starting winning at home, which is something we have struggled to do in recent years," said Letizia.
The Tomahawks will also be in the new division this season as the East Division takes flight along with the Aston Rebels, New Jersey Titans and Wilkes-Barre/Scranton Knights. "The travel will be a lot less, so that is always a good thing and I think fans will enjoy the local rivalries that will be built. It should be easier on the guys in terms of traveling and rest. However, there will be the challenge of trying to keep everyone focused because we are going to be playing those teams a lot more frequently and we have to be sure we are setting ourselves up to finish high enough in the standings to earn home ice in the playoffs. We can't get lazy or complacent," said Letizia.
Those 10 veteran players who are returning include forwards Alex Alger (44 points), Andrew Romano (24 points), Dalton Hunter (10 points), along with forward Drew Doyon who the team acquired in a trade with Aberdeen in the off-season. Defenseman include Logan Hudson (3 points), Jake Houston (11 points) and Steven Quagliata (23 points), along with two goalies in Jake Gwillim and Nick DeSimone. Gwillim appeared in 22 games last year, while DeSimone was an affiliate player, but also played in five games.
In addition to Doyon, the Tomahawks may be relying heavily on players with NAHL experience who are new to the Tomahawks this season. They include Tommy Horn, Kelly O'Brien and Cameron Smith, who all played for the Keystone Ice Miners last season and who all saw significant minutes on the ice. The Tomahawks also picked up two players from the Michigan Warriors in forward Anthony Parrucci and defenseman Ryan Burr and then added forward Austin Heakins, who played in Aberdeen last season. "A lot of the guys we picked up have local ties or ties to the Eastern United States, so it hopefully will be encouraging for them to be a new situation that will likely be closer to home. There are still a lot of decisions to be made, but we feel the key pieces are there and now it is just a matter of who wants to step up and be a part of what hopefully will be a culture of winning for us. It is a great time to be playing hockey in Johnstown right now, so we hope these players we have take advantage of that opportunity," said Letizia.
Next up in the 22 in 22 series: Kenai River Brown Bears