22 in 22: Fairbanks Ice Dogs
August 28, 2015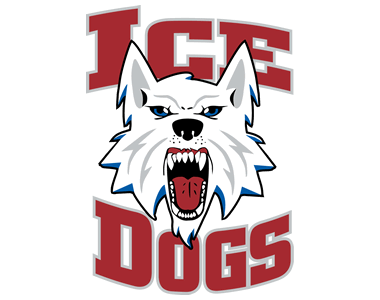 The 22 Teams in 22 Days series features a look at all 22 teams in the NAHL for the 2015-16 season, with a new team being highlighted daily, leading all the way up until the start of the regular season on Friday, September 11th. 22 in 22 will go in-depth into each NAHL team and will include interviews with all 22 head coaches in the NAHL, as they provide fans with their expectations and outlook for the 2015-16 season, including taking a look at their roster and their strengths as a team. It will also take a look back on last season and how each team fared and what they accomplished. Best of all, 22 in 22 is done to provide the fans of the NAHL with an inside look at their favorite team and what to expect.
Fairbanks Ice Dogs
Head Coach: Trevor Stewart (5th year)
2014-15 record: 40-16-4, 84 pts. (1st in the Midwest Division)
2014-15 leading scorer: Chandler Madry (77 points)
2015 Playoffs: Lost in the Midwest Division Finals to the Minnesota Wilderness, 3 game to 0
2015-16 Division: Midwest
First regular season game: Friday, September 11th @ Kenai River Brown Bears
Home opener: Friday, October 9th vs. Kenai River Brown Bears
The Fairbanks Ice Dogs had the toughest of tasks last season… to defend the Robertson Cup title. It is something that hadn't been done since the St. Louis Bandits did it in 2009 and it is rare enough that only six different teams in NAHL history have accomplished the feat. The regular season was yet another good one for the Ice Dogs. The team won at least 40 games for the second straight season and captured their fourth division title in the last five years. They also continued their tradition of being the team that sold out the most games in the NAHL, selling out 95% of their home games last season. Lastly, and true to form, the team was once again one of the league leaders in NCAA commitments as 13 players committed to play NCAA Division I hockey.
"We would like both the commitment part and winning part to gel together and we are happy a lot of players out of our organization has realized their NCAA Division I dream. In a perfect world, a record number of commitments and a championship is what everyone wants, but we feel that we have been very consistent in our numbers to show that Fairbanks is a great place to not only see that NCAA dream become a reality, but also experience the success of being part of a team that has a consistent winning tradition and community support," said Stewart.
The 2014-15 season featured a great battle between the Ice Dogs and the Minnesota Wilderness for the Midwest title during the regular season, and despite being tied in points with 84, it was the one additional win that earned the Ice Dogs the regular season crown. After Semi-Final wins by both the Ice Dogs and Wilderness, the two clubs would end up facing one another in the Midwest Division Finals.
"We knew we were going to get every team's best effort each and every game going into last season. That is something that comes along with being the defending champion. It is great, but it also means that from Game #1 you have to be on the ball," said Fairbanks head coach Trevor Stewart. "Last year, we were not sharp early and got off to a slow start, not because we weren't prepared, but because team's were simply outplaying us. The encouraging thing was we got better as the season went along and played some of our best hockey going into the playoffs."
The Division Finals were back and forth and logistics had it so that Games 1 and 2 were played in Cloquet, with the remainder of the series then taking place in Fairbanks. "In both Games 1 and 2, we had one-goal leads going into or close to the 3rd period of both games and could not get it done. It was the same thing in Game 3, where we came out, took a 3-0 lead and just saw the Wilderness kind of will themselves to win. We were right there and felt we were competitive, but in the end, we lost to the better team that showed a lot of determination and fortitude to get it done in some tough, come-from-behind situations. It is a testament to how tough our division is and will be again this season with the addition of the likes of the Janesville Jets and Springfield Jr. Blues," stated Stewart.
Interestingly enough, Stewart said that the off-season was focused on a new philosophy for the Ice Dogs… becoming younger. "We have always been a pretty veteran-laden group, but we felt we were a little too old and it was tough to define some roles. There are a lot more new faces, but more youthful exuberance as well," said Stewart. The Ice Dogs also lost both goalies from last season and hope to fill that void with NAHL veteran Andrew Lindgren, who played 44 games in Corpus Christi last season and had the 2nd most saves in the league in 2014-15.
Fairbanks will return nine veteran players from last year's team, including forward Ryner Gorowsky, who had 44 points last season. Other forwards returning to the line-up include Todd Burgess (36 points), Adam Anderson (16 points, but will start the season on IR), Caden Cahill (15 points), Tyler Tomberlin (10 points), Caleb Schroer (6 points) and Mitchell Bauman (4 points). The defensemen include Adam Kleven, Josef Ingman and Jakob Stridsberg. "Those guys are the guys we will look to, especially early, for some leadership and production," stated Stewart.
The Ice Dogs will also have a new assistant coach behind the bench in Scott Deur, who is a veteran of the NAHL, having played 136 career games in the league with the Kenai River Brown Bears, Marquette Rangers and the Texas Tornado. He later played his NCAA hockey for Saint Mary's. "Having a guy like Scott behind the bench is invaluable because he has been in the trenches as a player and knows that these players are going through emotionally and physically. It wasn't that long ago he was in their shoes, who he should relate very well to them."
Stewart said that the ultimate destination for this year's team remains the Robertson Cup title. "After experiencing that type of success two of the last four years, you get hungry to get back there and win it," said Stewart.
Next up in the 22 in 22 series: Janesville Jets