22 in 22: Corpus Christi IceRays
August 26, 2015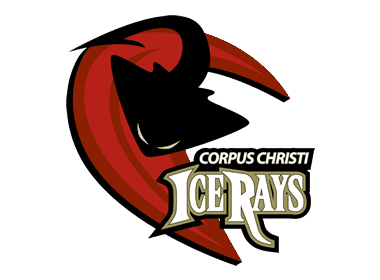 The 22 Teams in 22 Days series features a look at all 22 teams in the NAHL for the 2015-16 season, with a new team being highlighted daily, leading all the way up until the start of the regular season on Friday, September 11th. 22 in 22 will go in-depth into each NAHL team and will include interviews with all 22 head coaches in the NAHL, as they provide fans with their expectations and outlook for the 2015-16 season, including taking a look at their roster and their strengths as a team. It will also take a look back on last season and how each team fared and what they accomplished. Best of all, 22 in 22 is done to provide the fans of the NAHL with an inside look at their favorite team and what to expect.
Corpus Christi IceRays
Head Coach: John Becanic (3rd year)
2014-15 record: 31-24-5, 67 pts. (4th in the South Division)
2014-15 leading scorer: Wes Michaud (73 points)
2015 Playoffs: Lost to the Wenatchee Wild in the South Division Quarter-Finals, 2 games to 0
2015-16 Division: South
First regular season game: Friday, September 18th @ Topeka RoadRunners
Home opener: Friday, October 2nd vs. Amarillo Bulls
After just 19 wins in 2013-14, last season was a big one for the Corpus Christi IceRays to get back on track and show they had the stuff to be a contender in the NAHL's South Division. What transpired was an affirmative answer back from the IceRays, who set a team record with 31 wins last season, the most they have had in any of their five NAHL campaigns to date. The IceRays found themselves 11 games over .500 in early February and were playing their best hockey of the season. They faltered down the stretch, which included an opening round playoff loss and sweep to the Wenatchee Wild in the South Division Quarter-Finals, but nevertheless, it was the best season for the IceRays in their NAHL history, which also included leading the league in attendance for the second consecutive season.
"I thought that for stretches last year, we played like the best team in the South Division, and it was encouraging that 31 wins is the best for a Corpus Christi team in the NAHL. However, we didn't win a road game until January and in order to win a Championship, you have to be able to win on the road," said Corpus Christi IceRays head coach John Becanic. "It really left us with the thought of how much better could the season have been if we just go .500 on the road? That to me was the biggest disappointment because it told me that we weren't determined enough and it left us saying, what if?"
The IceRays only won four of their final 11 games during the regular season, but a 4th place finish was good enough to host the Wenatchee Wild in the South Division Quarter-Finals. However, back-to-back 3-2 losses ended the season prematurely for a club who is still looking for their first NAHL playoff series win. The IceRays did have some very good NCAA commitments last season, most notably leading scorer Wes Michaud, who committed to Colorado College and Tanner Lomsnes, who committed to Niagara.
This year's team will be mostly new faces, but Becanic said that the biggest need in the off-season was to address his goaltending. "I think when you are a top 10 team offensively like we were, you have to have consistent goaltending in order to be that elite level team. I look around the South Division and all the top teams had teams with elite level goaltending, so it was something we had to address in the off-season," said Becanic. The IceRays were 19th out of 24 teams in goals against average last season with a 3.27 mark. "To win in this league, you need two goalies that are capable of getting it done on a nightly basis and we think we have that this season."
To accomplish one part of the goaltending equation, the IceRays traded goalie Andrew Lindgren to Fairbanks and then acquired goalie Dryden McKay from Springfield in a separate trade. McKay, 17, put up some good numbers last year with the Jr. Blues, which included a 91.7% save percentage, along with a 2.77 goals against average. McKay was 3rd among all NAHL goalie last year in saves and appeared in 37 games, gaining valuable NAHL experience.
The IceRays will have seven players returning to the team who Becanic says he likes because they subscribe to the right philosophy. The IceRays also brought in several players with junior experience outside of the NAHL. "We could have returned up to 17 players and we kept seven from a team that won 31 games, so we think that sent the message that we were going to go with guys who came in with the mindset we were looking for," said Becanic. Some of the new faces to the line-up other than McKay include Canadian import forwards Drake Lindsay, Carter Johnson and Brad Power, who all have a proven track record of putting up big numbers in Canadian junior hockey and hope to do so in the NAHL. "All those guys are proven scorers and if they are at their best, we will be a contender," said Becanic. The IceRays also added defensemen Michael Bevilacqua, who is a Canisius recruit and Tucker Bender.
Becanic also said he was focused on acquiring a group of players that were more driven and determined. "We had a lot of skill guys last year, but the focus was find players who really had that next level of determination we were looking for. When you are trying to win a Robertson Cup, let alone a playoff series, you have to have a team that is full of guys with character and that's what we went after when we were building a team for this season. Character came first over skill, size or speed. You need good people who know how to be good teammates in your lockerroom," said Becanic.
Becanic said that he expects to see improvement every month and that if the team plays their best, there is enough talent and pieces in place to contend in the South Division. "All we can do is play to the standard we hold ourselves to and hope to get better each day. We aren't going to win a Robertson Cup Championship at the NAHL Showcase in Blaine, but we want to use that experience to see what guys are made of, because we have a very specific roadmap to being a successful team, who more importantly is going to get better as the season goes along, so we ultimately are playing our best hockey come playoff time," said Becanic.
Next up in the 22 in 22 series: Coulee Region Chill