22 in 22: Brookings Blizzard
August 25, 2015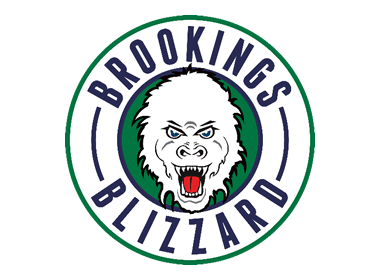 The 22 Teams in 22 Days series features a look at all 22 teams in the NAHL for the 2015-16 season, with a new team being highlighted daily, leading all the way up until the start of the regular season on Friday, September 11th. 22 in 22 will go in-depth into each NAHL team and will include interviews with all 22 head coaches in the NAHL, as they provide fans with their expectations and outlook for the 2015-16 season, including taking a look at their roster and their strengths as a team. It will also take a look back on last season and how each team fared and what they accomplished. Best of all, 22 in 22 is done to provide the fans of the NAHL with an inside look at their favorite team and what to expect.
Brookings Blizzard
Head Coach: Dan Daikawa (2nd year)
2014-15 record: 19-32-9, 47 pts. (5th in the Central Division)
2014-15 leading scorer: Beau Michaud (49 points)
2015 Playoffs: Did not qualify
2015-16 Division: Central
First regular season game: Friday, September 18th vs. Minot Minotauros
Home opener: Friday, September 18th vs. Minot Minotauros
Admittedly, the 2014-15 season did not go as planned for head coach Dan Daikawa and the Brookings Blizzard. The Blizzard got off to a respectable 3-3 start, but what followed was a string of six losses in the next seven games, putting the team behind the 8-ball. Yet the Blizzard fought through enough adversity to put them in a spot to make the playoffs when the calendar turned to March, but seven straight losses to end the season ultimately ended the Blizzard's hopes of a playoff bid. The main thing that stood out for Brookings was the lack of offense the team was able to generate on a consistent basis last year. Brookings scored just 141 goals in 60 games, an average of just 2.35 goals scored per game, which ranked 22nd out of the 24-team NAHL last season.
In the off-season, Blizzard assistant coach Kyle Grabowski, who had only been with the team just a season, took the head coaching job in Austin. It also saw several of the key pieces from the 2014-15 team depart. "We had some guys last season that put together good year's, but I think that gets lost a little bit based on our lack of performance as a team," said Daikawa. "I think one of the things that will be a focus this season for the staff and players is being more consistent."
The Blizzard did have some NCAA commitments, but the majority were Division III commitments, which Daikawa said is also a good thing. "There were some commitments to some really good NCAA Division III programs and best of all those players are going to go in and play right away. They are going to be able to play every day, get better, have a big role and grow as hockey players. It doesn't mean that they didn't have the talent to play Division I, but it may have been a better situation for them where they saw themselves playing every day," said Daikawa.
Daikawa said that he has reflected on last season and understands where things fell short. "We felt like we didn't meet our goals we had in place and underachieved a little bit," said Daikawa. "But, the biggest thing that stuck out was the fact that our guys never gelled as a team. We had a new staff in the place and I think there was a little bit of a disconnect there. I can't emphasize enough how important team chemistry is in a lockerroom and it was something that we were lacking last year," said Daikawa. "You have to have guys that want to be at the rink, want to learn and want to spend time with one another growing as a team. Last year was last year and we have put it in the rearview mirror and are moving forward to hopefully better things this season."
Heading into this season, Daikawa said the first priority was establishing some team leadership. With that in mind the Blizzard have already named veteran forward Connor Hutchins the team captain for the 2015-16 season. "We struggled last year to find that leadership, so from Day 1 this year we thought it was important to have that leader and have someone to hold their teammates accountable," said Daikawa. "The first day of training camp, we named Connor our captain. He has taken the lead on everything and it has already made it easier on the coaching staff.
What offense the Blizzard did muster last year is also mostly gone, as the top six scorers from last years team have departed, including Viktor Lindell, who will be playing professional hockey in Sweden and the rest have moved onto the NCAA Division III ranks. "Offense was the main priority in the off-season. I made a trip to Sweden for two weeks and saw some really good talent and we picked up a Finnish forward that we are really excited about," said Daikawa. "We have also picked up a few players that are going to be guys who will pay the price in order to score. I think in order for us to have success offensively this season, the scoring is going to have to be by committee rather than just a few guys."
The Blizzard will have six returning players to the line-up, which include the captain Hutchins. In goal, Eric Hancock returns to the mix with 60 career NAHL games under his belt. "Erik is a guy that has been in some tough team situations where he hasn't had a lot of help, so we are hopeful that we have put him in a better spot this season to be successful," said Daikawa. The other goalie will be Josh Kuehmichel, who played Minnesota High School hockey last season.
Other veterans that are returning to the line-up that Daikawa pointed out include defenseman TJ Samec, who has the size and experience to be an effective player in the NAHL.
Daikawa said that the goals for this year's team have been simplified. "We need to take some baby steps, but first and foremost, we need to make the playoffs. It has been a few years since we have been there. I think in order to do that we also have to have a renewed focus on developing Division I hockey players. That goes hand in hand with on-ice success, so we need to make sure we are doing everything in our power as coaches to put these guys in the right situations to be successful and play to their strengths. We want to see the building full of scouts again," said Daikawa.
Next up in the 22 in 22 series: Corpus Christi IceRays