August 22, 2015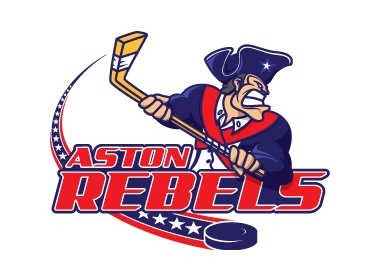 The 22 Teams in 22 Days series features a look at all 22 teams in the NAHL for the 2015-16 season, with a new team being highlighted daily, leading all the way up until the start of the regular season on Friday, September 11th. 22 in 22 will go in-depth into each NAHL team and will include interviews with all 22 head coaches in the NAHL, as they provide fans with their expectations and outlook for the 2015-16 season, including taking a look at their roster and their strengths as a team. It will also take a look back on last season and how each team fared and what they accomplished. Best of all, 22 in 22 is done to provide the fans of the NAHL with an inside look at their favorite team and what to expect.
Aston Rebels
Head Coach: Joe Coombs (3rd year)
2014-15 record: 25-25-10, 60 pts. (6th in the South Division) *as Rio Grande Valley Killer Bees
2014-15 leading scorer: Anthony Croston (45 pts.)
2015 Playoffs: Lost in the South Division Quarterfinals to Wichita Falls, 2 games to 0 *as Rio Grande Valley Killer Bees
2015-16 Division: East
First regular season game: Friday, September 18th vs. New Jersey Titans
Home opener: Friday, October 3rd vs. Johnstown Tomahawks
A new era is underway in Aston, Pennsylvania (a suburb of Philadelphia) as the Aston Rebels take to the ice this season as a part of the new NAHL East Division. Right before this year's NAHL Draft, the then Rio Grande Valley Killer Bees announced that after two seasons in South Texas, they were relocating to Aston. "We really enjoyed Texas and the people there. They were great, and we wish we'd been able to continue in the valley, but it was not practical financially," said Owner/Governor Ken Dennis about the move. "To be in a town like Aston, they understand the sport of hockey, and they support hockey. That is a recipe for success."
There will be some of the key elements in place from the Killer Bees team that made the playoffs in the South Division last season. At times, the Killer Bees played like the best teams in the South Division, which included a great stretch of hockey in January and February. Other times, the stress and weariness of being on the road took its toll on the team as evidenced by their record in November and December. "We had a very inexperienced team last season and I give them credit because they really worked hard under some tough circumstances to make the playoffs last season. The travel from Rio Grande Valley was tough and it was very difficult to be consistent," said head coach Joe Coombs. "We grew as a whole and our players now understand what it takes to be successful in the NAHL. The NAHL season is a grind and the only way for players to find that out and learn from it is to go through it," continued Coombs.
Coombs also said that the move to Aston came with immediate benefits. "I think there was already a good structure in place with the likes of John Giacobbo and Rocky Russo, who have both worked in junior hockey for an extensive period of time, so we don't feel like we are starting new. We feel it is simply an extension of what we tried to build in Rio Grande Valley the last two seasons," said Coombs.
It will be a different situation for sure for the Rebels, who know that they will be in the playoffs since the East Division features just four teams. However, that doesn't change the philosophy for Coombs. "We are going to try and grow so we are getting better every day and are playing our best hockey come playoff time. The environment we are in now should be much more productive for the players because the road trips in the division will be very short and those that are outside the division are done in blocks, so it is much more conducive to having success on the ice and getting a true measure of how our players are getting better," said Coombs.
Fortunately for the Rebels, they were able to carry the protected roster from the Killer Bees over to the Rebels, so there will be some key components in place to start the season. However, Coombs said that when he was constructing the team this summer, his focus was goaltending and defense. "I think our goaltending last year underachieved and we play a system that doesn't give up a whole lot, so our goalies aren't going to see a ton of shots, which is why we need them to be effective, carry high save percentages and more often than not be our best players. We thrive on our goalies making the big stops at key times in the game," said Coombs.
Coombs said that the players that are returning to the team after playing for the Killer Bees last season are excited about the move. "I think any time there is a new situation, there is some build up and anticipation of being a part of something like that, so I think there is a lot of excitement from the guys that are returning for another season, but this time in a new area, new arena and with different opponents," said Coombs. One of the key players returning to the line-up is forward Dallas Gerads, who led the team a year ago with both 20 goals and 137 penalty minutes and also had 31 points, which ranked 3rd. Coombs said that Gerads has been named team captain for the 2015-16 season and bring a unique combination of leadership, spark, scoring touch and toughness to the team.
Other veteran players who are expected to make an impact will be forward Austin Swingle, who was acquired at the trade deadline last season, Dean Balsamo, who had a very respectable 23 points last year and newcomber Andrew Zerban. Other veterans that Coombs pointed out as guys that need to take the next step were Chris Deprez, Zach Bennett, Guy Roby and Connor Wood. "These are guys that have seen what the NAHL is like and have to elevate their game. They are going to be given the opportunity and they need to run with it. They are going to be pushed by some of the new faces on the roster, so it is a great chance to set themselves apart and show what they can do," said Coombs.
Coombs concluded… "Junior hockey is the biggest step these players are going to make. This is a very high level of hockey where they do now not have to pay to play for the first time in a long time. It is a whole new level of hockey for this area. They don't hand out rings in September, so we will just try a build one day at a time."
Next up in the 22 in 22 series: Austin Bruins