Oleksy's NA3HL, NAHL path a positive role model
July 17, 2015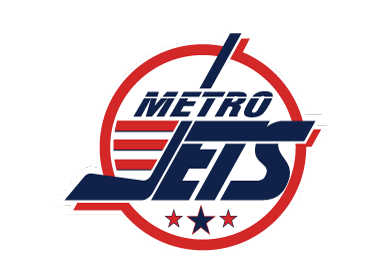 By Matt Mackinder
Steven Oleksy just recently signed a free-agent contract with the Pittsburgh Penguins and has a chance to play with Sidney Crosby, Evgeni Malkin, Phil Kessel and Marc-Andre Fleury next season.
Oleksy skated the last three seasons with the Washington Capitals organization, seeing action in 62 games with Washington and tallying three goals and 19 points with 86 penalty minutes.
But 13 seasons ago, the Chesterfield, Michigan native first got a taste of high-level hockey when he cracked the lineup of the Metro Jets, then members of the Central States Hockey League (now North American 3 Hockey League).
"There were a lot of positives playing for the Jets during my junior career, but I feel the most important was the opportunity to grow as a player," said the 29-year-old defenseman. "The Metro Jets have a rich history and reputation of developing players in the most crucial years of a hockey career. I feel playing there with the number of games, positions I was placed in, and organization as a whole helped me take my game to the next level."
Metro coach-GM Justin Quenneville, who also coached for Corpus Christi in the NAHL, sees Oleksy as a positive role model for the organization. "Steve has been a great advocate for the Jets program here and he is the perfect example of a balanced individual between hard work and humility," Quenneville said. "Too many players look to get ahead before even going through the process. Here is a guy that plays his heart out every night and is continuing to do that as we speak."
Now a regular presence on the east side with his summertime Eastside Elite Hockey League, Oleksy said he has kept tabs on the Jets and the NA3HL over the years. "The NA3HL has come a long way since I played in it as the CSHL," Oleksy said. "Not only the number of teams and players involved in the league, but the quality of players has greatly increased. Another huge benefit I see in the NA3HL, especially with the Metro Jets, is the focus on maximizing player potential and moving them onto the next level."
After the Jets, Oleksy went on to serve as the first captain of the North American Hockey League's (NAHL) Traverse City North Stars in 2005-06 and has his image plastered on the front of Centre ICE in Traverse City along with North Stars teammate Eric Elmblad and former Detroit Red Wings Dallas Drake, Nicklas Lidstrom and Chris Osgood.
Oleksy then jumped to NCAA Division I Lake Superior State University and played three years there from 2006 to 2009 before starting his pro career.
This is where Oleksy's tale gets interesting.
Never drafted, Oleksy bounced around in the minors and played in places such as Las Vegas, Toledo, Port Huron, Idaho, Bridgeport, Conn., and Cleveland in the International Hockey League, ECHL and American Hockey League. Playing in the NHL seemed like a long shot at times, but Oleksy, affectionately known as "Bink" to those that know him, never gave up hope.
He signed with Washington for the 2012-13 season and began the year with the AHL's Hershey Bears. On March 5, 2013, Oleksy was recalled by the Capitals and registered an assist for the Capitals in a 4–3 comeback victory over the Boston Bruins.
In playing for Washington, Oleksy became the first Jets alum to skate in the NHL. "The biggest sense of pride I personally take from my career is knowing that I worked for everything I have received in return from the sport and pride myself that I have and will continue to do everything the right way," said Oleksy. "Also, the ability to keep moving forward no matter how many times I was released, cut, sent down, and or told I could not do something. I take a lot of personal pride in working hard and proving people wrong."
Currently, Oleksy is running the EEHL, a non-check league consisting of star players from the top midget, Junior A, major junior, college and pro leagues, including the NHL. The league has expanded to 12 teams and has added a Tier II league, a women's league, camps and private lessons.
"Yeah, it takes up a lot of time and is a busy time of year for me, but the interaction from my league with players at every level has been a key piece of motivation throughout my career and will continue to be," Oleksy said. "I always think back to the first year I started the league and it is crazy to see how much it has grown, not just in numbers, but quality and talent. That is a credit to the strong hockey in Michigan and the group of top end quality players in the Metro Detroit area that strive and work to get better year-round."
Leaving Washington was tough, but Oleksy said getting the opportunity to play on another star-studded team in Pittsburgh was too much to pass up.
"The offer was presented from Pittsburgh and I felt it was a great fit for me," Oleksy said. "They are an organization that takes great pride in winning with a blue-collar mentality, which suits me perfectly. Playing against them for the last three years, I also felt that we had a mutual level of familiarity, so I know what they expect from me and they know what they will get out of me."
Soon enough, Oleksy will be off to Pittsburgh to try and earn a spot on the Penguins' blue line, but until then, he's enjoying his time back home. "My plans for the rest of the summer are to first and foremost work out and train on the ice, as well as off the ice, to give myself the best chance for success heading into camp in September," Oleksy said. "This includes not just lifting, skating and cardio, but clean and healthy eating and good sleep habits."