Rebel Yell: Aston ready for big first year in NAHL
July 6, 2015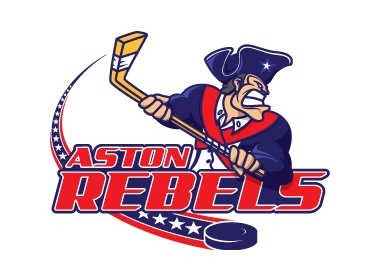 By Joshua Boyd, USA Junior Hockey Magazine
The North American Hockey League will now be true to its name – from the subarctic climes of Fairbanks to the towering skyscrapers of Philadelphia, from the thousands of lakes in Minnesota to the subtropical beaches of Texas.
The Aston Rebels represent a recent East Coast push by the NAHL – the Rebels outside of Philadelphia, and the New Jersey Titans in Middletown, N.J. They join the expansion Wilkes-Barre/Scranton (Pa.) Knights and existing member the Johnstown (Pa.) Tomahawks, who were founded in 2012, in the new Eastern Division of the NAHL.
The Philadelphia Little Flyers have been members of the North American Prospects Hockey League since before the start of the 2014-15 season. John Giacobbo, the Rebels' vice president of hockey operations, is the owner of the Little Flyers. He said that it was a visit to Aston by NAHL commissioner Mark Frankenfeld that got the ball rolling.
"Mark came before the last weekend of March and looked over our facility about hosting a NAPHL event in Aston," said Giacobbo. "We talked about that event, and we also talked about an East Coast division that the NAHL was trying to put together. We expressed interest in pursuing an avenue of bringing a team to Aston. The conversation continued going back and forth through April."
The Rio Grande Valley Killer Bees ownership was looking for a better situation, with a lot of money flowing out for the travel budget.
"From a business perspective, the NAHL is a fan-supported business," said Ken Dennis, a partner in the Rebels' ownership group. "To be in a town like Aston, they understand the sport of hockey, and they support hockey. That is a recipe for success."
Dennis co-owned the Killer Bees with Colorado architect Michael Woodley, and both will continue as co-owners of the Aston Rebels.
"We really enjoyed Texas and the people here. They're great, and we wish we'd been able to continue in the valley, but it was not practical financially," added Dennis.
"There are a lot of other things to do in the valley, and our travel partners were 10, 15 and even 20 hours away, except for Corpus Christi. Those are very long bus rides."
The farthest trip from Aston will be in state, two hours and 45 minutes to Johnstown.
"There are a lot of things that go into winning. There are some obstacles that we've faced down in Texas that we won't face up there," added head coach Joe Coombs, who coached with the Killer Bees for the last two seasons. "There's a lot to look forward to. For one, we won't have to spend an entire Sunday on the bus. It's a little bit smoother."
The Rebels will be headquartered at the IceWorks facility in Aston, which is also home to the Little Flyers, who have a Tier-3 junior team in the Eastern Hockey League as well as in the NAPHL.
"We get to practice and play in our own building," said Coombs. "In Texas, we had to practice four miles away from where we played."
"I'm biased towards the NAHL, as that's the first league I started to work in," said Rocky Russo, the Rebels' Director of Player Personnel, and also head coach of the Little Flyers' Eastern Hockey League team. "I think it's a phenomenal league. There are so many Division 1 scholarship commitments, and so many NHL and pro guys who come out of there. We can expose kids in this area to something different. I think the EHL is a fantastic top-notch league, as is the USPHL, but the number of scholarship players coming from the NAHL speaks for itself."
The Philadelphia area certainly seems ready to embrace its newest junior team. "We've had local press in the Philadelphia market writing about our team. We've been on sports talk radio interviews," said Giacobbo. "Everyone says it can't be done on the East Coast, but no one's ever tried it. You can't argue about the league's success. Over the last two years, we've had more than 400 players move on to Division 1 college hockey.
"The East Coast market is going to expand for the NAHL. It's an exciting time," added Giacobbo. "It's going to benefit all of hockey in this area. Players are not now having to move to the Midwest to play high level hockey, not with four NAHL teams right on the East Coast."
Foundation stones in place
Coombs, an Ontario native, has lots of experience in U.S. junior hockey. He's been an assistant or head coach in the USHL, NAHL and in Tier-3 junior hockey, and knows a good situation when he sees it.
"I'm certainly looking forward to Aston. My family has been down here a year in Texas, so it'll be a culture shock both ways," said Coombs. "We're excited. It's hockey country. It's sports country.
"The best part about this is we have a team with multiple returning players, which we haven't had in the two years we've been in Texas," added Coombs. "The culture we create is a major part of success."
The Rebels will have a step in the right direction for success, thanks to a solid foundation already in place. Coombs is expecting 13 Killer Bees players from the 2014-15 season to be among the inaugural Rebels.
Much of the team's forward depth is back, though not necessarily many of the top six. Dallas Gerads, the Killer Bees' third leading scorer returns with 20 goals and 137 penalty minutes in 59 games. He is a '96-born native of Blaine, Minn.
"He plays the competitive way we want to play hockey, and he will certainly be a major cog in the wheel," said Coombs, who compared Gerads to former Philadelphia Flyer Scott Hartnell.
From there, a log of the Killer Bees' defensive and gritty forwards will be back. He compares returning forward Austin Swingle to Wayne Simmonds – a tough player who can score.
"Chris Deprez and Swingle are two good centers. Our bottom six forwards are pretty much locked in," said Coombs. "I hope they have better second years."
On defense, Mason Van Tuyl and Daniel Nilsson return to help fill the back line. "Mason has played a year and a half for us already, and Nilsson is a good top-four defenseman coming back," said Coombs.
Victor Bergstrom, who played for the USHL's Fargo Force last year, was the Rebels' top tender and will be a top power play defenseman, along with Latvian Kristofers Bindulis, the Rebels' top draft pick.
"The big thing we're looking at right now is replacing our goalie," said Coombs. "We think we're going down the right road, so there'll be some serious competition at goalie and defensive positions, and we'll continue to build through the rest of the year with forwards."
Joining the Rebels from right within Ice Works is goalie Trevor Micucci, who played for the Little Flyers prior to Aston.
"I was a part of the draft in assisting the staff. I don't think Trevor will be the only player from our last year's Little Flyers team to make the Rebels," said Russo. "Trevor earned it as a '97 winning Goalie of the Year in the EHL. It was a natural progression for him to step to the Tier-2 level. I know NCAA schools are excited to see him compete at that level, and I know he'll do great and end up with his NCAA Division 1 opportunity."
Coombs said that, considering the Rebels are more eastern-based, they may take a closer look at more eastern U.S. players.
"Now that we're in the east, it's a dynamic where we'll be looking at the top programs, such as the EHL and USPHL Premier teams," said Coombs. "It'll be very interesting to see what happens. I won't be in Pennsylvania until the end of July, but in the future, I expect my team to be more eastern-based. I look forward to winning some recruiting battles."
Giacobbo is happy to have both Coombs and assistant coach Josh Brown coming up from the Rio Grande Valley. They'll use their experience to bring a group of many new players and the 13 returning players making the move east together.
"We will put together a solid team. We have a framework to start with, and we're just tweaking the pieces," added Giacobbo.
"[Coombs and Brown] have been recruiting feverishly around the country," said Dennis. "We'll bring in more quality players. We're going to be competitive. We expect to go for the Robertson Cup."
The Rebels should not only be an entertaining and successful team to watch, but the NCAA scouts will have a field day seeing some of the country's best junior talent so close to where most NCAA colleges are located.
"There are 89 Division 1 and 3 teams," said Giacobbo. "Before, you used to have to take a flight to Minnesota to see a showcase or make a trip to Texas to see a player for a weekend. Here is an opportunity for all of them to be within driving distance of our team."
'The Rebels are Coming!'
The Rebels will be a great advertisement for North American Hockey League players.
"It'll just give guys a better understanding of what it takes to play at the next level," said Giacobbo. "Everyone talks about the USHL and NAHL, but until you experience a game live, you don't see the difference."
This move will also bring NAHL coaches to IceWorks to see more of the other teams at the rink, especially the Little Flyers' Eastern Hockey League team and their NAPHL teams at the 18U and 16U levels, the latter a new team for this upcoming season.
"The Little Flyers will be seen more by NAHL coaches coming in and out of the building," said Giacobbo. "Whether it's Tier-1 or Tier-2 junior, or college, if you're moving players on, you're achieving your goal."