RoadRunners eye single-game attendance record
March 24, 2010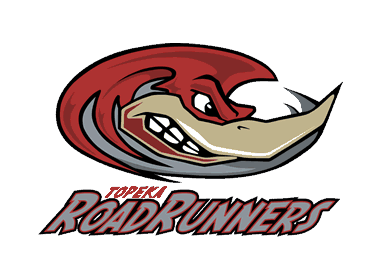 The Topeka RoadRunners are thinking big for tomorrow night's game against the Springfield Jr. Blues.

Not only will they be showcasing their "Google" RoadRunners Think Big Topeka Night, but they're also poised to set a new NAHL single-game attendance record.

Since the merger of the America West Hockey League (AWHL) and the North American Hockey League (NAHL) in 2003, the Wichita Falls Rustlers (now the Wildcats) hold that distinction when they drew 7,184 for their game against the Fairbanks Ice Dogs on January 23, 2004.

With 7,777 tickets already sold for tomorrow's Google game, the RoadRunners are on track to break that mark.

"We're excited to be a part of this community-wide effort," said RoadRunners head coach and general manager Scott Langer. "It shows that we have fully integrated into the landscape here in Northeast Kansas."

The night is aimed to be the finale to the Think Big Topeka project to bring the Google Fiber Optic Network to Topeka. They are hoping to fill the 7,800 seats in Landon Arena to not only support the first-place team in the North American Hockey League's (NAHL's) South Division, but also to participate in the last Google video to be shot.

Video will be shot during the game and between periods that will be used in the final video submitted to Google. WIBW-TV and Radio are sponsoring all tickets sold, so the cost of any seat in Landon Arena is $1.

The Topeka RoadRunners and the Kansas Expocentre will still honor $1 hotdogs and free parking for the weeknight game to encourage people to come support the cause.

"After the RoadRunners' MS Awareness night (in February), as an organization, we will have donated and helped raise over $20,000 for Topeka and surrounding areas," said RoadRunners account executive Tiffany Logue. "We're excited to partner with Think Big Topeka for our last regular-season game and to help bring the Google Fiber Optic to Topeka."

"We're just thrilled about the Roadrunners' continued support for our community, Think Big Topeka and the movement to bring Google's Fiber Optic Network to Google, KS," states Brendan Jensen of Think Big Topeka. "It's so cool that they're changing their name for the last game in support of our movement and we'd love to return their support with a packed house. Come on Topeka - let's all cheer on our Google RoadRunners!"

The RoadRunners will also be sporting specialty jerseys for the night that will be auctioned off after the game. For more information, contact Logue at (785) 554-4170.