Three teams still chasing regular-season crown
March 22, 2010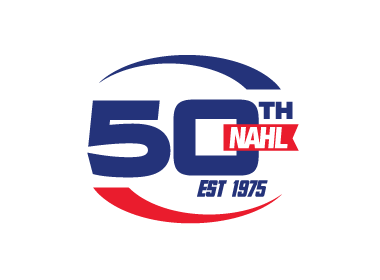 In what's shaping up to be one of the most competitive campaigns the North American Hockey League (NAHL) has showcased in recent years, three teams are still vying for the right to be crowned regular-season champions heading into the final week.

The Topeka RoadRunners (89 points), St. Louis Bandits (87) and Wenatchee Wild (87) all have their eyes on the prize with only two points separating the clubs in the standings.

Wenatchee's point total might trail Topeka by two, but the Wild has two games in hand over both the RoadRunners and St. Louis. Wenatchee will wrap up its regular season this week with two games apiece against the Alaska Avalanche and the Fairbanks Ice Dogs.

"Having the best regular-season record in the league is a goal for our team, and we have some work to do this week to achieve that goal," said Wild associate head coach Ryan McKelvie. "More importantly, our focus is on playing our best hockey heading into the playoffs."

The Wild's run to be the NAHL's top team in the regular season won't come easy, as the West Division team plays those four games on the road over a five-day span.

"It should be a good test to see if we can sustain the level of play we'll need in order to be a championship team in the playoffs," said McKelvie. "We've shown some signs of how good we can be, but we've been too inconsistent and we need our top-minute players to start bringing their A-game every night ready to win."

With a 9-1 mark in its last 10 games, the Wild, which earns an automatic bid to May's Robertson Cup Championship Tournament as hosts, realize its going to need its very best from its entire lineup heading into the postseason.

"We've had some guys step up with big games lately, but, as a group, we need all of our top players to be performing this way every game in order for us to have the success we're looking for," said McKelvie.

Topeka, which has finished second overall in the regular season the last two years to St. Louis, want nothing more than to lock up the league title - and with it the South Division title - as it polishes its game for the playoffs.

"Every team in the NAHL starts the season with the goal of winning their division, the regular-season title and the Robertson Cup and our goal is no different," said RoadRunners head coach Scott Langer. "We're playing to add those achievements to our team identity. None of them will come easy, though, with the talent level of the teams and coaches this league has."

The RoadRunners have been road warriors down the stretch. They've played 12 of their last 14 games away from Kansas Expocentre, including two last weekend against the Wichita Falls Wildcats (both wins), and head into the final weekend of the regular season with 11-2-1 mark over that span.

"That was huge for us in order to give ourselves a chance to win the South," Langer said of his team's late-season success. "We clearly have work to do heading into the playoffs, but we're on the right track. We're just taking it one game at a time here in Topeka."

The RoadRunners, who have reaped the benefits of forward Erik Higby's offensive exploits - he leads the NAHL in scoring with 78 points on 26 goals - has been getting balanced production across the board, according to Langer, from veterans and first-year players alike.

The RoadRunners will need that to continue this weekend when the Springfield Jr. Blues come to town for a two-game set.

"It's extremely important to be focused not only on the task at hand, but to make sure that all cylinders are firing," said Langer. "We want to finish the regular season on a positive note heading into the playoffs, no matter who our first-round opponent will be.

"Springfield is a very skilled team that you have to play 60 minutes against. We earned the right to control our own destiny, and we get to do it at home."

The Bandits will need some help from Topeka's and Wenatchee's opponents in their hopes of capturing both a South Division and regular-season title, but their focus also is on being at their best come the postseason.

"Winning the regular-season championship would be a great honor for us, but our goal from Day 1 is to win the Robertson Cup," said Bandits assistant coach Rocky Russo. "Finishing first in the South Division would be an excellent way to help position us for that goal, but it won't change our focus if we end the regular season in second place. Both of those objectives are out of our hands at this point."

What three-time defending Robertson Cup champion St. Louis can dictate is its performance this weekend against the Texas Tornado, a team it defeated three times last weekend and which might very well end up being its first-round playoff opponent.

"We preach to our players the importance of spending positive energy on things that we, as a group, can control," said Russo. "Our goal for the week is to win both games against Texas and prepare for our first-round playoff opponent, whoever that may be.

"The boys are playing well as a group and doing the little things necessary to win games," said Russo. "The whole season is a buildup to the playoffs and it's important that we're playing our best hockey at this point of the season."

The Bandits have been getting big-time performances from a number of players down the stretch, namely team captain Jordan Bourgonje, who Russo calls "ones of the best two-way players in the entire NAHL."

Dan Olszewski, a University of Denver (WCHA) recruit, and Division I prospect Craig Kitto have also risen to the occasion, as has the goaltending tandem of Tyler Bruggeman and University of Alabama-Hunstville (CHA)-bound CJ Groh.

"We're looking forward to playing at a playoff-type level," Russo said of his team's upcoming games against the Tornado. "We realize it's possible we can play Texas in the first round and we'll do our best to establish ourselves as the best team.

"Texas (head) coach Tony Curtale does an incredible job of preparing his team, and we expect them to be ready to play."
AROUND THE NAHL
ALASKA AVALANCHE: Forwards Robb Haider (Anchorage) and Blake Huppert (Wasilla, Alaska) each connected for a goal and an assist in the Avs' 3-2 loss to Alexandria on Friday.

ALBERT LEA THUNDER: Forward Anthony Iaquinto (Brighton, Mich.) tallied a pair of goals, including the game-winner, as the Thunder downed North Iowa on Friday, 5-3.

ALEXANDRIA BLIZZARD: Defenseman Tyler Swanson (West Fargo, N.D.) scored the game-tying goal on Friday - a 3-2 Blizzard victory - and was a plus-3 on the weekend as Alexandria celebrated two wins over Alaska.

ALPENA ICEDIGGERS: Former IceDiggers goaltender Shawn Hunwick backstopped the University of Michigan (CCHA) to the CCHA Tournament championship and a berth to the NCAA Tournament.

BISMARCK BOBCATS: Forward Tyler Klein (Fargo, N.D.) rang up the game-winning goal and an assist in the Bobcats' 3-2 triumph over North Iowa on Saturday.

FAIRBANKS ICE DOGS: With last weekend off, the Ice Dogs will close the regular season this weekend with a pair of games against Wenatchee beginning on Friday.

JANESVILLE JETS: Forward Rui Encarnacao (White Plains, N.Y), a University of Connecticut (Atlantic Hockey) recruit, put home a goal and three assists as the Jets went 1-0-1 against Springfield.

KENAI RIVER BROWN BEARS: Forward Johan Skinnars (Sweden) notched three goals as the Brown Bears dropped a pair of games to Wenatchee. He has 10 goals in his last eight games.

MARQUETTE RANGERS: Forward Jimmy McCusker (Novi, Mich.) connected for a goal and two assists as the Rangers celebrated a 7-1 victory over Traverse City on Friday.

MOTOR CITY METAL JACKETS: With their two-game sweep over Alpena, the Metal Jackets secured the fourth and final playoff berth in the NAHL's North Division.

NORTH IOWA OUTLAWS: Forward Connor Gaarder (Edina, Minn.) came through with two goals and two assists as the Outlaws dropped three games.

OWATONNA EXPRESS: Forward Charlie Thauwald (Rochester, Minn.) connected for the game-winning marker and an assist in the Express' 6-4 victory over Albert Lea on Saturday. He was also a plus-2.

SPRINGFIELD JR. BLUES: Forward Trent Frey (River Falls, Wis.), a Mercyhurt College (Atlantic Hockey) recruit, recorded an assist in regulation and scored in the shootout as the Jr. Blues downed Janesville on Friday, 4-3.

ST. LOUIS BANDITS: Goaltender C.J. Groh (Cincinnati), a University of Alabama-Huntsville (CHA) recruit, backstopped the Bandits to a pair of victories over Texas, turning aside 33 of 35 shots.

TEXAS TORNADO: The NHL's Anaheim Ducks signed free agent defenseman Jake Newton, who played for the Tornado during the 2006-07 season, to a three-year entry-level contract.

TOPEKA ROADRUNNERS: Forward Cole Schneider (Williamsville, N.Y.) put home four goals and an assist as the RoadRunners skated to a two-game sweep over Wichita Falls. "Cole contributed in every way for us and lead the charge both nights," said assistant coach R.J. Enga.

TRAVERSE CITY NORTH STARS: In the two games he played against Marquette - both Traverse City wins - forward Tim Opie (Troy, Mich.) potted a pair of goals and three assists. He was also a plus-5.

WENATCHEE WILD: Goaltender Brandon Jaeger (Champlin, Minn.) picked up his 20th win of the season after turning back 29 shots in the Wild's 6-1 win over Kenai River on Saturday.

WICHITA FALLS WILDCATS: Mike Flanagan has been named the Wildcats' head coach for the 2010-11 season. Flanagan has held the post on an interim basis since January.