NAHL releases 40th Anniversary logo and 2015-16 event schedule
May 28, 2015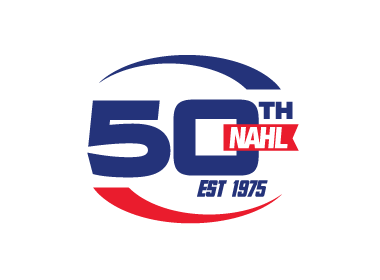 On the heels of its 40th anniversary season, the North American Hockey League (NAHL) has announced the unveiling of its 40th Anniversary logo along with the 2015-16 event schedule.
"The NAHL is in the midst of an era of tremendous progress, growth and consistency. It is very timely that we now embark on our 40th anniversary season, which is a celebration of the NAHL's history and tradition, as well as, our recent successes of player advancement and development," said NAHL commissioner Mark Frankenfeld. "The commitment from our owners, along with the support from all of our NAHL communities and fan base, combined with our thousands of alumni, devoted players and parents, continues to truly make the NAHL the league of opportunity."
The 40th Anniversary artwork will serve as the NAHL's primary logo on all web and print-related marketing materials for the 2015-16 season, as well as on player helmet stickers, jersey patches and on-ice official patches. It will also be displayed prominently at all NAHL events, beginning with the 2015 NAHL Draft on June 9th and continuing with the 13th annual NAHL Showcase, the NAHL Top Prospects Tournament and the Robertson Cup Playoffs and Championship.
The league's 40th regular season commences on Friday, September 11th and each NAHL team will play a total of 60 regular season games (28 home/28 road/4 showcase). The 13th annual NAHL Showcase Tournament, presented by Easton Hockey, will be held from September 23-26 at the Schwan Super Rink in Blaine, Minnesota. All of the NAHL teams will play four regular-season games at the Showcase, which is one of hockey's most prestigious and well-attended events of the entire season.
The NAHL, which began as a five-team league in 1975-76, has evolved into a 24-team circuit with teams in 11 states. It is one of North America's premier developers of collegiate and professional players, with over 400 NCAA commitments in the last two seasons. The NAHL has also had five straight seasons of league-wide attendance totaling over one million fans.
"We have come a long way in the last four decades and I think I echo the sentiment of our governors and operators, both past and present, that the most gratifying part of it is providing an opportunity for aspiring student-athletes to develop and grow as hockey players and men. It is a reflection on how far the NAHL has come and a testament to our early pioneers who had the vision to create a league that has now become the best of its kind in North America," Frankenfeld added.
The 2016 NAHL Top Prospects Tournament will take place on February 15-16 in Plymouth, Michigan in cooperation with the USNTDP. The 2016 NAHL Robertson Cup Playoffs will begin in April and the 2016 NAHL Robertson Cup Championship will take place May 13-15, 2016.