Watch Now: Robertson Cup Finals Plays of the Week
May 19, 2015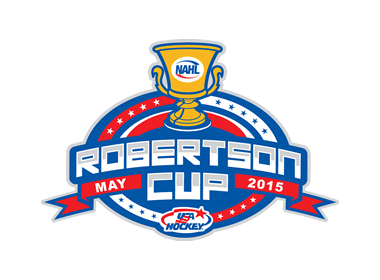 The Robertson Cup Finals are over and once again, congratulations go out to both the Minnesota Wilderness and Austin Bruins for putting on a great show during the weekend in Austin, Minnesota. In the end, the Wilderness captured their first ever Robertson Cup National Championship by sweeping the Bruins, 2 games to 0.
The atmosphere was electric at the Riverside Arena with capacity crowds attending both games. By 4:30pm on Friday people started to line-up in anticipation of getting a good seat for the night's festivities, which little did they know, would not end until 8 hours later after the first fans arrived.
Friday night was one for the record books as you will see on the Robertson Cup highlight video. After three periods of regulation hockey and almost four more overtimes, the Wilderness finally ended the 1-1 tie with a goal. The game lasted over 133 minutes of playing time and started at 7:05pm and ended at 12:34am.
On Saturday, the Wilderness used another great goaltending performance from Brock Kautz, the NAHL Finals MVP, to secure the Robertson Cup Championship.
With all that said, this week's plays of the week is the final one as we put a close on the league's 39th season. We tried to capture the great atmosphere at the arena along with footage of both teams, all of the exciting goals and the great fans that cheered both teams on.
We hope you enjoy our Robertson Cup rewind and we will see you for the next installment of the plays of the week, which will be in early September 2015 as the league kicks off its 40th anniversary season.
Featured goals are:
Friday, Game 1
Goal #1: Alex Toscano, Minnesota Wilderness - Forward
Goal #2 JC Maclean, Austin Bruins - Forward
Goal #3 Billy Exell, Minnesota Wilderness - Forward
Saturday, Game 2
Goal #1: Ian Mansfield, Minnesota Wilderness - Forward
Goal #2 and #3: Brett Heikkila, Minnesota Wilderness - Forward
Goal #4: Niklas Lehtimaki, Minnesota Wilderness - Forward