NAHL Playoff Preview: Division Finals
May 1, 2015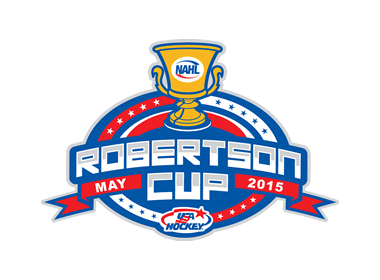 The 2015 NAHL Robertson Cup Playoffs continue this weekend as the Division Finals move into their second weekend of action. By weekend's end, maybe even as late as Monday night, we will know the four teams to represent their divisions at the Robertson Cup Semi-Finals set for next weekend (May 8-10).
Games 1 and 2 last weekend offered up fans across the league some exciting action and while some of the outcomes followed the seeding, others had a few surprises.
So, who will win their divisional playoff championships and advance to the National Semi-Finals? Here is a look at what this weekend has in store:
Central Division Finals (Series tied, 1-1)
#1 Austin Bruins vs. #2 Minot Minotauros
Game 1, Minot 3 at Austin 2
Game 2, Minot 1 at Austin 4
Game 3, 5/01 - Austin at Minot 7:35pm
Game 4, 5/02 - Austin at Minot 7:35pm
Game 5, 5/04 - Minot at Austin 7:05pm*
*if necessary
The Minotauros did what they needed to do in the first two games, which was capture at least one win in Austin and take back home ice advantage in the series. That sets the Minotauros up for two games in Minot this weekend with a chance to win the series on home ice. Conversely, Austin finally beat Minot for the first time this season in Game 2 and got a great performance from goalie Evan Smith, who is likely to get the start in Game 3. Minot forward James Mathias, who had just 27 points in the regular season, is leading the Minotauros in playoff scoring with seven points. Trevor Boyd and Liam Feeney lead the Bruins with six points each.
Midwest Division Finals (Wilderness lead series, 2-0)
#1 Fairbanks Ice Dogs vs. #2 Minnesota Wilderness
Game 1, Fairbanks 1 at Wilderness 2
Game 2, Fairbanks 2 at Wilderness 4
Game 3, 5/01 - Wilderness at Fairbanks 7:30pm
Game 4, 5/02 - Wilderness at Fairbanks 7:30pm*
Game 5, 5/03 - Wilderness at Fairbanks 5:00pm*
*if necessary
Although their backs are against the wall in a must-win situation, the defending Champion Fairbanks Ice Dogs can take solace in the fact that they had a lead in both Games 1 and 2 against the Wilderness. The downside is that they lost those leads and could not find a way to generate much offense. Game 3 is pivotal because the Wilderness would love to end the series early and get back home. However, if Fairbanks wins Game 3, the momentum shifts the other way and a Ice Dogs team with momentum at the Big Dipper Ice Arena in front of a sold out crowd is something that is hard to overcome. While the Wilderness and goalie Brock Kautz have won five straight playoff games to get to this point, the biggest question for Fairbanks is who they may go with in goal for Game 3. Patrick Munson played in Games 1 and 2 and lost both. So, does Fairbanks give the call to veteran Kevin Aldridge or stay with Munson?
North Division Finals (Jets lead series, 2-0)
#1 Janesville Jets vs. #3 Soo Eagles
Game 1, Soo 0 at Janesville 5
Game 2, Soo 1 at Janesville 5
Game 3, 5/01 - Janesville at Soo 7:30pm
Game 4, 5/02 - Janesville at Soo 7:30pm*
Game 5, 5/04 - Soo at Janesville 7:00pm*
*if necessary
Judging by the outcome of the first two games, many believe that Game 3 could be the end of the series because Janesville is simply on a different level right now. The first thing the Soo Eagles have to do in Game 3 that no one in the playoffs has been able to do, is stop the Jets from scoring in bunches. In both Games 1 and 2 and dating back to the Semi-Final series against the Michigan, when the Jets score they score in bunches and by the time they are done, it is too big of a mountain to climb for their opponent. With their potent offense, it is almost a given that the Jets will score. However, the key for the Eagles will be to limit that to one or less per period. Once they do that, then there is the problem of trying to score on Jets goalie and North Division MVP Matt Jurusik, who hasn't lost a game (including playoffs) in 29 straight games, which stretches back all the way to November 22nd.
South Division Finals (Series tied, 1-1)
#1 Lone Star Brahmas vs. #2 Topeka RoadRunners
Game 1, Topeka 5 at Lone Star 1
Game 2, Topeka 4 at Lone Star 5 (OT)
Game 3, 5/01 - Lone Star at Topeka 7:05pm
Game 4, 5/02 - Lone Star at Topeka 7:05pm
Game 5, 5/04 - Topeka at Lone Star 7:00pm*
*if necessary
The RoadRunners probably feel like they should be up 2-0 in the series, but had to settle for a 1-1 split on the road, which they will certainly take. They can also relish in the fact that they scored nine goals in the two games against the league's 2nd best defensive team in the Brahmas. With home ice now in their favor, the RoadRunners can claim another South crown on home ice this weekend and if they get good goaltending from Matej Tomek, who was solid in Game 1, but pulled in Game 2. RoadRunners forward Mike Gornall was a one-man wrecking crew in the first two games and if he continues to play that way, then things look good for Topeka. Meanwhile, the Brahmas have to feel like they still have not played their best hockey of the playoffs as of yet. They blew a 4-0 lead in Game 2 and managed to find a way to win over overtime, but they have just 13 goals in five playoff games. Jake Kupsky is the likely starter in Game 3 as he has played well in the playoffs, but did give up four goals on 21 shots in Game 1. The leading scorer for the Brahmas in the playoffs (Sebastian Vidmar) has five points, which is the lowest total of any of the remaining eight teams.