Johnstown in the finals of Kraft Hockeyville contest
April 27, 2015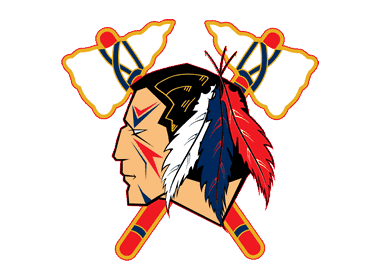 Johnstown's Cambria County War Memorial Arena, home to the Johnstown Tomahawks of the North American Hockey League (NAHL), has advanced to the final round of the Kraft Hockeyville contest, putting the town and rink that inspired the iconic film "Slap Shot" one step closer to the title of America's most passionate hockey community.
The contest, sponsored by Kraft, the National Hockey League and the NHL Players Association, rewards the winning community with $150,000 in rink upgrades and the opportunity to host an NHL preseason game, in addition to the title of Kraft Hockeyville, USA.
The contest began with 10 communities across the country, selected from a pool of more than 1,300 nominees. Two rounds of public voting via online clicks, text messages and toll-free phone calls have narrowed the field to the two remaining finalists – Johnstown and Decatur, Ill. – as announced on NBC's national television broadcast of NHL playoff hockey on Saturday afternoon.
The third and final voting round will be held on Monday, April 27 through Wednesday, April 29.
Votes can be cast by clicking on Johnstown's link at
KraftHockeyville.com
, calling toll free 1-855-255-5975, or by texting "Cambria" to 35350. Individuals can vote 50 times per method, per day.
Johnstown led the nation with 2,471 nominations received during the first phase of the competition, which concluded in March. Since the voting phase of the contest began April 14, a wide number of area sites holding voting rallies and other efforts to promote the contest.
"The way our community has come together for this contest is incredible," said Johnstown Hockeyville Committee member Chad Mearns. "Across the region and beyond, we've seen an outpouring of energy and enthusiasm from businesses, schools, organizations and individuals alike."
The Cambria County War Memorial opened in 1950 to serve as an entertainment and sports arena, as well as a living memorial to the county's 1,000-plus military veterans who gave their lives in service to their country. It is now home to the Johnstown Tomahawks junior hockey team of the North American Hockey League. More notably, the famous 1977 film "Slap Shot" was shot primarily in Johnstown and at the War Memorial. The movie's fictitious Charlestown Chiefs team and the iconic Hanson Brothers characters were inspired directly by players from the Johnstown Jets hockey team, who played at the arena for 27 years from 1950 to 1977.
"This is a great honor for the rich hockey history of Johnstown, and for the dedicated and growing youth hockey community across all of Pennsylvania," Johnstown Hockeyville Committee member Jean Desrochers said. "Many hockey fans know of Johnstown because of Slap Shot, but we also have a very vibrant hockey community that is very deserving of becoming Kraft Hockeyville."
Johnstown is now guaranteed to receive at least $75,000 in committee-approved rink upgrades at the Cambria County War Memorial.