Outdoor game another success in Fairbanks
March 15, 2010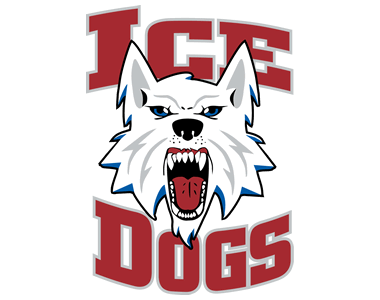 It's only two years old, but the Fairbanks Ice Dogs' outdoor game has already established itself as a winter celebration both the local community and the North American Hockey League (NAHL) have rallied around with enthusiasm.

This year's game, which was played on Saturday on the outdoor rink located on a field next to the Ice Dogs' usual home, Big Dipper Ice Arena, was won by the home team, 3-2, over the Wichita Falls Wildcats.

"There's just a different feeling around the outdoor game," said Ice Dogs head coach Josh Hauge. "There's really no way to describe the energy and feeling you get when you walk through the fans to get to the rink."

The temperature was 17 degrees at game time - Lisa Kelly of "Ice Road Truckers" television fame dropped the ceremonial first puck - and spiraled to minus-4 by the final buzzer.

"Again, the event superceded my expectations," said Ice Dogs general manager Rob Proffitt, noting the 12-plus gallons of hot chocolate that were sold over the course of the day.

NAHL commissioner Mark Frankenfeld, who addressed the 2,500-plus in attendance prior to the game, was wowed by the experience.

"It was unbelievable," he said. "There's no better place to host this kind of event than Fairbanks. It really is something special to be a part of."

James Saintey, Michael Juola and Josh Nelson scored the outdoor goals for Fairbanks and goaltenders Mike Taffe and Joe Phillippi combined to make 45 saves in the victory over the Wildcats, but the atmosphere spoke louder than any statistics, according to Hauge.

"It's the only game of the season where you can tell it's more about the love of the game than the winning or losing," he said.

The night prior, Justin Kirchhevel and Aaron McGill each connected for a goal and an assist and Taffe turned aside 26 shots in the Ice Dogs' 5-3 triumph at Big Dipper.

For the Ice Dogs, a weekend sweep was just what the doctor ordered after dropping a pair of games to the Alaska Avalanche - the team they'll face in the first round of the West Division playoffs - the weekend before.

The Ice Dogs' last win at Big Dipper prior to last weekend? January 9 - a span of seven home games.

"We really needed to get back on track at home," said Hauge, whose team is 17-8-2 at Big Dipper, including the outdoor win. "We feel we have a great home-ice advantage, but we haven't been utilizing it lately."

One player who's been exceptional no matter the venue is Juola, who leads the NAHL in scoring with 76 points on 22 goals. The 20-year-old from Lake Forest, Calif., will take his offensive talents to Brown University (ECAC) next season.

"Mike has great patience with the puck," said Hauge. "He's dynamic and he's a game-changer. Every team we play knows how dangerous he can be."

Forward Kyle Politz has also been a key contributor for the Ice Dogs on both sides of the puck. The unheralded 20-year-old from Elko, Minn., has 17 goals for 43 points through 53 games.

"Kyle has the potential to be a great asset to a Division I program," said Hauge. "He plays with heart every single game and he's accountable both offensively and defensively. He's an all-around great player and a huge asset to our team."

Another forward who has impressed is Kirchhevel. Since being picked up in a trade with the St. Louis Bandits earlier in the season, the 20-year-old from Brookings, S.D., has totaled 22 points (12 goals) in 19 games.

"Ever since we acquired him, he's brought an intensity and consistency that we were lacking," said Hauge. "He's a fierce competitor and is extremely coachable."

Taffe, a University of Nebraska-Omaha (CCHA) recruit, and Phillippi, both of whom hold save percentages north of .900, have also earned the praise of Hauge, who has all the confidence in the world in his netminding tandem.

"They're both strong goaltenders and they've been outstanding for us," said the coach. "We're going to need them if we're going to make a run in the playoffs."

One of the league's top developers of Division I talent year after year, the Ice Dogs are up to their old tricks again on the college front. The team already has eight players with plans in place with five of them headed to the CCHA and WCHA, both powerhouse conferences.

"That's a reflection not only on our program, but the NAHL as a whole," said Hauge. "To be able to help these players get to college hockey is what we've tried to build our program around and it's why our staff is in this business."

And a strong run in the postseason will only help bolster those college numbers. With the Wenatchee Wild guaranteed an automatic bid to May's Robertson Cup Championship Tournament as host, there's a lot on the line in the West for the division's second invite.

"It's an unbelievable advantage to have two teams from the West play for the Robertson Cup, and don't believe we've played our best hockey yet," said Hauge. "We've been inconsistent at times and are still trying to find the right chemistry."

With this weekend off, Fairbanks will have a chance to tighten the screws the weekend of March 26-27 as it closes its regular-season slate against Wenatchee.

"It'll be a good weekend to prepare before the playoffs," said Hauge.
AROUND THE NAHL
ALASKA AVALANCHE: Defenseman Jake Parenteau (Shafer, Minn.), who played in January's Sherwood/NAHL Top Prospects Tournament, has committed to the University of Minnesota (WCHA) for next season.

ALBERT LEA THUNDER: Winners of five in a row, including three last weekend over North Iowa, the Thunder has taken over fourth place in the Central Division standings with five games remaining.

ALEXANDRIA BLIZZARD: Forward Logan Romano (Royal Palm Beach, Fla.) notched a goal in regulation - and the only one of the shootout - and an assist in the Blizzard's 5-4 victory over Kenai River on Friday.

ALPENA ICEDIGGERS: Forward Michael Henderson (Bloomington, Ind.), who started the season with St. Louis, tallied a pair of goals and four assists in the IceDiggers' two-game sweep over Motor City.

BISMARCK BOBCATS: Forward Jason Fabian (Roseau, Minn.), and Air Force Academy (Atlantic Hockey) recruit, rang up three goals as the Bobcats split a two-game set with Owatonna. "Jason has been great for us all year long," said head coach Byron Pool. "He's a true leader, and he brings so much to the table every night."

FAIRBANKS ICE DOGS: Defenseman Josh Nelson (Wisconsin Rapids, Wis.), who played in January's Sherwood/NAHL Top Prospects Tournament, has committed to Minnesota State-Mankato (WCHA) for next season.

JANESVILLE JETS: Forward Ross Mauermann (Janesville, Wis.) registered a goal and three assists in the Jets' two-game sweep over Marquette. He was also a plus-3.

KENAI RIVER BROWN BEARS: Forward Johan Skinnars (Sweden), the Brown Bears' leading scorer with 40 points, tallied two goals and an assist in Kenai's 5-4 shootout loss to Alexandria on Friday.

MARQUETTE RANGERS: Forward Brent Bain (Toledo, Ohio) notched a pair of goals in the Rangers' 7-3 loss to Janesville on Friday.

MOTOR CITY METAL JACKETS: Eric Millisor (Ecorse, Mich.) connected for a goal and two assists in the Metal Jackets' 8-3 loss to Alpena on Saturday.

NORTH IOWA OUTLAWS: Forward Ryan Bohrer (St. Paul) added to his team-leading point total (47) with a goal and a pair of assists in three games against Albert Lea.

OWATONNA EXPRESS: Goaltender Matt Hemingway (Alexandria, Minn.) steered aside 34 shots as the Express doubled up Bismarck on Saturday, 4-2.

SPRINGFIELD JR. BLUES: Forward Nick Curry (Bettendorf, Iowa), a University of Massachusetts-Lowell (WCHA) recruit, picked up a goal and two assists as the Jr. Blues went 1-1-1 against Texas.

ST. LOUIS BANDITS: Forward Craig Kitto (Ashburn, Va.) notched a pair of goals in the Bandits' 4-2 triumph over Topeka on Friday.

TEXAS TORNADO: The Tornado raised $12,000 for the American Cancer Society Relay For Life Frisco during its second annual Pink In The Rink weekend, which was held March 5-7.

TOPEKA ROADRUNNERS: Goaltender Evan Karambelas (Fort Saint John, B.C.) turned back 27 shots in the RoadRunners' 4-2 win over St. Louis on Saturday. He's won eight of his last 10 starts. "Evan made some key saves in a lot of traffic last weekend," said assistant coach R.J. Enga. "He stood his ground and controlled his rebounds very well."

TRAVERSE CITY NORTH STARS: Goaltender Drew Strandberg (Thunder Bay, Ontario) stopped all 20 shots in the North Stars' 3-0 win over Alpena on Wednesday.

WENATCHEE WILD: Still chasing the league's regular-season championship (83 points), the West Division-champion Wild has six games remaining beginning on Friday against Kenai River.

WICHITA FALLS WILDCATS: Forward Brian Sheehan (St. Louis) added to his team-leading point total (59) with a goal and an assist in two games against Fairbanks.