Watch Now: NAHL Plays of the Week, Apr. 6-12
April 15, 2015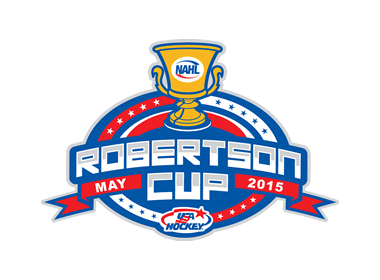 The North American Hockey League (NAHL) is pleased to continue an exciting feature this season, seen exclusively on NAHL.com.
The Plays of the Week can be viewed every week on the new NAHL TV platform and features the top goals and saves of the week from NAHL games played Monday-Sunday that respective week.
The 2015 Robertson Cup Playoffs were in full swing this past weekend. A full slate of games gives us a heap of great saves and goals, including some overtime-winners.
Do you have a goal or a save that you would like to see in the NAHL Plays of the Week? We want to hear from you! Email us your nominations and you could see them in next week's edition.
Featured in this week's edition is:
Player: #24 DANIEL RZAVSKY
Team: Topeka RoadRunners - Forward
Player: #14 BRAD PUNG
Team: Soo Eagles - Forward
Player: #27 JOE RUTKOWSKI
Team: Coulee Region Chill – Defenseman
Player: #28 RYAN BURR
Team: Michigan Warriors - Defenseman
Player: #1 JAKE KUPSKY
Team: Lone Star Brahmas - Goaltender
Player: #2 JOHNNY WALKER
Team: Minot Minotauros – Forward
Player: #74 CULLEN MUNSON
Team: Janesville Jets – Forward
Player: #22 MATT MENTA
Team: Soo Eagles - Forward
Player: #35 ADAM CARLSON
Team: Coulee Region Chill - Goaltender
Player: #22 SEBASTIAN VIDMAR
Team: Lone Star Brahmas - Forward
Player: #28 LORDANTHONY GRISSOM
Team: Keystone Ice Miners – Defenseman
Player: #9 YU HIKOSAKA
Team: Topeka RoadRunners – Forward
Player: #20 KEVIN SHAND
Team: Coulee Region Chill - Forward
Player: #17 TIM ATHLEY
Team: Minot Minotauros - Forward
Player: #17 ADAM LOVICK
Team: Coulee Region Chill - Forward
Player: #8 TREVOR COPE
Team: Soo Eagles – Forward
Player: #21 BRANDON SCHULTZ
Team: Janesville Jets - Forward
Player: #22 RICHARD ZEHNAL
Team: Coulee Region Chill - Forward
Player: #20 DOMINIC LUTZ
Team: Topeka RoadRunners - Forward
Player: #31 ATTE TOLVANEN
Team: Minot Minotauros – Goaltender
Player: #2 JACKSON CHARLESWORTH
Team: Coulee Region Chill - Defenseman
Player: #18 ROMAN UCHYN
Team: Lone Star Brahmas - Forward