Wild announces Robertson Cup title sponsors
March 14, 2010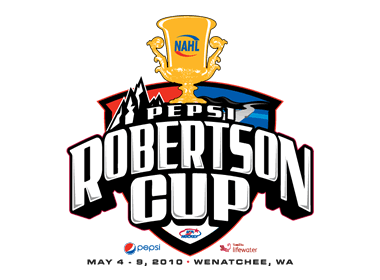 The Wenatchee Wild is pleased to announce that Weinstein Beverage Co., Pepsi and Sobe will serve as title sponsors and partners of the Wild for the 2010 Robertson Cup Championship Tournament.
"We are very proud to sponsor the Robertson Cup," said Mr. Kurt Grossarth, general manager of Weinstein Beverage Co. "Not only for the great hockey, but all the businesses that will see the bump in sale, from hotels to restaurants. What a great way to showcase our valley."
In business for more than 70 years, Weinstein Beverage Co. is a distributor of Pepsi products and many other non-alcoholic beverages.
The Robertson Cup Championship Tournament determines the NAHL's playoff champion. This year's tournament, held from May 3-9, will be played at the Town Toyota Center, the Wild's home arena. As the host team, the Wild receives an automatic bid into the tournament.
The Robertson Cup, the oldest junior hockey trophy in the United States, is named in honor of Chuck Robertson, a pioneer of junior hockey in the NAHL and youth hockey in Michigan. The upstart Wild fell to the St. Louis Bandits in the 2009 Robertson Cup championship game. It was St. Louis' third straight Cup championship.
The Wild, Weinstein Beverage Co., Pepsi and Sobe will be promoting this year's tournament over the next two months, and fans will have the opportunity to enter a contest to win Robertson Cup tickets by purchasing Pepsi products.