Eight players with NAHL ties on final NHL CSS list
April 8, 2015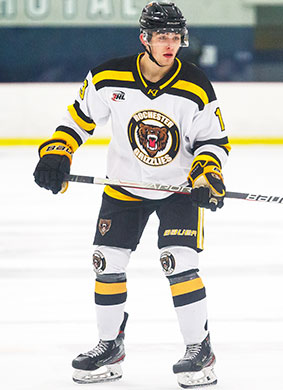 The National Hockey League (NHL) Central Scouting final rankings have been released for the 2015 NHL Draft and several NAHL players, both past and present, are on the list.
Founded by hockey executive Jack Button in 1975, NHL Central Scouting Services is a department within the National Hockey League that ranks prospects for the NHL Entry Draft at specific times during the season. Players are ranked based on how well they will translate to the professional game in the NHL.
The Florida Panthers will host the 2015 NHL Draft at the BB&T Center in Sunrise, Florida. The draft will be held over two days, Friday, June 26 and Saturday, June 27, 2015. NHL club executives, scouts and coaches will be present on the NHL Draft floor while more than 15,000 fans and 500 print, television and radio media are expected to attend.
A total of six players with NAHL ties were selected in the 2014 NHL Entry Draft.
All but one of the players with NAHL ties that are ranked are goalies.
Out of the hundreds of draft-eligible goalies currently playing in leagues across North America, four goalies currently playing in the NAHL were ranked on the list. The list includes #5 Matej Tomek (Topeka RoadRunners), #22 Ryan Bednard (Johnstown Tomahawks), #23 Evan Smith (Austin Bruins) and #24 Austin Shaw (Wichita Falls Wildcats).
The list also includes former NAHL goaltenders #27 Logan Halladay (Janesville Jets, 2013-14), #29 Kris Oldham (Kenai River Brown Bears, 2013-14) and forwards Roope Hintz (Bismarck Bobcats, 2012-13) and Thomas Aldworth (Lone Star Brahmas, 2013-14).
Tomek (ranked #5) has seized his opportunity with the Topeka RoadRunners this season after coming over from Slovakia. Playing a combined total of only 41 games between the Slovakia U18 and U20 teams from 2012-2014, Tomek has posted some of the best numbers of his career while playing in 33 NAHL games this season. Listed at 6'2/180, Tomek has compiled a 24-7-2 record so far this season and has some pretty impressive peripheral totals (1.83 GAA, .928 Save Percentage) to go along with his W-L record. Key amongst all of this has been the NAHL, which has given the young Slovakian goalie an arena to showcase his skills and continue his adaptation to the North American style of play. Slated to play for the University of North Dakota next season, Tomek will continue his development in the states and will undoubtedly be the NAHL's most highly-regarded prospect in Sunrise, Florida in late June.
Bednard (ranked #22) has appeared in 37 games for the Johnstown Tomahawks and has compiled a 16-16-5 record while playing to the tune of a 2.66 GAA and .913 Save Percentage. Although Bednard's numbers might not drop many jaws, his selection to play in this year's CCM/USA Hockey All-American Prospects game for Team Grier spoke for itself. His consistent level of play this season has not only been a testament to his development in the NAHL, it has spoken volumes of his mental composition and ability to play through rough patches. Committed to attending Bowling Green State University next season, Bednard will provide the university with a big body 6'3/190 in net once Tomas Sholl (another NAHL graduate) graduates. Bednard compliments his size with good athleticism and will have every chance to grow in the Bowling State program. Whether or not Bednard will be drafted this summer is anyone's best guess, but the fact that yet another NAHL goalie has been ranked so high in what is considered to be a stocked draft class is evidence enough of the league's dedication toward quality goaltending work.
Smith (ranked #23) has played for one of the top three teams in the NAHL this season, and that has definitely helped him get some added exposure. Standing at least 6'6" Smith is a pretty hard target to miss as he is by far the tallest of the goalies on CSS's midterm rankings. Off of pure height, Smith can instantly draw comparisons to Anthony Stolarz, but he will have to have a strong performance in the playoffs in order to improve his draft stock. Splitting time between the WHL (4 GP) and NAHL (15 GP) this year, Smith has compiled a 12-1-2 record with a 1.73 GAA and .923 save percentage for Austin during the regular season, so the playoffs will give an additional measuring stick for a goalie with a relatively small sample size. At 174 lbs., Smith will need to fill out his frame a bit more, but that will come naturally over the next couple of years as he continues maturing. Considering his height, Smith already has assets that many NHL teams will covet when draft day rolls around. However, it will be up to the goalie to show that his regular season performance wasn't just a one-off as the postseason will surely demand a more challenging level of play for a goalie on a top-three team with high expectations.
Shaw (ranked #24) is a new edition to the list. Shaw posted impressive numbers in an eventful first season of junior hockey. He finished the regular season with a 26-9-3 record, 2.88 goals against average, .902 save percentage and three shutouts, while also earning a Division I commitment to Princeton University in the process. The Colorado-native wrote himself into the Wildcats record-books throughout the campaign, setting a new team record for wins (26) in a single season by a first-year goaltender, as well as establishing a new franchise high-water mark for longest shutout streak to start a career (106:09). Shaw's three shutouts also rank as the second-most in a single season by a Wichita Falls netminder.