Wildcats, Killer Bees open Robertson Cup Playoffs on Thursday
April 2, 2015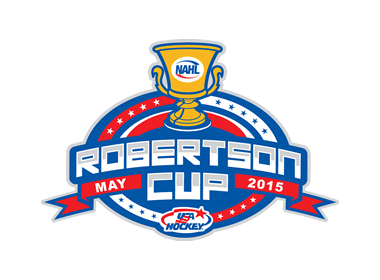 The 2015 NAHL Robertson Cup Playoffs get underway on Thursday night as the opening round of the South Division begins with the Rio Grande Valley Killer Bees traveling to Wichita Falls to face the Wildcats. It will mark the first-ever postseason meeting between the two teams.
Watch the game live on FASTHockey
Wichita Falls posted a 5-1-2 record against Rio Grande Valley this season, including a 3-1-0 mark at the Kay Yeager Coliseum. Dating back to last season, the 'Cats own a 9-4-3 mark in regular-season play against RGV, including a 4-3-1 all-time mark at the KYC. The Wildcats earned four of an available six points when these two teams last met in the regular season on March 19 and 20, posting a 4-0 win in the continuation of a previously-suspended game before dropping the next two contests in overtime and a shootout, respectively, although Wichita Falls did erase a two-goal deficit in both of those tilts to secure a point in each.
Austin Beaulieu (3-5-8) and Colin Staub (1-7-8) are tied for the team-lead in scoring against the Killer Bees, with Matt Koch following close behind with seven points on seven assists in eight games played. Nick Farmer has also been solid against RGV, compiling six points on four goals and two assists, a total that includes a pair of game-winning goals. Both Wichita Falls netminders have been solid against RGV this season, with Austin Shaw going 2-1-1 with two shutouts, a 0.99 goals against average and .957 save percentage, while David Zevnik is 3-0-1 with a 2.20 GAA and .912 save percentage against the Bees.
For Rio Grande Valley, Stathis Soumelidis (4-3-7) leads the Bees in head-to-head scoring against the 'Cats, with Parker Wood close behind with a 4-1-5 line, a total that includes a hat-trick recorded in the Bees' 4-3 shootout win on March 20. In net, Ben Johansson owns a 2-3-0 record, 2.78 GAA and .895 save percentage against the Wildcats; Nick Schmit is 1-2-0 against Wichita Falls, with a 2.68 GAA and .917 save percentage.
The Wildcats are primed for a prolonged postseason run in their seventh trip to the North American Hockey League's Robertson Cup playoffs, and second in as many seasons. Wichita Falls owns a 7-18-0 all-time record in postseason play and is still on the prowl for the first playoff-series win in franchise history, but this year brings plenty of reasons for optimism. Bolstered by the league's most potent offense, the 'Cats finished the regular season with a 39-16-5 mark, which set a new franchise record for most wins in a single season, and also marked the first time in team history that Wichita Falls had recorded consecutive 30-win campaigns. Included in that overall record is a 21-6-1 mark at the Kay Yeager Coliseum, which stands as the team's best-ever record at the KYC, surpassing the 18-8-1 mark from the 2007-08 campaign; the 21 wins at the KYC also represent a 10-win improvement from the Wildcats' home record from 2013-14.
Rio Grande Valley enters the 2015 Robertson Cup playoffs as the sixth seed in the South Division after finishing the regular season with a 25-25-10 record. The Killer Bees have been one of the division's stronger teams in the second half of the year, as Rio Grande Valley rebounded from a 10-16-5 record in the first half by going 15-9-5 over the final three months of the campaign. Anthony Croston led the Bees' attack this season, notching 13 goals and 32 assists for 45 points, with Parker Wood (18 goals, 19 points) and Dallas Gerads (20 goals, 11 assists) posting strong seasons as well. Nick Schmit and Ben Johansson have split time evenly between the pipes this season, appearing in 34 games apiece, although Johansson earned the decision in three of the Killer Bees' final four tilts. Johansson finished the season with a 15-9-5 record, 2.68 goals against average and .891 save percentage; Schmit closed the campaign at 10-15-5, with a 2.88 GAA and .897 save percentage.