The Hockey Writers: NAHL a stable of goalie development
April 2, 2015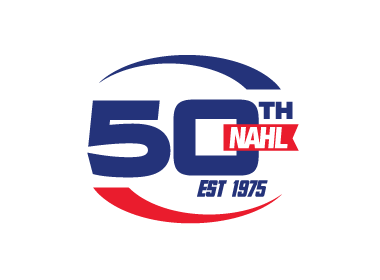 By Anatoliy Metter, The Hockey Writers (original article)
Through the years, the North American Hockey League (NAHL) has built up a reputation of being one of the best junior hockey leagues in America.
Rivaling the likes of the United States Hockey Leagues (USHL), the NAHL has been developing some of the most interesting, raw talent hoping to one day make it to the NHL. One area where they've excelled is between the pipes. The NAHL has seen four of their goalies drafted by NHL teams over the last three years – and there's no denying the fact that Anthony Stolarz, Connor Hellebuyck, Evan Cowley, and Chase Perry each have an abundant amount of upside and potential.
While Stolarz, Hellebuyck, Cowley, and Perry were all selected in the previous three NHL Entry Drafts, the NAHL's up-and-coming goalies are being featured more and more with the publishing of every passing CSS midterm and final rankings. That trend hasn't slowed down whatsoever in 2015. With only two NAHL netminders on last year's CSS midterm rankings and three in CSS's final April rankings, it's plain to see that the NAHL has been putting in a tremendous amount of work into raising its goalies' standing. Five of their armored gladiators appear in CSS's top 21 midterm-ranked North American goalies.
Of course, not all of the NAHL goalies listed in Central Scouting's midterm and final rankings will be selected come draft day – as Kasimir Kaskisuo and Logan Halladay unfortunately experienced last year – but the junior hockey league has certainly set their youngsters up for future success even if they don't have the honor of being drafted by an NHL team. Although it's hard to forecast which goalies from which league will be taken on draft day, there's no denying the fact that the NAHL has been vaulting itself up the rankings over the last few years with its diligent developmental process for goalies – and the proof is definitely in the pudding.
Matej Tomek (Topeka RoadRunners)
Last year, Kasimir Kaskisuo made the jump from the Finnish developmental leagues straight to North American hockey in the NAHL – and his transition was seamless as he posted tremendous numbers (32 GP, 21-6-5, 1.48 GAA, .944 Save Percentage) in his first taste of overseas play with the Minnesota Wilderness. Much in the same light, Matej Tomek has seized a similar opportunity with the Topeka RoadRunners this season after coming over from Slovakia. Playing a combined total of only 41 games between the Slovakia U18 and U20 teams from 2012-2014, Tomek has posted some of the best numbers of his career while playing in 33 NAHL games this season. Listed at 6′ 2″ and 180 lbs., Tomek has compiled a 24-7-2 record so far this season and has some pretty impressive peripheral totals (1.83 GAA, .928 Save Percentage) to go along with his W-L record. With Kyle Woodlief believing that Tomek could rival the number one ranked goalie (Mackenzie Blackwood) on CSS's list come draft day, it has been plain to see that Tomek has the requisite talent to be a high draft pick in Florida this summer. Key amongst all of this has been the NAHL, which has given the young Slovakian goalie an arena to showcase his skills and continue his adaptation to the North American style of play. Slated to play for the University of North Dakota next season, Tomek will continue his development in the states and will undoubtedly be the NAHL's most highly-regarded prospect in Sunrise, Florida in late June.
Ryan Bednard (Johnstown Tomahawks)
Ranked number 15 overall on CSS's midterm list of draft-eligible North American goalies, Ryan Bednard is the second of five NAHL netminders on the scouting list. So far this season, Bednard has appeared in 37 games for the Johnstown Tomahawks and has compiled a 16-16-5 record while playing to the tune of a 2.66 GAA and .913 Save Percentage. Although Bednard's numbers might not drop many jaws, his selection to play in this year's CCM/USA Hockey All-American Prospects game for Team Grier spoke for itself. Of course, Bednard's draft stock could have been further aided if Johnstown wasn't a sub-.500 team in their division, but the goalie's consistent level of play this season has not only been a testament to his development in the NAHL, it has spoken volumes of his mental composition and ability to play through rough patches. Committed to attending Bowling Green State University next season, Bednard will provide the university with a big body (6′ 3″, 179 lbs.) in net once Tomas Sholl (another NAHL graduate) graduates. Bednard compliments his size with good athleticism and will have every chance to grow in the Bowling State program, but he will have to finish off the NAHL season in strong fashion to maintain his positioning in CSS's final rankings. Whether or not Bednard will be drafted this summer is anyone's best guess, but the fact that yet another NAHL goalie has been ranked so high in what is considered to be a stocked draft class is evidence enough of the league's dedication toward quality goaltending work.
Jens "Vaughan" Ahrens (Minnesota Magicians)
Much like Ryan Bednard, Jens "Vaughan" Ahrens has played on a team that hasn't had the best of showings during the '14-'15 NAHL season. Despite the fact that the Minnesota Magicians clinched a playoff spot this season, their 21-35-4 record – and 46 points – is the worst of any team qualifying for an NAHL playoff berth. Even though the Magicians haven't had a good record this season, Ahrens hasn't let that stand in his way of his growth. Playing in 29 games so far this season, Ahrens has posted a 3.43 GAA and .905 Save Percentage – and while some may not think much of the aforementioned numbers, fans must also remember that Anthony Stolarz (Philadelphia Flyers) didn't have the best peripheral statistics when he was drafted. Though Ahrens (6′ 2″, 194 lbs.) doesn't possess the same size that made Stolarz such an interesting project, he has shown a good amount of composure playing on a sub-.500 team – something that has earned the praise of head coach Tom Upton, as the bench boss stated; "Vaughan was great this weekend and since his return from injury, you can see him getting better by the week. He is an elite goalie and that is why he continues to be someone we will rely on for team success moving forward," Having made the tenth most saves out of all NAHL goalies this season – and having played four less games than any other goalie in the top 10 in the aforementioned stat category – Ahrens has seen a consistent amount of shots this season and would have seen more if not for an injury. Ranked 19th overall on CSS's midterm list, Ahrens has been powering the Magicians with his play and could very well see a bump in CSS's final rankings with a solid finish to the regular season and playoffs.
Evan Smith (Austin Bruins)
Unlike Bednard and Ahrens, Evan Smith has played for one of the top three teams in the NAHL this season, and that has definitely helped him get some added exposure. Standing at least 6′ 6″, Smith is a pretty hard target to miss as he is by far the tallest of the five goalies on CSS's midterm rankings. Off of pure height, Smith can instantly draw comparisons to Anthony Stolarz, but he will have to have a strong performance in the playoffs in order to improve his draft stock. Splitting time between the WHL (4 GP) and NAHL (15 GP) this year, Smith has compiled a 12-1-2 record with a 1.73 GAA and .923 save percentage for Austin during the regular season, so the playoffs will give an additional measuring stick for a goalie with a relatively small sample size. At 174 lbs., Smith will need to fill out his frame a bit more, but that will come naturally over the next couple of years as he continues maturing. Considering his height, Smith already has assets that many NHL teams will covet when draft day rolls around. However, it will be up to the goalie (18th overall on CSS midterm rankings) to show that his regular season performance wasn't just a one-off as the postseason will surely demand a more challenging level of play for a goalie on a top-three team with high expectations.
Matthew Jurusik (Janesville Jets)
Matthew Jurusik has recorded the best statistics out of the five NAHL netminders on CSS's list, yet he is the lowest ranked netminder (21) of the group. Being the smallest (6′ 0″) of the five goalies, Jurusik might not have height on his side, but if the Jets go far in the playoffs he could definitely increase his value for draft day. Playing in 40 of Janesville's games, Jurusik had a 33-5-0 record with a 1.57 GAA and .939 Save Percentage – numbers that were well above those of CSS's number four ranked North American goaltender and fellow NAHLer, Matej Tomek. Of course, it doesn't hurt that Jurusik has been manning the crease for the best team in the NAHL, but it would definitely be interesting to see the netminder's adjusted statistics if he wasn't playing on a top team. With all of that being said, Jurusik does have the credentials to back up his midterm ranking as he appeared in the Ivan Hlinka Memorial Tournament for Team USA in 2014 and even rung off 11 straight wins through February. It'll be interesting to see how Jurusik reacts to pressure in the NAHL playoffs, but if history is any indicator, then it's likely that the prospect goalie won't have any trouble stepping up for his team when he is most needed – and that just might be the push that the undersized netminder needs to up his draft ranking.
One of the top junior leagues
Preparing its talent for the future, it was plain to see that the NAHL was setting its youngsters up for future success when THW had a chance to speak with Chase Perry and Kasimir Kaskisuo before last year's draft. Even though Kaskisuo wound up undrafted and Perry was selected, the NAHL not only provided the two goalies with a platform to showcase their talents, they made it easier for the goalies to identify potential colleges and future landing spots that could give them added exposure for a future hockey career.
Key to all of this, however, is the fact that NAHL teams have consistently scouted out such talent over the last three years and developed them into products that NHL teams have deemed ripe enough to draft.
As with all success stories, consistency has been key for the the NAHL, and the results have been showing up on the midterm and final rankings as well as the NHL draft board. Having five of their goalies appear on CSS's midterm rankings might be a shock to some, but for a league that has made significant strides over the last several years in terms of player development there is definitely reason to believe that the North American Hockey League has more in store for hockey fans in the very near future.