March 25, 2015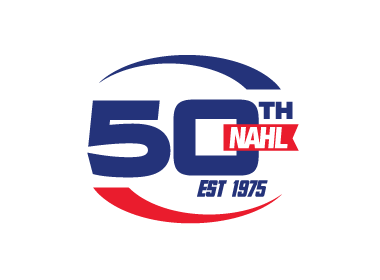 Two NAHL alums, Cody Wydo and Tanner Kero, are two of the Top 10 finalists for the Hobey Baker Award. Wydo, Kero and the eight other Hobey Baker finalists will now enter the final round of scrutiny leading up to the presentation of the prize April 10 at the NCAA Frozen Four in Boston. The 27-member Hobey Baker selection committee - in addition to the final round of fan balloting at HobeyBakerAward.com - will determine this year's winner. Fans can vote for their favorite player once per day from March 19-29.
Robert Morris University senior captain and former NAHL Forward of the Year Cody Wydo continues to make program history, becoming the first Colonial to be named a Hobey Baker Award finalist. The Hobey Baker Award is college hockey's most prestigious individual honor, as it annually recognizes the student-athlete judged to be the best player in the nation. The 10 finalists were selected by voting from all 59 Division I head coaches and online fan balloting at HobeyBakerAward.com.
"It's an amazing feeling to be recognized on that list," Wydo said. "I would not be there without my teammates' help, so have to give them credit as well."
Wydo, who was also a Hobey Baker candidate last season, is RMU's all-time leading scorer with 148 points in 150 career games. The winger from Southgate, Mich., is the active Division I leader in goals (84) and has recorded 41 points (19g, 22a) this season to lead the Colonials as they earned their first regular-season Atlantic Hockey Conference title.
"I want to congratulate Cody on a truly phenomenal season," said RMU head coach Derek Schooley. "His accolades this season make him the most decorated player in Colonial hockey history and one of the most decorated Robert Morris athletes ever in any sport. Being a finalist for such a prestigious award is a tremendous achievement and the RMU players and staff couldn't be happier for him."
After playing his junior hockey for the Motor City (Mich.) Metal Jackets of the North American Hockey League, Wydo arrived on the RMU campus as a proven scorer. He has only burnished that reputation over the past four years, with his program-record 31-goal, 54-point junior season standing out as one of many highlights. Wydo is the Colonials' all-time leader in goals (84), points (148), games played (150), shots on goal (480), plus-minus rating (plus-54) and shorthanded goals (six).
Michigan Tech's Tanner Kero has been named one of the 10 finalists for the 2015 Hobey Baker Award, given annually to college hockey's top player. Kero was named the 2014-15 WCHA Player of the Year, the WCHA Outstanding Student-Athlete of the Year, and to the All-WCHA First Team. He is also a finalist for the Senior CLASS Award.
Kero played in the NAHL during the 2009-10 season for the Marquette Rangers and was named the NAHL Rookie of the Year. As a rookie, Kero led the NAHL in goals that season with 32.
Kero, a senior forward from Hancock, Michigan, led all WCHA players in overall points (18-25=43) and conference-only points (13-21=34) during the regular season. The co-captain had 11 multiple-point games, including a four-point outburst against Alabama Huntsville (Jan. 31) to notch his 100th career point. He had two six-game point streaks with 10 points in each run. In 148 career games, he has 108 points on 53 goals and 55 assists to rank 51st in Tech history. Kero was twice named WCHA Offensive Player of the Week and was on the 50th GLI All-Tournament Team. The fourth-ranked Huskies are 14-0-1 when Kero scores a goal.
Kero maintains a 3.72 grade point average in mathematics with a concentration in actuarial science. He has received four merit awards as the top student in his class. Kero is a WCHA Scholar-Athlete for the third year in a row and also a three-time member of the WCHA All-Academic Team.
As a member of the Michigan Tech hockey team, Kero volunteers with Koaches Kids (reading books at local elementary schools), and volunteers at Breakers to Bay, a run that benefits a local hockey rink. He also volunteers coaching local youth hockey, when available. Kero has also volunteered his time at the Canal Run and the Portage Ball.
Former Wenatchee Wild and current Canisius College defenseman Chris Rumble was named to the Atlantic Hockey All-Conference Team. Rumble is the first Canisius defender in 16 years to collect the accolade. Rumble played two seasons in the NAHL, both for the Wenatchee Wild from 2009-11. The junior from Seattle, Wash. leads all Canisius defenders with 19 points this season, scoring six goals and adding 13 assists. He ranks third in Atlantic Hockey and 29th nationally with his 19 points. He also helped anchor the top scoring defense in the league at 2.14 goals per game in conference play, including just 1.67 per game in the last 15 contests of the year – the fourth-best mark in the country. In addition, Rumble led the Griffs with 50 blocked shots.
Former Amarillo Bulls and NAHL forward Brady Furguson was named to the Atlantic Hockey All-Rookie Team. Ferguson, a 6-foot, 190-pound center, has established a new program record for points by a freshman, scoring 11 goals and adding 14 assists in 31 games played. He is joined by Tyler Pham (Army), Jack Riley (Mercyhurst), Brady Norrish (RIT), Keegan Harper (Niagara) and Jayson Argue (Bentley) on the AHC All-Rookie squad, which was selected by league coaches. A native of Lewisville, Texas, who also spend part of his childhood in southern California, Ferguson netted 23 points (9g, 14a) in 26 conference games. The left-handed shooter immediately announced his arrival with a three-game point streak in mid-October and has been a regular part of the lineup right from the start of the season, scoring at least a point in 17 of his first 31 NCAA games.
"Brady has been very consistent all season," said RMU head coach Derek Schooley. "He's come into a deep team and has earned everything he's accomplished this season. We are very proud the Atlantic Hockey coaches have recognized his contributions to our team this year."
Ferguson excelled in a scoring-line role in junior hockey as well, accumulating 79 points (29g, 50a) in 114 games with the Amarillo (Texas) Bulls of the North American Hockey League. He played alongside current RMU teammates John Rey and Timmy Moore in Amarillo, claiming the 2012-13 NAHL postseason championship in the process. For the last four months, Ferguson has centered a potent forward line that also features junior David Friedmann on left wing and sophomore Daniel Leavens on the right side. The trio has combined for 76 points (29g, 47a), 66 of which have occurred since being united as a line Nov. 1.
"I've just played simple hockey and I've had really good linemates," Ferguson said. "It's nice to get recognition from the other coaches (in the AHC), but it's even better that our team is getting recognized for our accomplishments."
Former NAHL goalie and current Canisius netminder Keegan Asmundson was recognized as the Atlantic Hockey Goalie of the Year and named to the All-Conference 2nd Team. Asmundson anchored the top defense in Atlantic Hockey this season with a 2.09 goals against average and .926 save percentage. His 2.09 goals against average is currently the top mark in school history, topping the current record of 2.37. The senior has been especially strong as of late, finishing the season with a 9-2-1 record to lead Canisius to a second-place finish. Asmundson ranks fourth in the country since the beginning of 2015 with a .942 save percentage and fifth with a 1.60 goals against average. Asmundson played in the NAHL from 2008-11 for the North Iowa Outlaws and most recently, the Austin Bruins.
Atlantic Hockey Rookie of the Week: Brandon Wildung, Mercyhurst University
Wildung led the Lakers to a semifinal upset win over top-seeded Robert Morris in the opening game on Friday at the Blue Cross Arena with a 59-save performance as Mercyhurst won in overtime by a 4-3 final … he had 57 saves through regulation and then stopped two more in overtime to help the Lakers advance to the Atlantic Hockey Championship for the second time in three years … his 57 saves at the end of regulation would have been a conference tournament record had the game not gone to overtime (52 by Connecticut's Brad Smith against Sacred Heart on March 11, 2006) … the 59 saves was an Atlantic Hockey Championship Weekend record and was four shy of Mercyhurst's Ryan Zapolski playoff record of 63 saves against Canisius on March 13, 2010 … he followed that up with a 31-save performance in the championship game on Saturday against RIT … he finished the two games with 90 saves and was named the All-Tournament Team goaltender. Wildung spent last season playing for the NAHL's Minot Minotauros.
A member of the NAHL and Amarillo Bulls Alumni has been named finalist for Division III Player Of The Year. Ryan Cole, a sophomore forward of the Trinity College Bantams is one of seven players named for that award. The Anchorage, Alaska native has already captured the 2015 New England Small College Athletics Conference (NESCAC) Player of the Year. Cole leads the league with 35 points, ranks second with 21 assists, and is tied for third with 14 goals as he helped the Bantams earn the No. 1 seed in the league tournament for the second straight season after posting a 16-1-1 record. The 2014 NESCAC Rookie of the Year becomes the first player in conference men's ice hockey history to receive Player of the Year and Rookie of the Year accolades.
Former NAHL alumni defenseman Kevin Gibson is also a finalist for the Division III Player of the Year. Gibson, who plays for the University of Wisconsin-Stevens Point, had 30 points this season and has led his team to the NCAA Division III Final Four. Gibson played three seasons in the NAHL, spanning from 2008-11, most recently for the Michigan Warriors during their Robertson Cup Runner-Up run in the spring of 2011.
Former Michigan Warriors forward Martin Gruse (2010-13) was named to the All-MIAC 1st Team. The forward for St. Mary's University led the MIAC in total points, tied for first in goals, first in plus/minus and was third in assists.
Five Bismarck Bobcats alumni are taking part in the NCAA Division I Hockey Tournament (
story
)
Former NAHL goalie Tyler Marble stacks up with his competition (
story
)