NAHL announces Easton Hockey Divisional Stars of the Week
March 23, 2015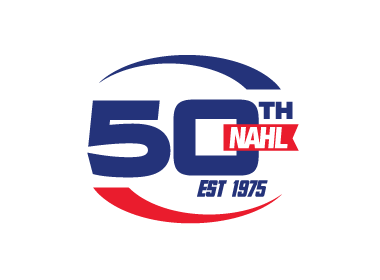 The North American Hockey League (NAHL) today announced the Divisional Stars of the Week presented by Easton Hockey for the week ending March 22, 2015. The Easton Hockey Divisional Stars of the Week is a weekly feature during the 2014-15 regular season that honors the top performing players in each of the four NAHL divisions. Only players that are nominated by their respective teams are considered for the Divisional Players of the Week award.
Central Division Star of the Week: Atte Tolvanen, goalie, Minot Minotauros
Minot goalie Atte Tolvanen, 20, followed up his commitment last week to Northern Michigan University with two outstanding performances for the Minotauros. In two games last week, the native of Vihti, Finland, allowed just a single goal as the Minotauros locked up the #2 seed in the Central Division. On St. Patrick's Day, Tolvanen (6'0/188) stopped all 24 shots that came his way for his 6th shutout of the season in a 4-0 home win over the Bismarck Bobcats. On Friday, Tolvanen made 19 saves in a 1-0 road loss to the Aberdeen Wings. During the weekend, Tolvanen stopped 43 of 44 shots. "Atte gave us a chance to win both games. He has really matured as a goalie and he is going to be a special player at the NCAA Division I level. We feel like our chances are good in the playoffs if he continues to do what he has been doing all season," said Minot head coach Marty Murray.
2nd Star: Luke Kania, G, Aberdeen Wings
Honorable Mention (alphabetical): Brian Backnak, F, Austin Bruins – Corey Dunn, D, Austin Bruins – Kyle Haak, F, Aberdeen Wings – Hunter Shepard, G, Bismarck Bobcats – John Snodgrass, F, Minot Minotauros – Cullen Willox, F, Bismarck Bobcats
Midwest Division Star of the Week: Aaron Miller, forward, Minnesota Wilderness
The Minnesota Wilderness stayed busy last week with four games and thanks to three more wins, were able to keep pace atop the Midwest Division standings in pursuit for a division title. Forward Aaron Miller, 19, had six points in the four games, which included three goals and three assists for the native of Superior, Wisconsin. Miller (5'10/165) began the week with a two goal, one assist performance in a 3-2 overtime win over the Minnesota Magicians on St. Patrick's Day. Two days later he had a goal and assist in another 3-2 win over the Magicians. Over the weekend, Miller picked up an assist and a shootout-winning goal in a home split with Bismarck. For the season, Miller is tied for the Wilderness scoring lead with 55 points in 56 games played. "Aaron has been a consistent offensive threat for us all year. For a first year junior player, he has been a very pleasant surprise," said Wilderness head coach Corey Millen.
2nd Star: Evan Hauser, G, Kenai River Brown Bears
Honorable Mention (alphabetical): Todd Burgess, F, Fairbanks Ice Dogs – Dominik Florian, F, Coulee Region Chill – Adam Kresl, F, Kenai River Brown Bears – John Teets, D, Fairbanks Ice Dogs – Wayland Williams, D, Minnesota Wilderness – Richard Zehnal, F, Coulee Region Chill
North Division Star of the Week: Jake Gwillim, goalie, Johnstown Tomahawks
Johnstown goalie Jake Gwillim, 17, helped his club to two wins in three games last weekend as the Tomhawks put themselves on the verge of a playoff spot. The 6'3/208 lbs. native of Swartz Creek, Michigan, faced 69 shots over the weekend and made 65 saves. On Friday, Gwillim came in relief and preserved a 3-0 shutout of the Soo Eagles. On Saturday, Gwillim made 31 saves in a 3-2 win over the Eagles. On Sunday, Gwillim made another 31 saves, but it wasn't enough in a close 2-1 loss. "Jake was very good for us in a weekend where we needed to have success as we make our push for the playoffs. He made multiple big saves including a penalty shot :17 seconds into our game Saturday night to give us great momentum. He provides our team with an emotional lift because his personality is very uplifting and supportive. He was extremely influential in us having a relatively strong weekend. I am very proud of the way he played for our team giving us a chance to have success," said Tomahawks head coach Mike Letizia.
2nd Star: Matt Jurusik, G, Janesville Jets
Honorable Mention (alphabetical): Alex Berardinelli, F, Michigan Warriors – Jack Berry, G, Soo Eagles - Niko Dellamaggorie, G, Springfield Jr. Blues – LordAnthony Grissom, D, Keystone Ice Miners – Alex Jaeckle, D, Johnstown Tomahawks – Matt Jones, F, Keystone Ice Miners - Dan Kucerovy, F, Janesville Jets - Matt Menta, F, Soo Eagles - Grant Meyer, F, Springfield Jr. Blues
South Division Star of the Week: Razmuz Waxin-Engback, forward, Odessa Jackalopes
Odessa forward Razmuz Waxin-Engback, 20, continued his hot play over the weekend as the Jackalopes won two of three home contests against the visiting Corpus Christi IceRays. The native of Sodertalje, Sweden, managed at least a point in all three games, which continued his current point streak to eight straight games. In the three games, Waxin-Engback had a total of seven points and was a +4. On Thursday, Waxin-Engback had a goal and two assists in a 3-1 win over the IceRays. On Friday, he had a goal in a 5-3 loss and on Saturday, he scored the game-winning goal and added two assists in a 4-1 win. For the season, Waxin-Engback has 51 points in 57 games played, which ranks him 2nd on the team in scoring. "Razmuz has been our MVP all year and was very consistent this weekend. He has worked hard all season long. He has a great shot and plays very well at both ends of the ice and is a great all-around hockey player," said Odessa head coach Greg Gatto.
2nd Star: David Powlowski, F, Wenatchee Wild
Honorable Mention (alphabetical): Tommy Apap, F, Wichita Falls Wildcats – JB Baker, F, Topeka RoadRunners – Phil Fromberger, F, Amarillo Bulls – Ben Johansson, G, Rio Grande Valley Killer Bees – Wes Michaud, F, Corpus Christi IceRays – Daniel Rzavsky, F, Topeka RoadRunners – Austin Shaw, G, Wichita Falls Wildcats – Parker Wood, F, Rio Grande Valley Killer Bees