Keystone clinches playoff spot with 4-1 win on Wednesday
March 19, 2015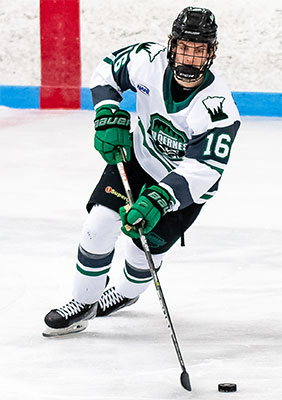 Johnstown 1 @ Keystone 4 - The Keystone Ice Miners became the third team from the North Division to clinch a playoff spot as they picked up a 4-1 home win on Wednesday night over the Johnstown Tomahawks. The win gives Keystone 61 points, as they sit firmly in 3rd place, just one behind behind Soo for 2nd place. The Tomahawks continue to hold a one-point advantage over Michigan for the fourth and final North Division playoff spot.
The Ice Miners struck first, as Alex Archibald's shot from inside the blue line found its way through traffic and into the right side of the net with 1:19 remaining in the second period. Taylor Fernandez provided the assist, as his pass was corralled by Archibald before it could clear for icing.
Jon Hall made it 2-0, scoring 2:38 into the third period. Archibald and Fernandez provided the assists on the goal. Just 14 seconds later, the Tomahawks pulled back within one, as Luke Lynch chipped the puck past the leg of Keystone goaltender Nick Kossoff. Andrew Romano and Ian Spencer provided the shots that led to the 14th goal of the season for Lynch.
LordAnthony Grissom regained the two-goal advantage for the Ice Miners, scoring on a shorthanded breakaway at 14:40. Nico Coffman provided the pass that led to the goal.
Austin Romzek set the final score with an empty-net goal at 18:48.
Kossoff earned the win, stopping 27 of 28 shots. Nick DiSimmone allowed 3 goals on 33 shots in the loss. The Tomahawks went 0-for-6 on the power play and 4-for-5 on the penalty kill.