Minot and Top Prospects goalie Tolvanen makes NCAA DI commitment
March 17, 2015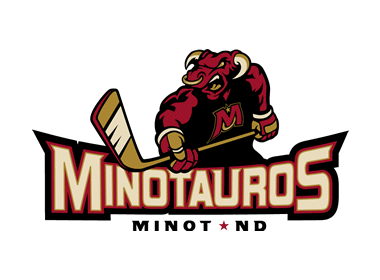 By Ken Oda, Minot Minotauros
Minot Minotauros and NAHL goaltender Atte Tolvanen has committed to play college hockey at NCAA Division I Northern Michigan University, a member of the WCHA. In doing so Tolvanen becomes the third current Minotauros player to commit to an NCAA DI school and fifth consecutive Minotauros goaltender to go on to the top level of college hockey.
Tolvanen, 20, has lead the Tauros to their best season on the ice while setting several individual records. With six games remaining in the regular season Tolvanen has already rewritten the Minotauros record books with his 25 wins, five shutouts, 2.01 goals against average, and .920 save percentage; all setting new standards.
Tolvanen represented the Minotauros at this year's North American Hockey League's Top Prospect Tournament as one of five Tauros on Team Central, where he allowed only one goal at the league's all-star event. He also appeared in the NAHL Top Prospects Tournament last year for Team Midwest, where he posted even better numbers.
Tolvanen pointed to both the "size of the school," and the "quality of the hockey program" as reasons he decided that Northern Michigan was overall a "good fit."
Minotauros head coach and general manager Marty Murray agreed that NMU would be a good fit for Tolvanen, "Atte has had an outstanding season with us and is a major factor in our team success. He has the drive and confidence to a great goaltender at the next level."
The high praise of the Tolvanen continued from Minotauros Goaltending Coach Cory Lonke, "Atte had to stay patient in the process and keep working and proving himself. I think he has done that during both of his years in the NAHL and especially this year. He has played a lot of minutes and developed into a goalie that is ready to take next step. NMU is getting a great goalie and a great kid."
Overall Tolvanen becomes the twelfth Tauro to move on to the NCAA DI level and tenth in the last two seasons. 28 Tauros in all have moved on to play college hockey at the NCAA DI and DIII levels.