Lone Star defenseman Solovyev makes NCAA DI commitment
March 12, 2015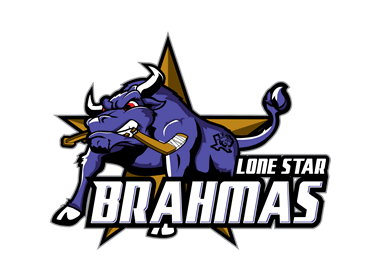 By Kirk Estes
Alexey Solovyev, veteran defenseman for the NAHL's Lone Star Brahmas, has signed an NCAA D-I commitment with the Bentley University Falcons of Atlantic Hockey.
Solovyev is in his third season in the NAHL having joined the organization as a member of the Texas Tornado during the 2012-13 season. He played in 39 games with the Tornado scoring 1G – 8A. When the Tornado were sold and moved to North Richland Hills as the Lone Star Brahmas before last season, Solovyev moved along with them. During his first season in North Richland Hills the 6' 2" – 200 pound native of Moscow Russia stepped up his offense with 20 points on 6G – 14A in 52 games played. Eight of his 20 points came on the power play.
Before the start of this season Alexey commented on his 2013/14 campaign and expectations for 2014/15. "I thought I had a decent offensive year last year, of course not without the help of my teammates and coaches. I know it could be much better," he said. "This upcoming year, I'm planning on using my shot a little more than I did last year and not hesitate with the puck. I'm going to try to bring even more offense to the team than last year and at the same time improve my game in the defensive zone."
That is exactly what he has done so far this season. Alexey has played in 47 games and has amassed 10G – 22A including three shorthanded. Solovyev possesses one of the hardest shots in the league making him a valuable asset on the power play where he has scored 2G – 10A. He currently ranks 10th among all NAHL defensemen in scoring and is a +12 with 51 PIMs. His play this season earned him a spot in the NAHL Top Prospects Tournament which is attended by scouts from nearly every university and NHL program.
Alexey chose to come to the NAHL rather than playing Russian Juniors for one major reason and that was to earn a college scholarship. "I want to earn a D-I scholarship this year. I've been working hard for the past few years and hopefully it's going to pay off this year and I will be able to commit to play D-I hockey."
Solovyev grew in character with the Brahmas struggles last season and it has paid dividends this season. While he does not wear a letter on his chest, he is definitely one of the leaders on the team. "As a team, we had to learn to control our emotions, especially in the first few months of the season, when we were losing a lot of the games," he recalled. Those lessons will serve him well with Bentley.
Click here for an updated list of 2014-15 NAHL college commitments