NAHL announces Easton Hockey Divisional Stars of the Week
March 9, 2015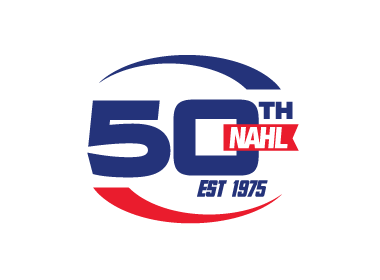 The North American Hockey League (NAHL) today announced the Divisional Stars of the Week presented by Easton Hockey for the week ending March 8, 2015. The Easton Hockey Divisional Stars of the Week is a weekly feature during the 2014-15 regular season that honors the top performing players in each of the four NAHL divisions. Only players that are nominated by their respective teams are considered for the Divisional Players of the Week award.
Central Division Star of the Week: Hunter Shepard, Bismarck Bobcats
The Bismarck Bobcats posted a big weekend home sweep of the Kenai River Brown Bears and rookie netminder Hunter Shepard, 19, got the start and wins in both games. The native of Grand Rapids, Minnesota, began the weekend by stopping all 18 shots that came his way for his first career NAHL shutout as Bismarck beat Kenai River, 1-0. The next night, Shepard (6'0/201) made 16 saves in a 5-2 win. For the weekend, Shepard allowed just two goals on 36 shots. Shepard has a 13-12 record this season and has allowed just six goals in his last four appearances. "I thought Hunter was a big reason why we had a good weekend. He faced some quality scoring chances and has come a long away in his development this season. He has worked hard to become a better goalie and we feel real confident with our goaltending tandem right now," said Bismarck head coach Layne Sedevie.
2nd Star: Christian Mohs, F, Minot Minotauros
Honorable Mention (alphabetical): Willie Brown, F, Bismarck Bobcats – Jackson Graalum, F, Aberdeen Wings – TJ Samec, D, Brookings Blizzard – Bjorn Sigurdarson, F, Aberdeen Wings – Johnny Walker, F, Minot Minotauros
Midwest Division Star of the Week: Vaughan Ahrens, goalie, Minnesota Magicians
Thanks to a weekend road sweep in Aberdeen against the Wings, the Minnesota Magicians were able to keep their winning streak going and clinch the Midwest Division's final playoff spot in the process. 18-year-old netminder Vaughan Ahrens was stellar between the pipes as the native of Plymouth, Minnesota faced 83 shots in the two games and made 78 saves. On Friday, Ahrens (6'2/195) tied a season-high with 42 saves in a 4-3 win. On Saturday, he made 36 saves in a 5-2 win. Ahrens has now won his last four starts and also played well for the Midwest team at the NAHL Top Prospects Tournament. "Vaughan was great this weekend and since his return from injury, you can see him getting better by the week. He is an elite goalie and that is why he continues to be someone we will rely on for team success moving forward," said Magicians head coach Tom Upton.
2nd Star: Aaron Miller, F, Minnesota Wilderness
Honorable Mention (alphabetical): Kevin Aldridge, G, Fairbanks Ice Dogs – Ryner Gorowsky, F, Fairbanks Ice Dogs – Evan Hauser, G, Kenai River Brown Bears – Brock Kautz, G, Minnesota Wilderness – Nikita Milekin, F, Minnesota Magicians – Jeff Solow, D, Kenai River Brown Bears
North Division Star of the Week: Peter Bates, forward, Michigan Warriors
The Michigan Warriors are making a late-season run to try and capture the 4th and final playoff spot in the North Division and their three-game home sweep of the Keystone Ice Miners this past weekend is just what the doctor ordered. Forward Peter Bates, 18, played a big part in the sweep as the native of Evanston, Illinois netted four points in the three wins, which included game-winning goals in two of the three outings. After being held scoreless with two shots in a 3-2 win on Friday, Bates had two goals, including the game-winner on Saturday. On Sunday, he added another game-winning goal and assisted on the other in a 2-1 win. In 15 games with the Warriors this season, Bates (6'0/170) has 13 points. "Peter had some key goals, but in the last couple of weeks you can see his confidence grow with each game. He is playing on a really good line that is clicking right now and he plays well at both ends of the ice," said Michigan head coach Moe Mantha.
2nd Star: Nick Le Sage, D, Johnstown Tomahawks
Honorable Mention (alphabetical): Ryan Bednard, F, Johnstown Tomahawks – Derek Frentz, F, Michigan Warriors – Pat Gazzillo, D, Soo Eagles – Matt Menta, F, Soo Eagles
South Division Star of the Week: Anton Martinsson, goalie, Amarillo Bulls
The Amarillo Bulls kept their playoff hopes alive with two big home wins over the Topeka RoadRunners last weekend. Between the pipes, Amarillo goalie Anton Martinsson, 19, was one of the big reasons behind the wins. The native of Klippan, Sweden, faced 82 shots in the two games and stopped 78 of them. On Friday, Martinsson (6'0/183) made a season-high 46 saves in a 4-3 overtime win. On Saturday, he made 32 saves in a 3-1 win. Martinsson has now won four of his last five starts and has a 14-11-1 record for the season. "The two wins this weekend were four points we really needed and anytime you face a situation like that, your goalie has to be one of your best players and that's what Anton was. He has really stepped his game up lately and it has allowed us to try and make a good run for the playoffs," said Amarillo head coach Jon Rogger.
2nd Star: Dallas Gerads, F, Rio Grande Valley Killer Bees
Honorable Mention (alphabetical): Austin Albrecht, F, Wichita Falls Wildcats – Eric Carreras, F, Odessa Jackalopes – Kevin Charyszyn, F, Wichita Falls Wildcats – Will Harrison, F, Amarillo Bulls – Mason Kreuger, F, Corpus Christi IceRays – Ludvig Larsson, F, Lone Star Brahmas – Hampus Sjodahl, F, Odessa Jackalopes – Alexey Solovyev, D, Lone Star Brahmas