Warriors complete three-game sweep on Sunday
March 9, 2015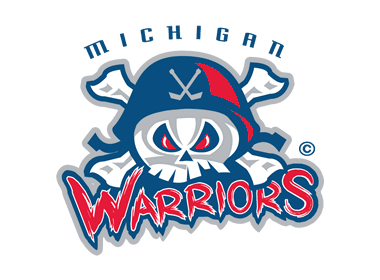 Keystone 1 @ Michigan 2
– Chase Munroe made 37 saves as the Michigan Warriors completed a three-game weekend home sweep of the Ice Miners and kept their playoff hopes alive with a 2-1 win on Sunday in Flint. Michigan got the scoring started early as just 1:49 into the game, as Derek Frentz converted on a nice passing play from linemates Garrison Sanipass and Peter Bates. Bates worked the puck over to Sanipass on a 3 on 2 and then Sanipass found a streaking Frentz who put a one-timer past Keystone goalie Alex Blankenburg for the 1-0 lead. Keystone would tie the game in the 2nd period as Garrett Hallford slipped around the defense and tucked home and nice short-side shot over the shoulder of Munroe for what would turn out to be the lone goal of the game for Keystone. The eventual game-winner came off the stick of Bates who stayed with a play after being denied and put home a rebound after a turnaround shot from Frentz. Ice Miners goalie Alex Blankenburg would end up making 34 saves in the loss.
Boxscore
Springfield 1 @ Johnstown 4
- The Johnstown Tomahawks took advantage of three third period goals in a 4-1 victory over the Springfield Jr. Blues on Sunday afternoon at the Cambria County War Memorial. After getting an early four-minute power play five seconds into the game, Johnstown struck first, as Luke Lynch scored on a shot between the face-off circles at 1:32. Just over a minute later, Springfield capitalized on a turnover, as Matt Long took the puck and fired a shot into the top right corner at 2:38. Joe Drabin regained the lead for the Tomahawks 5:16 into the second period, taking a pass between defenders and scoring as he slid past Springfield goaltender Dryden McKay. Just 43 seconds later, Alex Jaeckle extended the lead to 3-1, taking a cross-ice pass from Nick LeSage that led to a power-play goal past the right side of McKay. Zac Robbins made it a 4-1 game at 12:57, as his shot from the top of the circles skipped past the leg of McKay. Ryan Bednard picked up his 16th win of the season with a 23 save performance. McKay suffered his 16th loss of the season, allowing four goals on 30 shots.
Boxscore