Tornado beginning to brew down South
February 15, 2010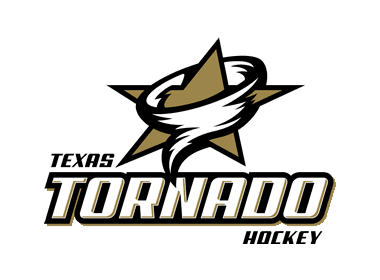 Thanks to the resurgence of the Texas Tornado, the NAHL's South Division - already one of the league's most competitive - has become that much tougher.

The Tornado has racked up nine out of 10 points in its first five February games, including two victories last weekend over the Fairbanks Ice Dogs in Alaska.

"Those were very important wins because it's getting close to playoff time and playing well this time of year is critical," said Tornado head coach Tony Curtale, whose team improved to 20-19-4 on the season. "Right now, we're playing well as a team and everybody is starting to 'get it,' which is a good thing."

The Tornado opened its weekend with a 3-1 victory over the Ice Dogs on Friday. Axel Boyer, Jack Prince (game-winner) and Justin Jones scored the Texas goals, and J.D. Howard pitched in two assists. Between the pipes, Dan Sullivan turned aside 30 shots.

Howard struck for a pair of goals the next night as the Tornado celebrated a 5-3 triumph. Joe Adams (goal, assist) and Prince (two assists) also fashioned two-point games, while Sullivan made 37 saves.

"For us, it's really a team effort and now we're starting to get contributions from a number of players," said Curtale. "We're starting to play well as a team and a lot of players have improved over the course of the season. They're starting to contribute much more consistently and everybody is starting to get on the same page."

One player who has delivered with consistency all season long is Prince. The Tornado's leading scorer with 40 points (19 goals) through 42 games, the 19 year-old from Great Britain has solidified himself as a hot commodity in the college recruiting circles.

"Jack will be an excellent D-I player," Curtale said of Prince, who played in last month's Sherwood/NAHL Top Prospects Tournament. "He has great hockey sense and a great stick, and he's getting used to the North American style and the strength and conditioning needed to play in our league."

The same can be said for Sullivan, who has emerged as one of the NAHL's top goaltenders. The 21-year-old from York, Pa., has now won his last four starts and holds an 18-18-3 mark to compliment a 2.97 goals-against average and a .914 save percentage.

"I love his work ethic and how serious he is in practice," said Curtale of Sullivan, another Top Prospects selection. "He's been the best goalie in league all year, in my opinion, so he's been a huge part of our success."

And Sullivan is in good hands with the Tornado, especially with the list of elite goaltenders the program has developed over the years, among them Ben Bishop (University of Maine, St. Louis Blues draft pick); Dave McKee (Hobey Baker Award finalist at Cornell University); Brandon Crawford-West (University of Miami-Ohio, Pittsburgh Penguins draft pick); Al Montoya (University of Michigan, New York Rangers draft pick); and Ron Vogel, who enjoyed a storied minor-pro career.

"The Tornado has a fantastic goalie history, and Dan is on par with those guys," said Curtale.

The Tornado has also gotten a shot in the arm from a couple of recent acquisitions, most notably defenseman Ralfs Freibergs, an 18-year-old Latvian who has 10 assists in first 11 games with the team, and California native Shane Sooth, a forward who joined Texas from the U.S. National Program's Under-18 Team.

"Ralphs has been huge for us; he's made an immediate impact," said Curtale. "And Shane has an injury and hasn't been able to play for us yet, unfortunately, but we expect good things from him."

And the Tornado's second-half success should lead to good news on the college front, according to Curtale, who's confident many of his players have the mettle to be impact Division I players.

"There's been a number colleges that have shown interest in a lot of our guys," said the coach. "We expect several to commit in the coming weeks."

Despite its one-year hiatus from the league last season, the Tornado also continues to benefit from the tremendous support from the Frisco community.

"We got off to a late start, but people are starting to hear we're back and are coming out to support us," said Curtale. "The hiatus was hard, but we're such a big part of the North Dallas community and appreciate our longtime fans' continued support.

"It's really nice for our players to live in an area like this and to have so many loyal fans who appreciate them and I know our players certainly appreciate the fans."

And that appreciation will only grow fonder with continued success on the ice. With a little more than a month left in the regular season, the Tornado has its sights set high as it enters the most important part of the year.

"We're trying to get better in all areas," said Curtale. "I'm very happy with how the players have bought into the team concept and how hard they work.

"Now we're focusing on fine-tuning things to get ourselves ready for the homestretch. We'll be difficult to beat in the playoffs."

AROUND THE NAHL
ALASKA AVALANCHE: Forward Blake Hubbert (Wasilla, Alaska) tallied a goal and two assists as the Avalanche skated to a two-game sweep over Kenai River.

ALBERT LEA THUNDER: Forward Niko Kapetanovic (North Prairie, Wis.), the Thunder's leading scorer (29 points), recorded three assists in losses to Owatonna and Alexandria.

ALEXANDRIA BLIZZARD: Forward Steve Zierke (Brooklyn Park, Minn.) put home two goals and four assists in the Blizzard's 7-2 triumph over Albert Lea on Sunday.

ALPENA ICEDIGGERS: Forwards Kevin Crowe (Galloway, N.J.) and Michael Henderson (Bloomington, Ind.) each picked up two assists in the IceDiggers' 4-2 win over Janesville on Saturday.

BISMARCK BOBCATS: Goaltender Jake Williams (Montreal) turned back all 24 shots in the Bobcats' 4-0 victory over Owatonna on Friday.

FAIRBANKS ICE DOGS: Forward Jared Larson (University of Minnesota, WCHA) and defenseman Zach Tolkinen (Quinnipiac University, ECAC) have committed to Division I schools for next season.

JANESVILLE JETS: Forward Pat Dalbec (Superior, Wis.) recorded an assist and was a plus-3 as the Jets split a two-game set with Alpena.

KENAI RIVER BROWN BEARS: Forward Josh Royston (Mason, Mich.) potted three goals as the Brown Bears dropped a pair of games to Alaska.

MARQUETTE RANGERS: Forward Tanner Kero (Hancock, Mich.), a Michigan Tech University (WCHA) recruit, leads the league in goals scored with 28, including four in his last three games.

MOTOR CITY METAL JACKETS: Goaltender Jason Torf (Hermosa Beach, Calif.) made 27 saves in the Metal Jackets' 3-2 victory over Traverse City on Friday.

NORTH IOWA OUTLAWS: Forward Ryan Bohrer (St. Paul) picked up two assists in the Outlaws' 4-3 loss to Alexandria on Saturday. He leads the team in scoring with 37 points.

OWATONNA EXPRESS: Forward Brian McGinty (Bethel Park, Pa.) has committed to Canisius College (Atlantic Hockey) for next season.

SPRINGFIELD JR. BLUES: Forward Jared Rickord (Skokie, Ill.) recorded an assist in the Jr.Blues' 4-3 loss to Topeka on Saturday. The Bentley University (Atlantic Hockey) recruit leads the team in scoring with 52 points (fourth in the league).

ST. LOUIS BANDITS: Forward Jordan Bourgonje (Alberta, Canada), the Bandits' captain, tallied two goals and an assist in three games against Wichita Falls. He now has 13 points his last 11 contests, including nine goals.

TEXAS TORNADO: Goaltender Dan Sullivan (York, Pa.) backstopped the Tornado to a two-game sweep over Fairbanks, turning aside 67 of 71 shots. "Dan make a lot of big saves throughout the weekend and gave us an opportunity to win both nights," said head coach Tony Curtale.

TOPEKA ROADRUNNERS: Forward Michael Hill (Fort Worth, Texas) connected for both game-winning goals and an assist as the RoadRunners celebrated a two-game sweep over Topeka. "Michael has been working very hard and seems to always be around the puck," said assistant coach R.J. Enga. "He's getting himself in position to capitalize on opportunities."

TRAVERSE CITY NORTH STARS: Forward Garrett Thompson struck for two goals and an assist as the North Stars dropped a pair of games to Motor City. He was also a plus-2 on the weekend.

WENATCHEE WILD: Forward Michael Voran (Livonia, Mich.), who captained the Wild last year, has committed to the University of Notre Dame (CCHA) for next season.

WICHITA FALLS WILDCATS: Forward Andy Cramer (New Wilmington, Pa.) and defenseman Kevin Liss (Pittsburgh) each recorded two assists in the Wildcats' 4-1 win over St. Louis on Saturday.