NAHL announces 2015 Top Prospects rosters
January 27, 2015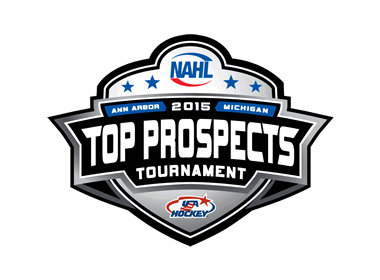 The North American Hockey League (NAHL) has announced the rosters for next month's NAHL Top Prospects Tournament, presented by Easton, which will be held from February 23-24, 2015 at the Ann Arbor Ice Cube in Ann Arbor, Michigan.
The number of players each NAHL team is sending to the event, in which four teams from the four NAHL divisions: Central, Midwest, North and South and a special fifth NAHL Selects team, will each play in two game games, was based on each team's winning percentage within their group as of January 18, 2015. Only those NAHL players without an NCAA commitment at the time of selection are eligible to participate in the NAHL Top Prospects Tournament, with the exception of those who will be playing on the NAHL Selects team. Each of the teams consists of a 20-man roster (12 forwards, 6 defensemen, 2 goaltenders).
The NAHL is also pleased to announce that the USA Hockey National Team Development Program (NTDP) will also take part in the NAHL event, with the NTDP 18-Team playing the South Division team on Monday, February 23rd and then the NTDP 17-Team facing the NAHL Selects Team on Tuesday, February 24th. The NAHL and the NTDP have a rich and productive 12-year history together, as the NTDP was a full-time member of the NAHL from 1997-2009.
2015 NAHL Top Prospects Tournament Schedule
Monday, February 23rd: North vs. Central, 1pm – NAHL Selects vs. Midwest, 4pm – South vs. NTDP-18, 7pm
Tuesday, February 24th: Midwest vs. North, 11am – Central vs. South, 2pm – NAHL Selects vs. NTDP-17, 5pm
In a very short period of time, the NAHL Top Prospects Tournament has become one of the most highly-scouted events of its kind. Last season, over 180 scouts attended the event, which featured almost every NHL team and NCAA Division I school. Over a third of the players that competed in last year's event ended up with an NCAA Division I opportunity. Combined in 2015 with the NAPHL and the NA3HL Top Prospects Tournaments, it will make for an exciting week of hockey and provides a great opportunity for every scout and coach to get a close look the talent in the three leagues.
For more information on the NAHL Top Prospects Tournament, visit
www.nahl.com/tpt