Minot forward Blake Lizotte makes NCAA DI commitment
January 13, 2015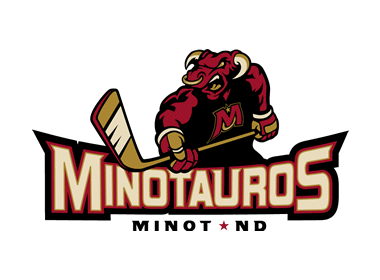 By Ken Oda, Minot Minotauros
NAHL forward and Minot Minotauros leading scorer Blake Lizotte has committed to play NCAA Division I hockey for the St. Cloud State University Huskies. St. Could State are members of the National Collegiate Hockey Conference (NCHC).
Lizotte, still a junior in high school will still play at least one more season of junior before advancing on to college.
Just 36 games into his junior career Lizotte has 39 points on 10 goals and 29 assists. Lizotte's 29 assists are third all-time for the Tauros and his 39 points are fifth. The young forward is just two points away from passing Jake O'Borsky's 40 point season and setting a new standard for Tauros skaters.
Tauros Head Coach and General Manager Marty Murray praised Lizotte, "Blake has been outstanding all season for us and his hard work and consistent play have earned him this opportunity with a great program like St. Cloud State."
Assistant Coach Nigel Dube was quick to praise Lizotte both on and off the ice saying "I'm excited for Blake, and the Tauros, he's a special player and person. He's a team player that has a true passion for the game that was evident from the first time we met him at camp."
Lizotte was equally as effusive of the Tauros coaching staff stating crediting them with helping his development and saying, "I really want to thank the entire staff and organization for helping me take this next step."
Lizotte was named as the NAHL Forward of the Month in November as his Minotauros took over 1st place in the Central Division During the month, the native of Lindstrom, Minnesota, recorded 16 points (5 goals, 11 assists) in 10 games and had a remarkable +11 rating. Minot put together a 6-3-1 record during the month and Lizotte (5'7/140) registered at least a point in eight of the 10 games.
At the time Murray said the following of his young forward, "Blake is a special individual on and off the ice. He is very mature for his age and has developed some great leadership qualities thus far and he has a bright future ahead of him. We noticed Blake at a camp this summer and we really liked his hockey sense. We brought him to Minot to start the year and it was still on more of a tryout basis, but he took the opportunity and ran with it. He thinks the game very well. He is always one-step ahead of the play and he has the heart and the compete level to be successful in the NAHL."
"We had a great month of November as a team, but I owe a lot of credit to my linemates because they are the ones that gave me the opportunity to have some success on the ice. I wasn't really expecting to stay in Minot to start the season, but as things started happening and I started to get it and have success in the league, things really started to snowball and go my way," remarked Lizotte upon receive the award. "I think as the team has developed, come together and played well, so have I. It is an exciting set of circumstances for me. I would ultimately like to play professional hockey someday, but I know I have to take it a step at a time. The short term goal to earn an NCAA opportunity, but after that I would like to keep working hard and getting better and see where this will take me."
Lizotte chose St. Cloud for several reasons, the reputation of the program and staff of course played a part but there was a personal pull as well; both of Lizotte's parents Mike and Lisa Lizotte attended St. Cloud as well. Lizotte described committing to his parents alma mater "a dream come true."