NAHL announces Easton Hockey Divisional Stars of the Week
January 12, 2015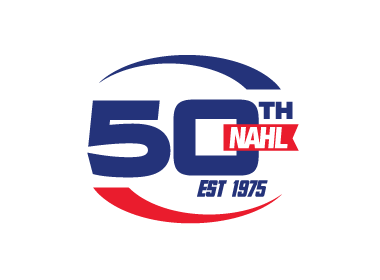 The North American Hockey League (NAHL) today announced the Divisional Stars of the Week presented by Easton Hockey for the week ending January 11, 2015. The Easton Hockey Divisional Stars of the Week is a weekly feature during the 2014-15 regular season that honors the top performing players in each of the four NAHL divisions. Only players that are nominated by their respective teams are considered for the Divisional Players of the Week award.
Central Division Star of the Week: JM Piotrowski, forward, Bismarck Bobcats
The Bismarck Bobcats posted their second straight sweep this past weekend as they defeated the Brookings Blizzard in a home-and-home series and now sit just five points behind 2nd place in the Central Division. Forward JM Piotrowski, 19, played a big part in the weekend sweep as the native of Naperville, Illinois, recorded three goals in the two wins, which included the game-winning goal in both games. On Friday, Piotrowski (6'2/180) had two goals, including the game-winner, in a 4-3 win in Brookings and on Saturday he added another game-winning goal in a 5-2 home win over the Blizzard. In 33 games played this season, Piotrowski has 15 points, which includes 10 goals and five assists. "JM is a big reason why we have had recent success. He has had some injuries he has had to overcome and it is great to have him back. He brings grit and a scoring touch that is needed for this team," said Bismarck head coach Layne Sedevie.
2nd Star: Colton Kramer, F, Minot Minotauros
Honorable Mention (alphabetical): Zach Glienke, D, Brookings Blizzard – Kyle Haak, F, Aberdeen Wings – Kyle Soucier, F, Aberdeen Wings – Jared Spooner, F, Bismarck Bobcats – Atte Tolvanen, G, Minot Minotauros
Midwest Division Star of the Week: Darian Romanko, forward, Minnesota Wilderness
Thanks to a three-game sweep of the Coulee Region Chill last week, the Minnesota Wilderness stayed in the top spot in the Midwest Division. Forward Darian Romanko, 20, had a big week for the Wilderness as the native of Shoreview, Minnesota, chimed in with six points in the three wins, which included three goals (all game-winners), three assists and a +2 rating. On Thursday, Romanko (6'1/195) had the game-winning goal and two assists in a 6-4 home win. On Saturday, Romanko scored the game-winning goal midway through the 3rd period in a 3-2 win. On Sunday, Romanko had the overtime-winning goal and an assist in a 4-3 win, completing the three-game sweep. For the season, Romanko is 2nd on the Wilderness in team scoring with 28 points in 31 games played and leads the team with 16 goals. "Darian had been a horse for us playing seven games in 12 nights. He is logging some huge minutes for us and has come through with some very timely goals," said Wilderness head coach Corey Millen.
2nd Star: Aaron Miller, F, Minnesota Wilderness
Honorable Mention (alphabetical): Maurin Bouvet, F, Kenai River Brown Bears – Evan Butcher, F, Kenai River Brown Bears – Hans Gorowsky, F, Fairbanks Ice Dogs – Ethan Somoza, F, Fairbanks Ice Dogs
North Division Star of the Week: Dryden McKay, goalie, Springfield Jr. Blues
The Springfield Jr. Blues got back on track this past weekend with a road sweep of the Johnstown Tomahawks. Goaltender Dryden McKay, 17, got the start in both games and only allowed a single goal in the two wins. On Saturday, the native of Downers Grove, Illinois, made 27 saves for his first career NAHL shutout as the Jr. Blues blanked the Tomahawks, 2-0. On Sunday, McKay (5'11/160) made 32 saves in a 4-1 win. For the weekend, McKay stopped 59 of a possible 60 shots on goal. For the season, McKay as a 10-9-1 record with a 2.68 goals against average and a 91.7% save percentage. "I think the entire team played real well in front of Dryden, but he was great in Johnstown this past weekend. He played very technically sounds in an important weekend for us to get back on track," said Springfield head coach Tony Zasowski.
2nd Star: Evan Feno, F, Janesville Jets
Honorable Mention (alphabetical): Alex Blankenburg, G, Keystone Ice Miners – Michael Maiden, F, Keystone Ice Miners – Brandon Schultz, F, Janesville Jets
South Division Star of the Week: Oskar Andren, forward, Lone Star Brahmas
As if one of the league's most potent offenses wasn't good enough, it appears that the Brahmas have found yet another weapon in forward Oskar Andren. The 19-year-old forward from Stockholm, Sweden, had his best weekend of the year as the Brahmas took three of four points in their home series against Wenatchee to keep their hold on 2nd place in the South. Andren (6'1/180) recorded five points (all goals) in the two games, including one game-winner, and was also a +4 during the weekend. On Friday, Andren scored an NAHL season-high four goals in one game, including the game-winner, in a 6-5 win. On Saturday, he scored one of the two Brahmas goals on the night in a 3-2 overtime loss. In 26 games played this year, Andren has 26 points, including 11 goals and 15 assists. "Oskars is a guy that is getting better every week. He is still learning the North American game, but he has unlimited potential for him to develop his skill and succeed. We are very happy with his progress and development thus far," said Brahmas head coach Dan Wildfong.
2nd Star: Nick Farmer, F, Wichita Falls Wildcats
Honorable Mention (alphabetical): Ryan Cusin, F, Corpus Christi IceRays – Tyler Irvine, F, Topeka RoadRunners – Jonathan Lazarus, F, Wichita Falls Wildcats – Tanner Lomsnes, F, Corpus Christi IceRays – Anton Martinsson, G, Amarillo Bulls – Dakota Raabe, F, Wenatchee Wild – Tyler Rockwell, D, Wenatchee Wild – Daniel Rzavsky, F, Topeka RoadRunners – Sebastian Vidmar, F, Lone Star Brahmas