Tomahawks promotion for this weekend receiving National attention
January 8, 2015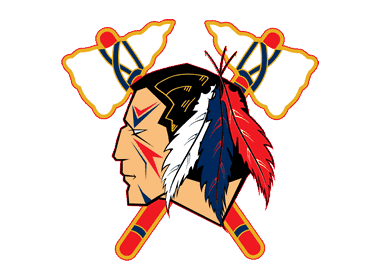 In addition to playing a trio of important North Division games at the Cambria County War Memorial, the NAHL's Johnstown Tomahawks will also be helping a pair of worthwhile local charities raise funds and awareness this weekend.
The Tomahawks homestand, which begins Friday, Jan. 9 with a 7 p.m. match-up against the Keystone Ice Miners, also includes Saturday's annual Guns & Hoses charity night to benefit Special Olympics, as well as the first ever Undie Sunday underwear toss game, which aids the Children's Tumor Foundation.
"We commonly have back-to-back promotions, but this weekend is especially exciting because we have the opportunity to not only provide fun and excitement for our fans, but also to support a pair of great charities that make a tremendous impact on so many lives," said Tomahawks director of marketing and communications Chad Mearns.
Saturday's Guns & Hoses promotion is the third annual collaboration between the Tomahawks and Johnstown area police officers and fire fighters. The night begins with a charity exhibition hockey game between the Guns team (comprised of police officers) and the Hoses team (made up of firefighters) immediately prior to the Tomahawks game against the Springfield Jr. Blues at 7 p.m. The Tomahawks will wear specialty jerseys honoring all first responders, which will be auctioned off to fans following the game.
The night will raise money for Cambria and Somerset Counties' Special Olympics programs, which together provide athletic opportunities to more than 230 special needs athletes.
"Participation in all of these events, as you can imagine, costs a lot of money," said Kathy Burkett, an athlete representative mentor with Cambria County Special Olympics. "We are very grateful for all the support we get from our communities and organizations such as the Tomahawks, and we continue to seek additional support or sponsorship from our business community."
The Tomahawks will continue their community support on Sunday afternoon, when the team hosts their first ever "Undie Sunday" underwear toss game, during which fans are asked to donate packages of new underwear by tossing them over the glass following the first Tomahawks goal. The promotion benefits the Children's Tumor Foundation (CTF), which raises money for research to treat neurofibromatosis (NF), a genetic disorder that causes noncancerous tumors to grow along nerves throughout the body. The condition can be both painful and debilitating, affecting approximately one in 3,000 people.
The foundation typically holds their annual Cupid's Undie Run fundraiser, in which teams run a mile in their underwear, each February. Through a connection with ardent Tomahawks supporter Misty Plunkard, whose son Tyler has NF, the team developed the promotion to raise both money and awareness to fight the disease.
"It is a rather unusual promotion," Mearns said, "but it has been generating a lot of attention for its uniqueness. Our fans have been incredibly generous for similar charity nights we've done in the past, so we're hoping for a great turnout on Sunday to help make a difference for all the families dealing with NF."
The underwear collected will be donated to Johnstown's Women's Help Center, among other charities.
The promotion has garnered National attention and recognition by such outlets as
Sports Illustrated
and
CBS Sports
, who have both written stories about it.