NAHL announces monthly awards for December
January 7, 2015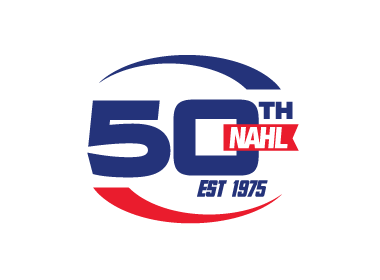 The North American Hockey League (NAHL) has announced its monthly player awards for the month of December. The Easton Hockey NAHL Forward of the Month is Sebastian Vidmar from the Lone Star Brahmas. The Easton Hockey NAHL Defenseman of the Month is Ivan Chukarov from the Minnesota Wilderness. The Vaughn NAHL Goaltender of the Month is Matt Jurusik from the Janesville Jets. Only players who are nominated by their respective teams are considered for the NAHL monthly awards.
Easton Hockey NAHL Forward of the Month: Sebastian Vidmar, Lone Star Brahmas
It was a performance worthy of another Forward of the Month award for Lone Star Brahmas forward Sebastian Vidmar. The 20-year-old native of Malmo, Sweden, won his second Forward of the Month honor for the 2014-15 season thanks to another great performance in December. To top it off, December also saw Vidmar make an NCAA Division I hockey commitment to Union College, the defending NCAA Division I champions. During the month, Vidmar (6'2/190) led all NAHL scorers with 15 points and did it in just seven games played. That included 5 goals (two of which were game-winners) and 10 assists, along with a +10 rating. Vidmar registered at least a point in every game he played in during the month and had five multi-point games. That included a four-point effort in a 6-3 win over Odessa back on December 13th and a three-point game as well. For the season, Vidmar currently leads the NAHL in scoring with 46 points and in goals with 22. "His impact is huge when he is out on the ice, because he is a difference-maker. He is playing a 200-foot game at both ends of the ice," said Lone Star head coach Dan Wildfong. "He plays a team-oriented game and is doing the little things that lead to opportunities at the offensive end. He will do whatever it takes to win and see his team succeed first."
"December was a very good month and I am trying my best to make sure the team is successful. I was overwhelmed with the commitment to Union and I am very excited about earning that opportunity to play at the next level," said Vidmar. "My coaches have been great during my time here in the NAHL and all of the hard work has paid off with success on the ice. I said back in November that this was a goal of mine and it came true."
Runner-Up: Mitch Fossier, Janesville Jets
Honorable Mention (alphabetical): Jacob Coleman, Keystone Ice Miners – Jasen Fernsler, Topeka RoadRunners – Will Harrison, Amarillo Bulls – Jacob Hetz, Fairbanks Ice Dogs – Blake Kelley, Coulee Region Chill – Grant Meyer, Springfield Jr. Blues – Beau Michaud, Brookings Blizzard – Christian Mohs, Minot Minotauros – Trevor Recktenwald, Johnstown Tomahawks – Darian Romanko, Minnesota Wilderness – Matt Rudin, Kenai River Brown Bears – Colin Staub, Wichita Falls Wildcats – Cullen Willox, Bismarck Bobcats
Easton Hockey NAHL Defenseman of the Month: Ivan Chukarov, Minnesota Wilderness
The Minnesota Wilderness rolled through December without a regulation loss, posting a 5-0-2 record and not only did defenseman Ivan Chukarov, 19, record 9 points and a +13 rating in the seven games, but he also led the Wilderness in scoring during the month. On top of all that, Chukarov (6'3/200) announced his NCAA Division I commitment to UMass on December 17th, realizing his NCAA Division I dream like so many NAHL players. The native of Des Plaines, Illinois, racked up 3 goals and 6 assists during the month, which also included a game-winning goal. He registered at least a point in five of the seven games played during December. That included two three-point games in a 5-2 win over Kenai River on December 11th and a 8-2 win over the Soo Eagles on December 20th. For the season, Chukarov leads all Wilderness defenseman in scoring with 22 points in 29 games played and leads the club with a +19 rating. "Ivan is as talented as any defenseman in the NAHL and he has come back from injury and really played well and consistent this season," said Wilderness head coach Corey Millen. "He brings so much to the table for our team and he is effective at both ends of the ice. He is a great all-around defenseman with great size, who is going to be successful at the next level."
"I think we finally clicked as a team in December. We have a really good system in place and when it is working, we are a very tough team to beat like we were in December. We put the primary focus on limiting our opponents chances and shots," said Chukarov. "I think short term, I was very happy to commit to play NCAA Division I hockey at UMass because it has been a goal of mine for a long time. I think we have a team that is capable of winning the division and making a run at the Robertson Cup. I just want to keep improving so I can help the team have success and so I can go to UMass next season and make an immediate impact."
Runner-Up: Matt Koch, Wichita Falls Wildcats
Honorable Mention (alphabetical): Ben Campbell, Kenai River Brown Bears – Cam Cooper, Springfield Jr. Blues – Grant Hutton, Janesville Jets – Sean Lang, Coulee Region Chill – Joe Leonidas, Amarillo Bulls – Jon Lizotte, Minot Minotauros – Johnny Mueller, Fairbanks Ice Dogs – Ryan Polin, Topeka RoadRunners – Tanner Salsberry, Bismarck Bobcats – Reed Scahill, Keystone Ice Miners – Alexey Solovyev, Lone Star Brahmas
Vaughn NAHL Goaltender of the Month: Matt Jurusik, Janesville Jets
A perfect month of December put the Janesville Jets way out in front in 1st place in the North Division, ending the month with an 8-0 record. Rookie netminder Matt Jurusik, 17, was one of the stars for the Jets during the month, as the native of La Grange, Illinois, won seven of the eight games and finished the month undefeated with a perfect 7-0 record. Jurusik (6'1/195) posted a 1.45 goals against average in December along with a 94.9% save percentage, as he stopped 167 of 176 shots that came his way during the month. He also registered two shutouts. Jurusik's shutouts came on December 12th in a win over Keystone and December 20th in a win over Michigan. In that 3-0 shutout over Michigan on December 20th, Jurusik made a season-high 36 saves. On December 30th, Jurusik started in a 6-1 win over Michigan, but was injured in the game and hasn't played since. He is expected to return to the line-up in mid-January. For the season, Jurusik is tied for the NAHL lead in wins with 17 and ranks in the Top 8 in goals against average and save percentage. "It was a great month for our team and Matt was so consistent. He shows up every day with a purpose and a confidence that is nothing but beneficial for our hockey team. Matt was able to keep us in games and give us some momentum," said Jets head coach Joe Dibble. "The sky is the limit for him and he will be a great goalie at the next level, wherever that may be. He has a lot of NCAA and NHL interest, so there is no doubt in my mind he is driven to succeed to get there."
"I am trying to just take things one day at a time and work hard. The entire team really played well and clicked throughout the month of December. We have a lot of talented players on this team who are also very driven and motivated, so it makes my job a lot easier when all the guys are buying in. At this point, I am trying to just go game-by-game and not rush things. I think team success will take care of individual success and I hope to be back in the line-up in a week or two," said Jurusik.
Runner-Up: Atte Tolvanen, Minot Minotauros
Honorable Mention (alphabetical): Ryan Anderson, Minnesota Wilderness – Ryan Bednard, Johnstown Tomahawks – TJ Black, Lone Star Brahmas – Alex Blankenburg, Keystone Ice Miners – Adam Carlson, Coulee Region Chill – Ryan Kubic, Brookings Blizzard – Patrick Munson, Fairbanks Ice Dogs – Zach Quinn, Wenatchee Wild – Hunter Shepard, Bismarck Bobcats – Matej Tomek, Topeka RoadRunners – Jacob Weatherly, Amarillo Bulls – David Zevnik, Wichita Falls Wildcats
About Easton
Easton Hockey continues to rank atop the industry in sticks and gloves and is growing faster in skates than any other company. It also offers a comprehensive collection of protective gear including helmets and pants. To learn more, go to www.eastonhockey.com
About Vaughn
Vaughn is the official Goaltending Equipment Partner to the NAHL and serves as the Preferred Goaltending Equipment Supplier of the NA3HL and NAPHL. Founded in 1982, Vaughn became one of the first major hockey production companies to use multiple foam layers in equipment. As strictly a goalie equipment company, the main focus for Vaughn is the innovation and quality of their product. Visit Vaughn online at: www.vaughnhockey.com